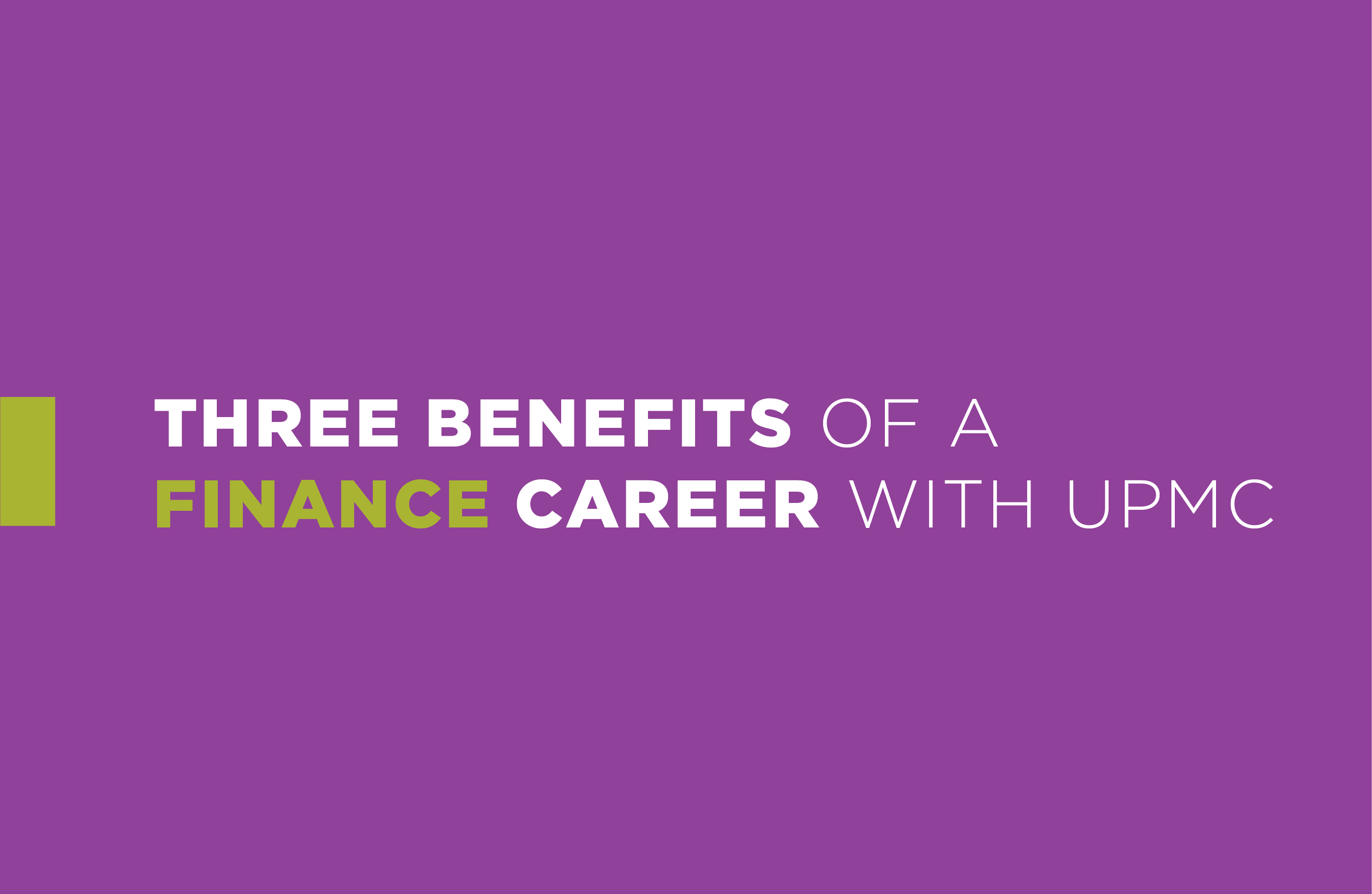 UPMC's Finance Management Rotation (FMR) program is a three-year, immersive leadership development program that provides participants with three one-year rotations in various areas throughout finance and accounting.
---
There's plenty of benefits to being an FMR at UPMC, so picking the top highlights was a tough task! We each narrowed it down to our top three favorite takeaways from the FMR program.
I am trained to lead.
Alana DeLuca: "One of the most exciting aspects of being an FMR is how the rotational program prepares and creates future leaders within the company. The FMRs are respected and treated as valuable team members. We are trusted employees within the company; this is reflected through the vital work that is assigned to us. These assignments provide valuable experiences that most postgrad employees do not receive.
With the trust and responsibilities that an FMR is given, it creates important qualities that define leaders within UPMC. Each rotation within the FMR Program will expand my skill set at an accelerated pace, which in turn will allow me to grow and become a better financial analyst and leader."
I am equipped with knowledge and skills.
Mario Nicolia: "My favorite part about being an FMR is the amount that can be learned over such a short period of time. Everyone around you is willing to help you learn and is always open to answering your questions….You gain experience in various different IT systems and applications, you get exposure to hundreds of people throughout the system, and, most importantly, learn how the whole company works from Corporate to Insurance to Health Services. I've also enhanced my capabilities on Microsoft Excel as well as my ability to give a formal presentation.
Learning on the job is extremely important and makes my day so much more than 'just work' while I am in the office. A wise man once told me, 'If a day goes by where you don't learn something new at your job, then it is time to find a new one' and I have always taken this to heart. Luckily with the FMR Program, you will not need to find a new job because you certainly will learn something new every day."
I have made lifelong connections.
Thomas Boretsky: "I like being a part of the FMR program because of how strong the networking opportunities are. In nearly every division across the company, there is someone who is either a graduate of the FMR program or has worked with someone who was an FMR. The program allows for you to constantly stay in touch with others who were in your shoes just a few years ago, and encourages you to reach out for advice. Overall the FMR position has allowed me to network with people in the company that I may have not if I weren't in the program."
---
Interested in becoming a #UPMCFMR? With a full-time salary and full-time benefits, you will gain high-level exposure to all of our executives and gain valuable industry experience while you're at it! Upon completion of the program, graduates are highly sought after for complex roles across the organization. Learn more about UPMC's FMR program.