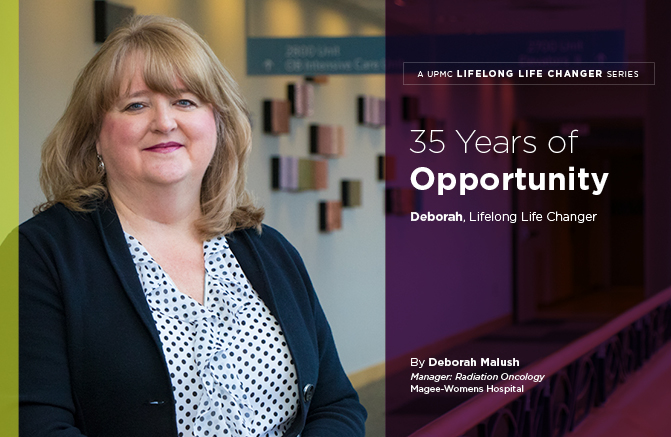 By Deborah Malush, Manager: Radiation Oncology, Magee-Womens Hospital  
My name is Deborah Malush, and I'm a UPMC Lifelong Life Changer.  
I graduated from college when I was 19 years old and started my radiation therapist career at UPMC Presbyterian and Magee-Womens Hospital of UPMC. At that time, we rotated therapists between the two hospitals. After seven years, I was promoted to manager of the Radiation Oncology Department at Magee-Womens Hospital in 1991. 
I have seen many changes in cancer care over these last 35 years. UPMC has always striven to provide the best possible patient care. As technology advanced, so did our cancer care. I am proud to say that I work for UPMC Hillman Cancer Center, because I know we are at the forefront of cancer care. I have been given opportunities to enhance my career at every level and find job fulfillment. I am grateful to be a part of this wonderful team.   
The best word to describe my time at UPMC is proud. When people ask me why I've stayed here all these years (34 and a half!), I have to say that being a part of life changing experiences for our cancer patients is at the top of my list. Knowing that we make a difference in not only their day-to-day experiences, but their lifelong experiences, is what motivates me every day.  
I work with some of the most talented staff and am proud of everything that we all have accomplished as a team. I have been very fortunate to have very supportive administrators and directors who care and have confidence to let me spread my wings and grow as a manager and a cancer care provider. I know at the end of the day, we made a difference.