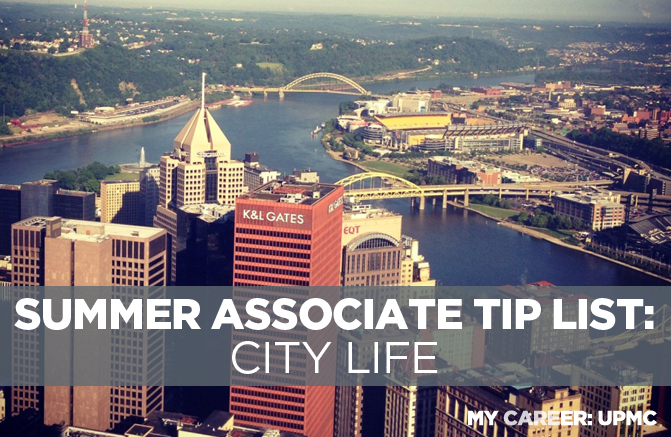 Working for UPMC as a Summer Associate will probably be the first time that many people will work in a city. This is especially true for those SA's who are assigned to work in the Steel Building, but almost every hospital location is in an urban area. Forbes Tower is in the middle of Oakland which can be just as busy as downtown Pittsburgh. Working in the city can be very daunting to someone who is used to a rural environment, so follow these tips to have a successful summer with UPMC.
1. Driving: One of the hardest things about working in a city is figuring out how to get there every day in the quickest and cheapest way. Driving to work is great if you have a car, but traffic can be very bad, and parking is usually over five dollars a day. If you really want to drive to work, make sure you give yourself enough time to get to work on time even if you are stuck sitting in traffic. Or leave extra early to get downtown before the rush hour starts. It is important to ask people who drive where the cheapest and best parking lots are, and when rush hour starts and ends so you can plan around it. A great place to start is the Pittsburgh Parking Authority.
2. Public Transportation:If you do not have a car or are not comfortable driving in a city, taking a city bus to work is very easy and affordable. Look up the city bus schedule  to find out which bus can take you where you need to go. Make sure to take note of how long the ride is so you can leave in plenty of time. You can pay daily for the bus, or buy one of the city's bus passes.
3. Eating: Although many people pack their lunch daily to save money, eating out is one of the many benefits of working in a city. There are restaurants on every street, so when you feel like splurging, make sure to check out some of the local restaurants. Also, don't forget about dinner! The Pittsburgh Downtown Partnership is a great resource for restaurants and events downtown. Make it a habit to go to happy hour or dinner with other SA's in your location when your work hours are over.
4. Dress: Dress code varies depending on the department, but traveling to a city makes it harder than normal. Most importantly, bring an umbrella to protect yourself from the rain when you are walking outside. Also, think about bringing a change of clothes or shoes if your commute to work is long. The last thing you want on your first day is to get mud on your suit or wrinkles in your freshly ironed dress shirt before you even step into the office.
5. Network: Take advantage of being in a city by talking to the hundreds of other professionals who work in the area! There are hundreds of other UPMC employees in the Steel Tower, but there are thousands of other professionals too. Take notice of people whenever you go to get coffee or lunch, and always try to start a friendly conversation. One of the best ways to learn about what you want to do with your career is by talking to others who have already experienced it.
Daniel Lebby, Finance Summer Associate