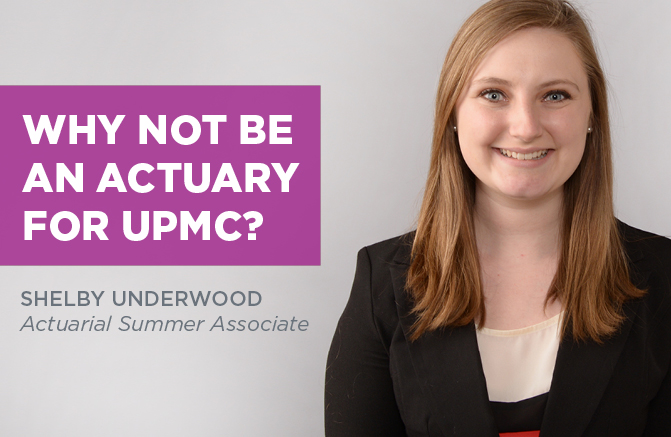 It was an early and dreary March Monday morning in Pittsburgh, and to be completely honest, I was not looking forward to going to class that day. However, that negative attitude quickly turned around as I received an unexpected phone call. It was Human Resources from UPMC extending an offer for a position to work as an Actuarial Summer Associate! I had been eagerly anticipating a phone call like this for weeks, and, after what felt like an eternity, I received the incredible news that I had been dreaming of. Would I have been happy to work somewhere else? Sure. But the excitement of knowing that my placement was UPMC was incomparable to what I would have felt had it been a different company.
You may ask: why be an Actuary at UPMC? I ask you this: why not be an Actuary at UPMC? I simply cannot fathom a legitimate objection to working for UPMC, unless you are not a fan of Pittsburgh (but is that even possible?).
One general concern that I had about becoming an Actuary was that the environment would be too introverted for my liking. I often pictured my job consisting of sitting in a cubicle for eight hours every day, never uttering a word. However, my fear was dismissed instantly as I realized the error in my thinking. Everyone in the department was extremely friendly. On top of that, there was more team collaboration than I ever expected. In fact, it would not be unusual to look around and see someone teaching something new to a fellow co-worker or to witness someone discussing the best approach to take when handling an unfamiliar situation.
I cannot express enough words of praise for those working in the Actuarial department at UPMC. Not only are they a welcoming, friendly, fun bunch, but they are all unbelievably intelligent! Every employee is hardworking and determined to do an impeccable job each day. They are also great mentors and excellent teachers to those who are unfamiliar with all of the workings of an Actuary. Everyone highly values critical thinking, so although they are more than willing to help and clarify questions, they also encourage you to find the answer yourself. In my opinion, this leads to an even greater depth of knowledge. On top of all of these traits, the Actuarial department constantly strives to improve processes and find better, more efficient ways to complete tasks. Combine all of these admirable qualities, and you achieve an efficient, effective team that yields much success.
In addition to UPMC's Actuarial department being incredible, UPMC, itself, is also an unbelievable place to work. Holding fast to the core values of Quality & Safety, Dignity & Respect, Caring & Listening, Responsibility & Integrity, and Excellence & Innovation, all employees are treated right. Being part of this prosperous company is an honor.
In short, there really is no place better to work as an Actuary than at UPMC. So again, I ask: why not be an Actuary at UPMC?
Shelby Underwood, Actuarial Summer Associate