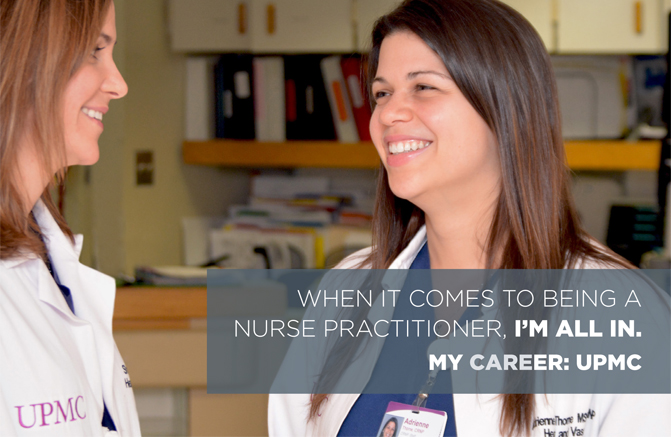 My name is Adrienne Thorne, AG-ACNP.
Confused by that long strand of letters following my name? No worries – it's a little complicated! The acronym stands for Adult-Gerontology Acute Care Nurse Practitioner. I support UPMC Presbyterian's Adult Cardiothoracic Surgery department, and I love my career!
A little background:
About a year ago, I transitioned from my previous role as a Registered Nurse at UPMC Presbyterian. Sometimes it feels like I'm still adjusting to life as a Nurse Practitioner (NP). However, as each day presents unique challenges and obstacles, I always strive to be the best NP that I can! My team and I find the thrill of solving puzzles surrounding complex patient situations to be rewarding – it's a huge part of practicing medicine! Seeing patients get better is extremely motivating, and inspires me to always learn as much as I can, in every patient care situation.
My daily routine:
My work day begins at 6 a.m., sharp. Each morning, I check on my patients and accompany Attendings for rounds. As part of our daily responsibilities, my team and I conduct small bedside procedures, such as chest tube and pacer wire removal. Since shortening length-of-stay for patients is always a departmental objective, we try to discharge patients if possible, and then meet with case managers and social workers to discuss existing care plans. Fielding questions from nursing staff, as well as completing patient notes and follow-ups, are givens in this field. Whether working through standard procedures, or handling action-packed afternoons, every day requires me to adapt quickly, think fast on my feet, and have tough skin. I love the engaging, dynamic atmosphere – I'd be bored anywhere else!
Why I do what I do:
Heart surgery is not a walk in the park, as the recovery process for these major operations can be quite long and difficult. Nevertheless, when my patients recuperate well and get to return home to their families, I see the value of my work! Maintaining perspective is essential for my well-being, and working with a supportive team of Advanced Practice Providers (APPs) makes all the difference. As a small, tight-knit group, everyone tries to help each other out, abiding by UPMC's core values. Even if others don't practice these values, we strive to set the trend in my department. On the other hand, it can be difficult to maintain a healthy work-life balance, as my team often works over time to ensure our patients are cared for properly. To break from the stress of each bustling day, I make it a point to go to the gym every evening! As much as I love my co-workers, establishing clear time limitations (leaving work at work) allows me to be refreshed for the next day.
I wouldn't trade my career experience, even the most demanding days, for anything. I've been exposed to an incredible array of patient cases, and get to use state of the art technology on a regular basis! Given the vast resources, excellent support structure, and encouraging work environment at UPMC, I find the determination to show up to work each day, both mentally and physically. When it comes to being a Nurse Practitioner, I'm all in!
Adrienne Thorne, AG-ACNP, UPMC Presbyterian