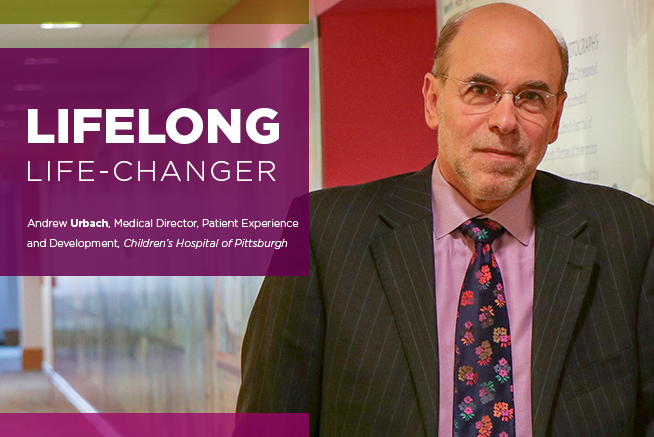 There aren't many people who can say they're still doing their lifelong dream job 39 years after their career began…but Dr. Andrew Urbach, Medical Director, Patient Experience and Development at Children's Hospital of Pittsburgh of UPMC, is one of those people.
Before he was a Medical Directorr at CHP of UPMC, he was just Andrew Urbach, a 24 year-old medical doctor from New York with a passion for medicine and an ambition to become a practicing pediatrician. His dreams began to take shape in 1979 when he first arrived in the Steel City to begin a three-year residency at Children's Hospital of Pittsburgh. Flash forward to 2017 and…he's still here!
After completing his residency, Dr. Urbach has served many roles at the Pittsburgh medical community from directing medical student activities for pediatrics at Children's Hospital to becoming a professor of pediatrics at the University of Pittsburgh School of Medicine. Thirty-nine years after he began as an intern at Children's, Dr. Urbach's focus is on continuing to cultivate a legacy of excellent care at Children's through a variety of leadership initiatives and administrative tasks. Though his work is now more administrative, Dr. Urbach is still involved in providing Life Changing Medicine to patients at Children's. A large focus of his career today pertains to activities like fundraising and directing resources for Children's Hospital of Pittsburgh Foundation. In his own words, Dr. Urbach called his current role and work "very satisfying."
Using words like "vision" and "hope," Dr. Urbach described his work as a leader at Children's with a spirit of determination. Though his career began 39 years ago, he is showing no signs of slowing down as he and other members of the UPMC community continue to search for solutions to unsolved problems. "To help someone feel heard, feel cared about and provided for" is the pattern and purpose of Dr. Urbach's career, and why we here at UPMC Careers are proud to call him a "Lifelong Life-Changer."
Ready to start your own lifelong, life-changing career? Explore open positions at UPMC.