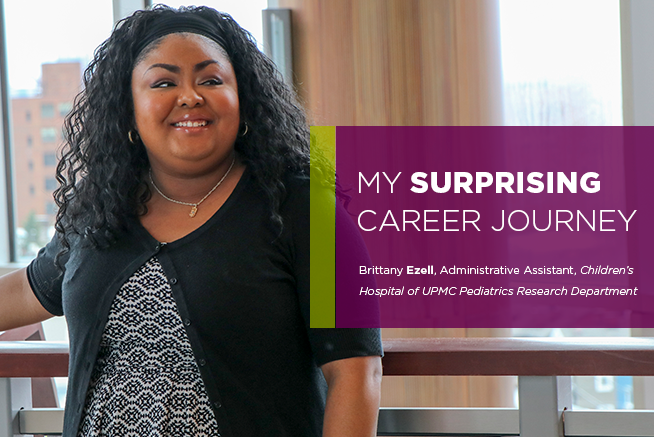 When I started college, I originally thought I wanted to be a classics professor. Four years and one degree later, my journey ended up taking quite a different path—one that led to UPMC! It was a diversion that surprised even me, but joining the UPMC team as an administrative assistant ultimately ended up being the best decision I ever made.
My name is Brittany Ezell and I am an administrative assistant for the Children's Hospital of UPMC Pediatrics Research Department.
The minute I walked in on my first day of work almost six years ago, I realized that my life as I knew it would never be the same. I started off my career at UPMC as a temporary administrative professional through the WorkSource Program in 2011. Through my experience as a temp, I gained valuable career skills such as time management, expense reporting, meeting organization, travel arrangement, and more. It's the details that make a difference in this position, and I am often responsible for making people feel welcome and confident to carry out their jobs here at UPMC.  All of the skills I cultivated as a temp landed me a permanent position as an administrative assistant.
Since beginning my permanent career at UPMC, I've been able to feel that I make a difference every day. From helping patients find the perfect pair of glasses when I worked at the Eye Center to organizing the contributions of my division, Pediatric Infectious Diseases, to the Annual CHP Inpatient Trick-R-Treat event, I feel rewarded in that, if only for a minute, I have been able to help make a patient's day.
Every day in my role is different, and I am constantly learning and growing as both a professional and a person. Working in administration here at UPMC has taught me how to communicate more effectively, how to build business relationships, and, most importantly, how to work as a team. I work for the Department of Pediatrics and have found that my co-workers are always willing to help when someone needs it. No matter how big or small the task, the department I'm a part of is here to help people when an issue arises and support each other to find a solution. This supportive environment is part of the nature of working at Children's. People are happy here and want to do things to help others who cross their paths.
I know that I am valued and appreciated in my role because of the overwhelming support I get from my manager and my division chief. Being made to feel important makes me want to work that much harder.  I hope to continue providing administrative support as I move forward in my career, whether that be right here at Children's or somewhere else in the organization as an executive assistant. I love being able to support the doctors and researchers here who are a part of the team and to be part of the mission to provide Life Changing Medicine here at UPMC.
It's a great feeling to wake up every day and come to a job that I love. Thank you UPMC for helping me achieve my career goals, and also for helping me to grow as a person!
---
Interested in the variety and teamwork offered by a role in Administrative Support? Explore career opportunities at UPMC in the areas of Administration and Office Support, and see how your career can grow and thrive!