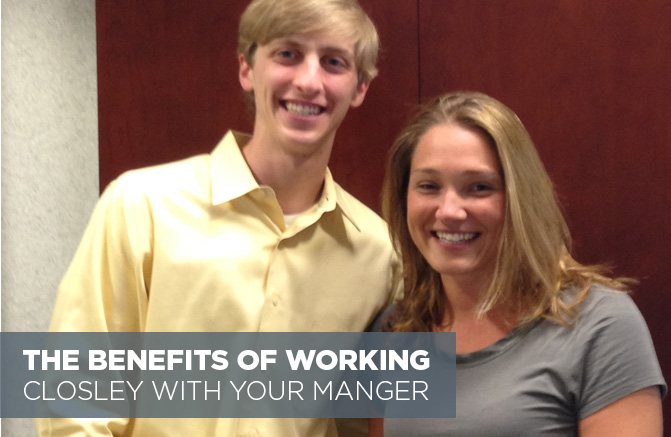 No matter your placement for the UPMC Summer Associates Program, the one thing that you will be unable to escape is your manager – and that's a good thing! You will interact with your manager more than anyone else throughout your internship as he or she gives you projects, brings you to meetings, and trains you on what you need to know. This might seem like a frightening idea at first – I get it! What if your manager doesn't like you? What if you can't live up to your manager's expectations? What if your manager is a cold, unfeeling person who finds joy in making Summer Associates suffer? These are all common concerns a Summer Associate may have coming into the internship, but let me tell you something:
Your manager will be your biggest fan at UPMC, doing whatever it takes to ensure that you grow and develop both as an employee and as a person.
My manager once said, "The manager-Summer Associate relationship is a two-way street in that both parties benefit from engaging with each other. In addition to providing an extra set of hands around the office, Summer Associates help managers improve their communication and teaching skills, as well as develop the ability to work with individuals with various skills sets." It's easy to see, managers clearly value their relationships with Summer Associates.
I have enjoyed many benefits from working closely with my manager. The most obvious is the instruction and guidance I received regarding my work. My manager was the one who explained projects and showed me the best way to approach problems. She taught me the systems that we used and was always there to answer my many questions. She also made the extra effort to explain the significance of each project that I worked on. This way, I realized that the work I was completing was meaningful and actually made a difference in the company. Additionally, my manager  made my internship experience much more comfortable. There is a level of anxiety that comes with any internship. However, stress can be greatly alleviated by welcoming, friendly co-workers who genuinely care about your well-being. This was true for all of the Summer Associates in my area. With my manager's help, my transition into UPMC was very smooth and I was able to thrive in my work environment.
As a summer associate, your relationship with your manager will develop as the summer progresses. Even though I cannot guarantee that you will think as highly of your manager as I did of mine, I can guarantee that your manager will put forth effort. He or she will invest in your professional growth and will take the necessary time to ensure that your internship is as beneficial as possible.
Troy Merigliano, Finance Summer Associate