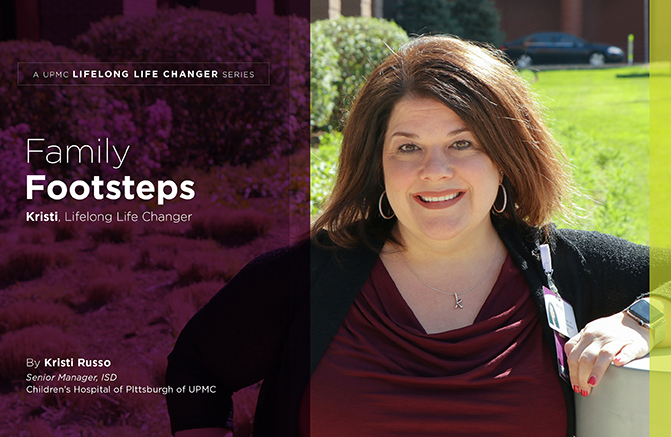 By Kristi Russo, Senior Manager, ISD, Children's Hospital of UPMC Information Services Division  
My name is Kristi Russo, and I'm a UPMC Lifelong Life Changer.  
I was influenced to start my career at Children's Hospital of Pittsburgh of UPMC because my mother spent her career at Children's Hospital for 30 years. I remember being young and hearing how much she loved working for Children's; she would talk about her day with such pride. One day she said, "Kristi, why don't you apply for a job at Children's to help with school tuition?" And the rest is history!  
I started my career at Children's Hospital's Emergency Department as a registration representative while I was still in college. I loved the emergency room. It is not for everyone, but instead of focusing on the reason for the trip to the emergency room, I decided early on to focus on the amazing care that the clinicians at Children's Hospital provided.  
After a few years of supporting almost all aspects of registration, admissions, ED, outpatient, and same-day surgery, I was offered a coordinator position in Patient Access.This was my first stab at management, and I felt that I was born for this role. I loved helping coordinate new processes and interacting with the staff.  
In 2000, we started to hear the buzz about electronic medical records, and I knew that I wanted to be a part of that initiative. Alongside my then-director, we created a new division of the Medical Record Department called data quality. Soon I was moved to the Information Services Division (ISD) and became a systems analyst.  
Around this time, I felt that if I wanted to continue to grow in ISD, I would also need my master's degree. From there, I went back to school in the evenings while I continued to work. Soon I found myself back in a management role, where I still am today! I continue to walk through Children's Hospital with pride knowing that the work I do with my team greatly impacts the clinical workflows and ultimately affects every patient that walks through the hospital. From day one, the amazing talent of Children's Hospital of Pittsburgh of UPMC struck me, and it still does today.  
I would always tell my friends and family that I hoped they'd never need Children's for their own kids, but if they did, they'd be in the best hands. It wasn't until nine years ago that I got to experience it first hand when a family member had to be seen by a specialist. The nurses and physicians were outstanding and cared deeply for my family. It was very impactful seeing all the hard work by my team happening real time as we walked through the day in the life of my family member. Seeing all the systems interact with the clinicians' workflows was a great feeling and provides that same sense of pride that I had so many years ago working in the Emergency Department.   
I'm so glad my mom suggested I start working at Children's. We now have both spent the entirety of our careers here, and I hope to follow in her footsteps and retire from Children's Hospital of Pittsburgh of UPMC, too.