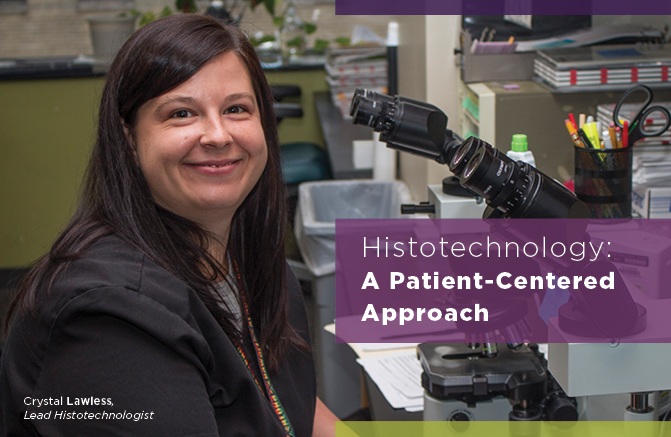 Can I let you in on a secret?
On my way to becoming a Lead Histotechnologist at UPMC Presbyterian, I've learned that the significance of lab work extends far beyond the daily pathology, policy adherence, and procedures. Simply put, every biopsy and surgical specimen that my team processes belongs to someone's loved one. Keeping this in mind drives us to always give our best effort and push through the challenges that come our way in this field. Honestly, there's nothing more motivating to me than the patients behind our work!
In 2009, I moved to Pittsburgh to put my biology degree to good use as a Specimen Processor with UPMC Children's Hospital of Pittsburgh. While working in the Clinical Laboratory at Children's, the Histology Lab located across the hall piqued my curiosity! After researching the specialty, and shadowing several co-workers, I knew this field could be a really great professional fit! So, I took a chance and applied to the Histotechnology School of UPMC, and was accepted.  I graduated from the 12-month program with a job offer from the Histology Lab at Magee-Women's Hospital of UPMC, and spent the next three years striving to prove my technical skill and competency in Histology. And, guess what? It paid off! I was promoted to Lead Histotechnologist at the Clinical Labs Building in Oakland! It felt great to know that my hard work had been recognized, and that I had achieved a long-term personal goal of working in management.
Throughout my five and a half years of service at UPMC, I've learned how important Quality & Safety is in my work for the sake of our patients and my department! My training has been exceptional, and I have always been encouraged to continue my education, as well as take on additional responsibilities. Our team also values Excellence and Innovation in everything we do. Whether it be new technology, webinars, or conferences, there are always opportunities for me to learn new things, and share my knowledge in return. Throughout my career, I've come to realize that my team is just as eager to help me grow, as I am to gain solid management experience. This strong, collaborative support network has been a constant source of encouragement in my work.
I am very proud to provide Life Changing Medicine as a Lead Histotechnologist with the UPMC team.
Crystal Lawless, Lead Histotechnologist: UPMC Presbyterian
---