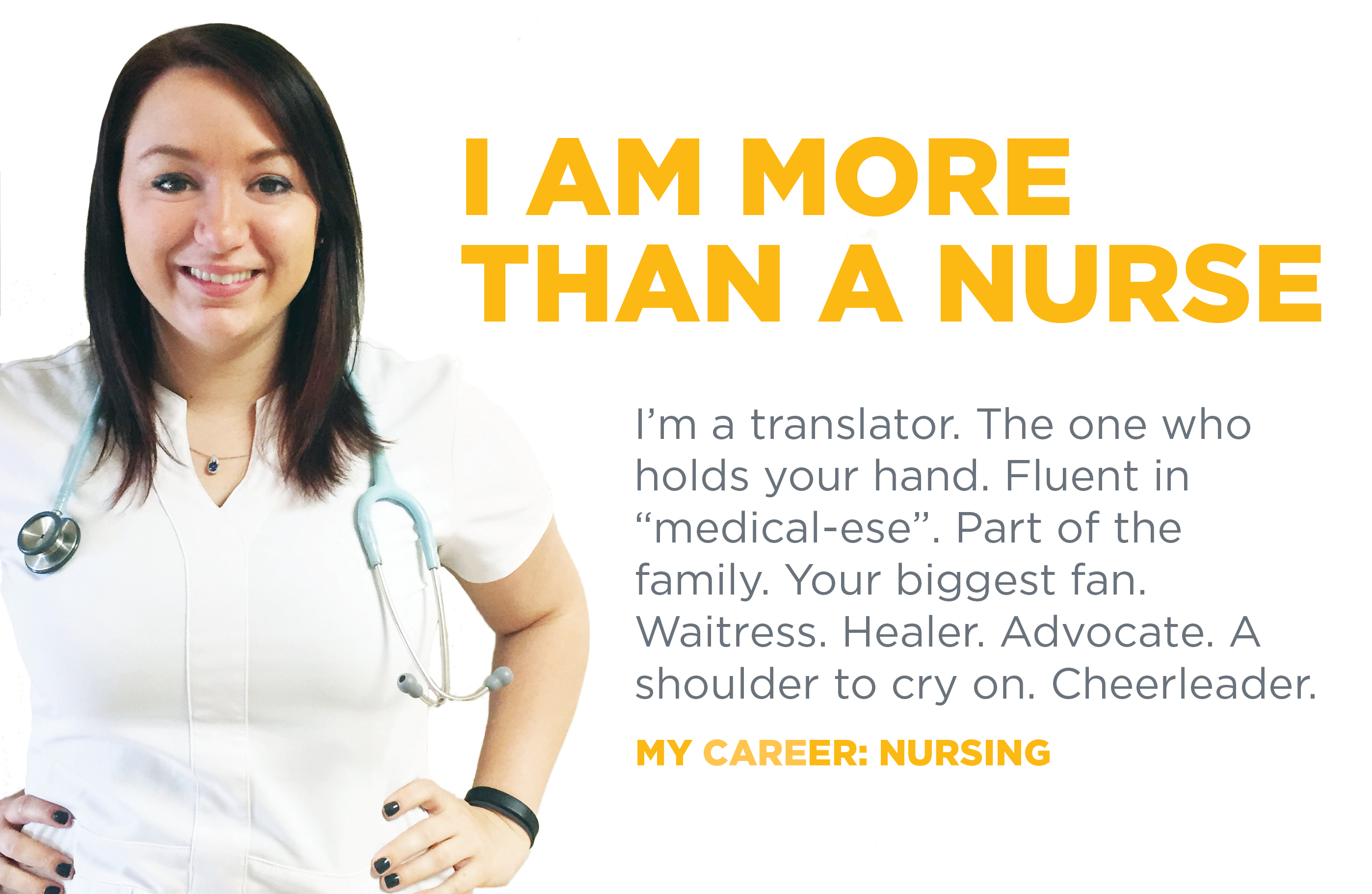 At UPMC Hamot, our nurses go above and beyond each day to ensure our patients are receiving the very best care possible.
I am a listener.
Everyone needs someone to talk to. Everyone needs someone to listen to their worries, concerns, fears and wants. Patients can feel isolated in a hospital setting; being separated from their families, friends, and normal lifestyle can be very difficult. The fast-paced setting of a hospital doesn't always make it easy for staff to be able to sit and listen to a patient. I've learned that it can make all the difference in your patient's care to sit and listen. Sometimes you can ask just one question and they will open up to you about anything and everything that is on their minds. Many patients are so thankful for the opportunity to be heard.
I am a translator.
I remember in nursing school our instructors telling us, you'll be speaking "medical-ese" before you know it! And it's true, many times as medical professionals we don't realize that when we explain things to patients we are using the medical terminology that is so familiar to us, but is sometimes a foreign language to them. Many times, as nurses, we are able to take the time to sit with a patient and explain, in terms everyone can understand, what the plan of care is, what their diagnosis is, and help translate the medical terms they hear all day long while hospitalized.
I am an educator.
Educating patients is a vital part of the nursing profession. Education is important for a patient's health, understanding, and compliance with medical care. If a patient understands the medical instructions and medications, they are more likely to be compliant with their care regimen. Educating a patient and their families about their care and hospital stay can also help alleviate a lot of their worries and concerns.
I am an advocate.
Being a patient advocate is one of the key parts of being a nurse. We see the patient more often than any other medical staff member. We talk to the patient more often. We know the patients concerns, needs and normal assessment; we know if there are changes in the patient's condition. It is our responsibility to make sure patients get the care they need. We are able to assess and see their needs and communicate them to the physicians and other medical staff. Patients count on us to speak for them, especially when they are not physically, mentally or emotionally able to do so for themselves.
I am a mentor.
Being a mentor is more than just setting a good example. It means acting in a way that others respect and want to emulate. Mentoring others makes a huge impact; as nurses we provide the image of good health, compliance, and overall well-being.
I am a family friend.
I come from a big family. I know what it is like to be a part of the family who is scared, worried, concerned and just wants answers. Being a nurse is not just about taking care of the patient themselves. Part of caring for the patient is caring for the family as well. Helping ease their concerns and providing explanations as well as support in times of need is very important as a nurse. You never know when holding someone's hand and giving some reassurance can make all the difference.
I am a waitress.
"Is there somewhere I can get a cup of coffee around here?" A phrase we hear over and over every morning here. Something as simple as bringing a cup of coffee or warming up a lunch tray can really make a patient happy and help them feel more comfortable. We often joke that we feel like a waitress, but we all know it's something patients really appreciate.
I am a healer.
Providing and explaining medications, encouraging early walking and physical therapy, changing dressings, assessing the patient, monitoring vital signs; these are all ways nurses are healers in our scope of practice.
Janelle Rzodkiewicz, Professional Staff Nurse, UPMC Hamot
If you're interested in joining Janelle and our team at UPMC Hamot, we have several openings for Professional Staff Nurses.