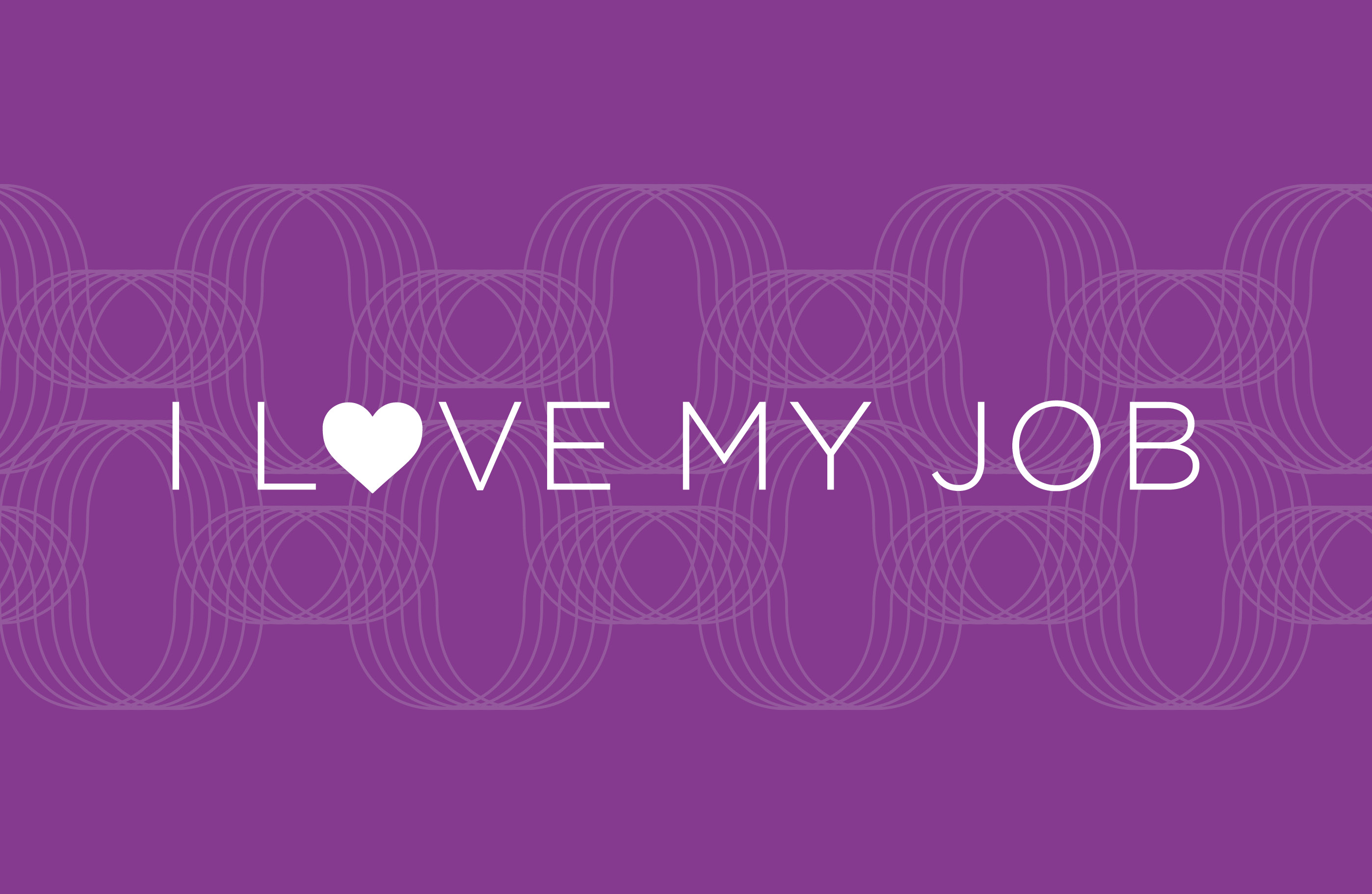 The saying goes, "Choose a job you love, and you will never have to work a day in your life." We're pleased to bring back our annual I LOVE MY JOB series, where real UPMC employees share what is it that they love about their career. Check out last year's stories and tune in over the next few weeks to hear the stories of employees who make up the UPMC team.
---
I LOVE MY JOB | THE STORIES
"I have had the most fortunate opportunity to work for WPIC/UPMC for 43 years. I have always worked for WPIC, but have been able to advance my career far beyond what I ever could have imagined. I started in 1974 as a 'forms processing clerk' (paper) and was able to work by way up to Senior Systems Analysts, Application Configuration Specialist and Crystal Report Writer. I am also very grateful to have established long term relationships with friends and peers who have also been working for WPIC almost as long as I have. UPMC has provided me with a career that has been both challenging and rewarding. The person I am today is so intertwined with my work that I cannot image one without the other." – Sharon Timms, Systems Analyst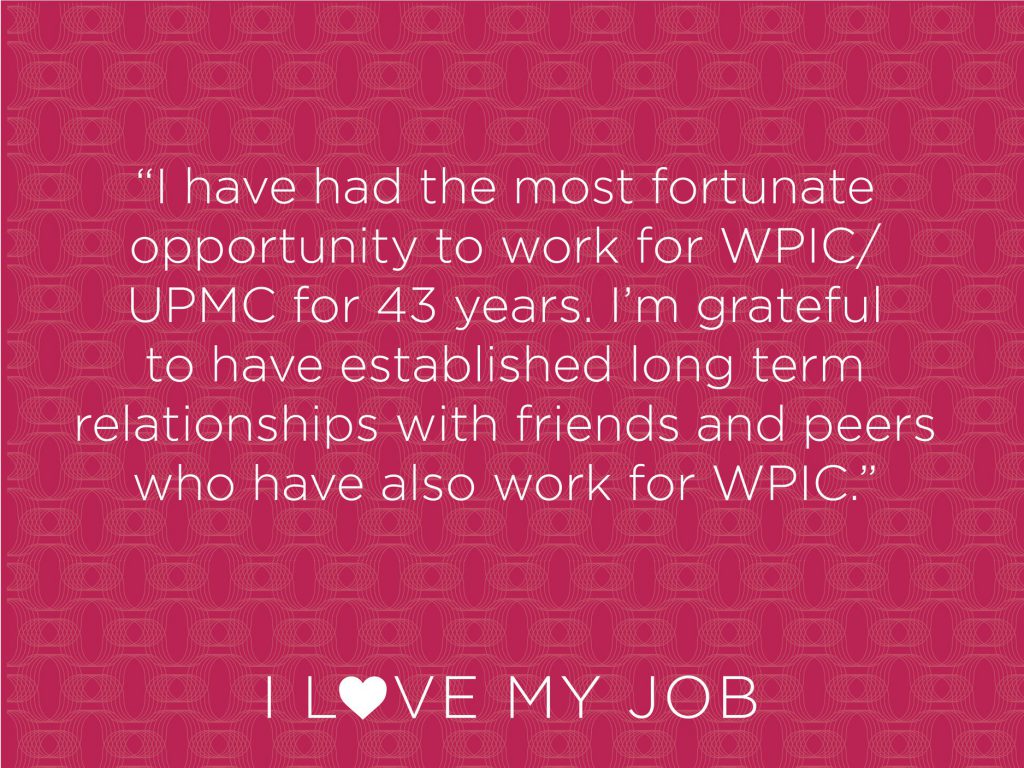 "I began my career with UPMC in July 2017…today I hit my 6 month anniversary! I am a Security Officer for the Forbes Tower, I really enjoy meeting new faces and having a chance to talk with everyone who comes into the Forbes Tower, from employees, students or even patients. We all come from different walks of life, but I find each of those lives can contribute to making UPMC even greater. I take my job very seriously by keeping Forbes Tower safe, as well as everyone here. Plus, I'd like to think I keep everyone's heart safe & secure as well. I feel a person like myself can learn a lot from others and how they feel, and I see how UPMC listens to people and also feels the same way. What I like about UPMC is that they take any darkness the world throws at a person and turn it into a beacon of light and hope…a type of heart-filled meaning that I live my everyday life doing. I am very fortunate to be working for UPMC and could not think of any place I'd rather be!" – Brian Katana, Security Officer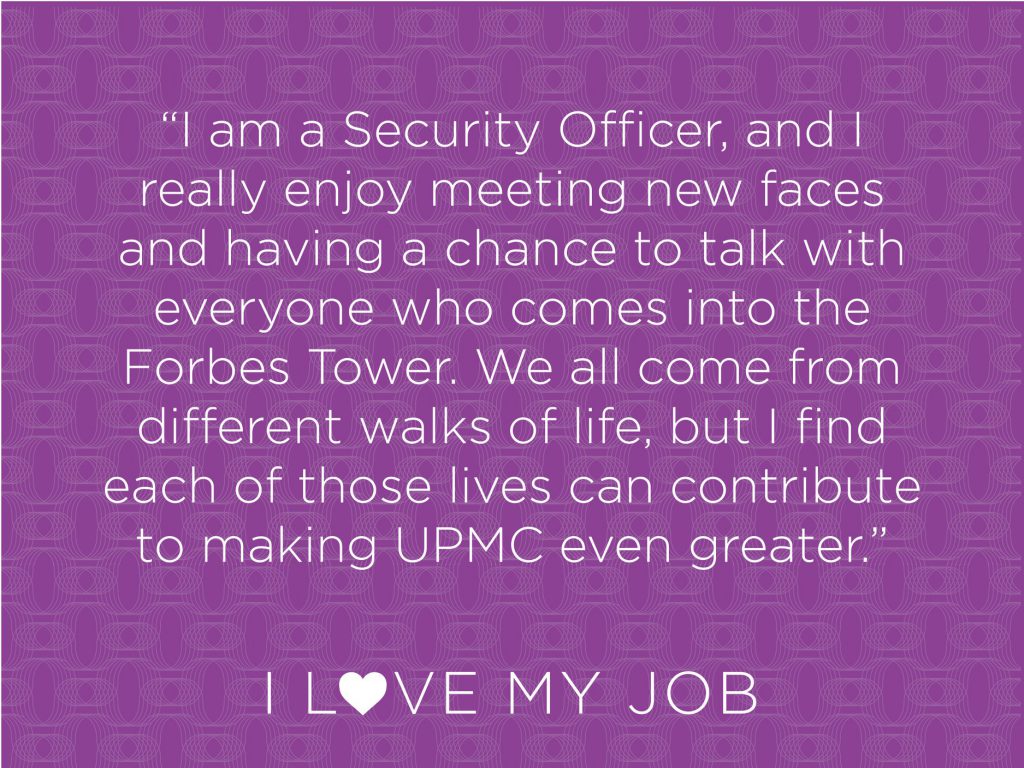 "Music is a powerful tool in helping patients manage their mental health. My job is to provide opportunities for them to utilize music as a means to address their physical, emotional, cognitive and social needs by creating, singing, moving to and or listening to music within a therapeutic relationship. Music Therapy also provides avenues for communication when words fail by providing an outlet for expression of feelings." – Ann Jackovich, Creative and Expressive Arts Therapist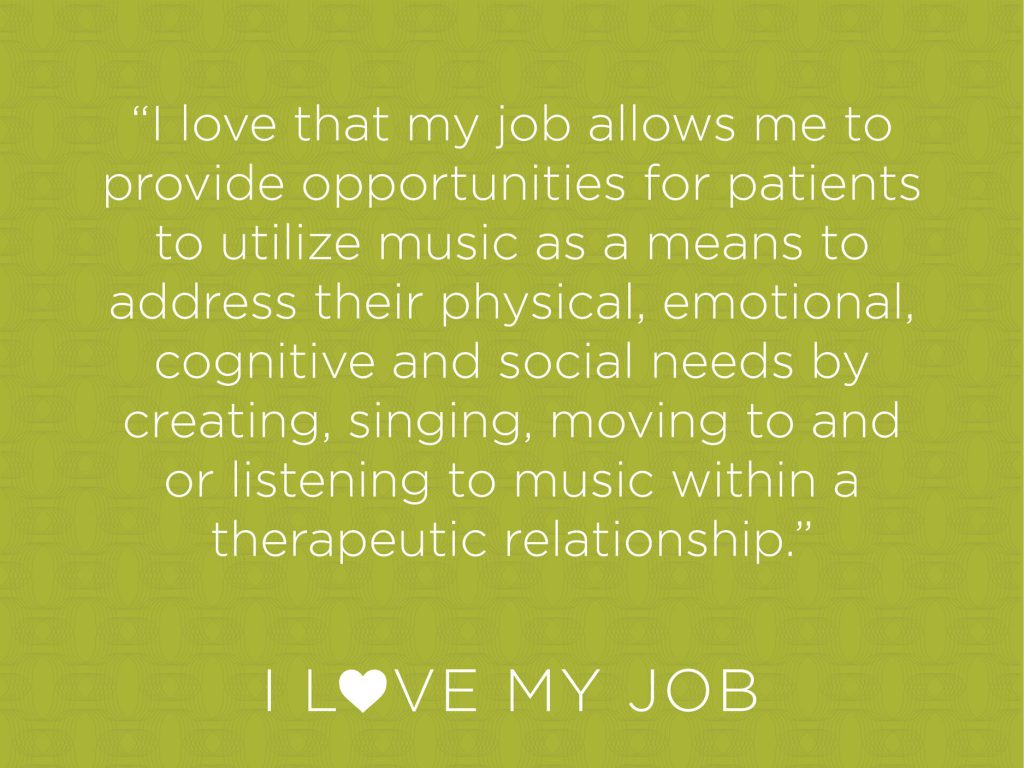 "I couldn't have picked a better profession nor a better place to work. As a nurse at UPMC McKeesport Hospital I feel daily a sense of care and compassion from all my coworkers. This place is definitely, a place where above and beyond happens daily. It is so common that people don't even realize they are the best! I love working here because there is a continual feeling of myself or a coworker making a difference in someone's like." – Nancy Wetzler, Staff Nurse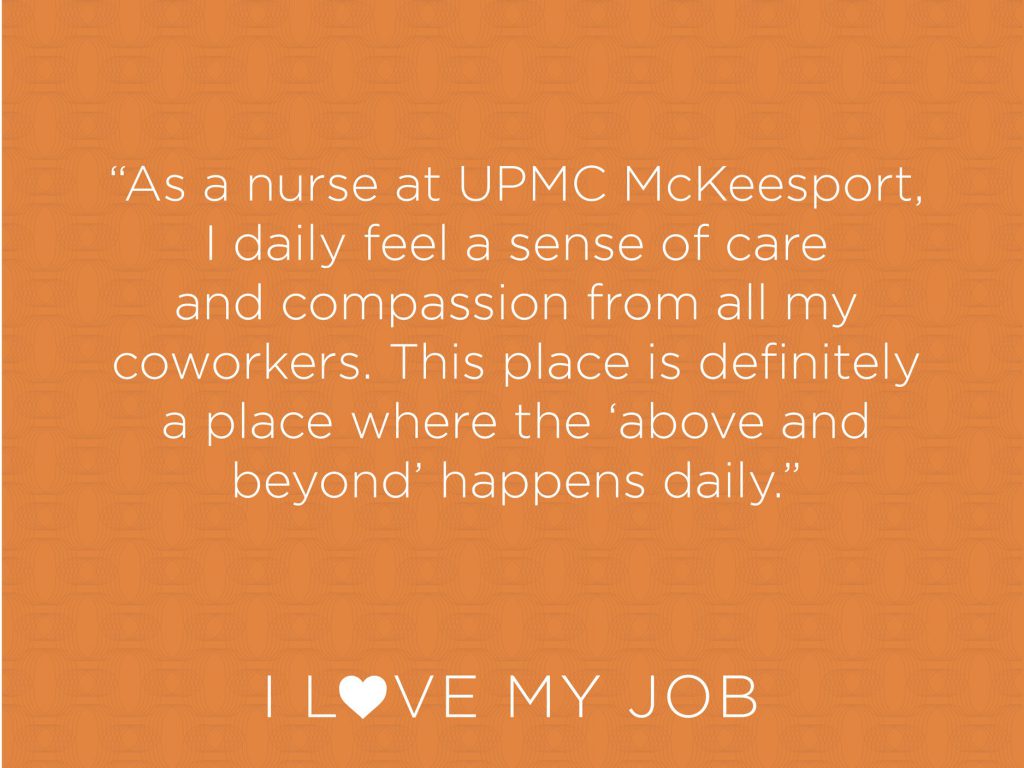 "Home care is such a unique setting you aren't just invited into peoples ailments but into their lives, families and homes. I love the one on one uninterrupted ability to provide care to the entire person, not just a part of their anatomy, to get a sense of their true needs and desires. In so few jobs do you get the daily outpouring of appreciation that we're blessed to receive in Homecare and a sense we really can make a difference and so frequently not in the way you even intend or expect to." – Joanna Hersick, Physical Therapist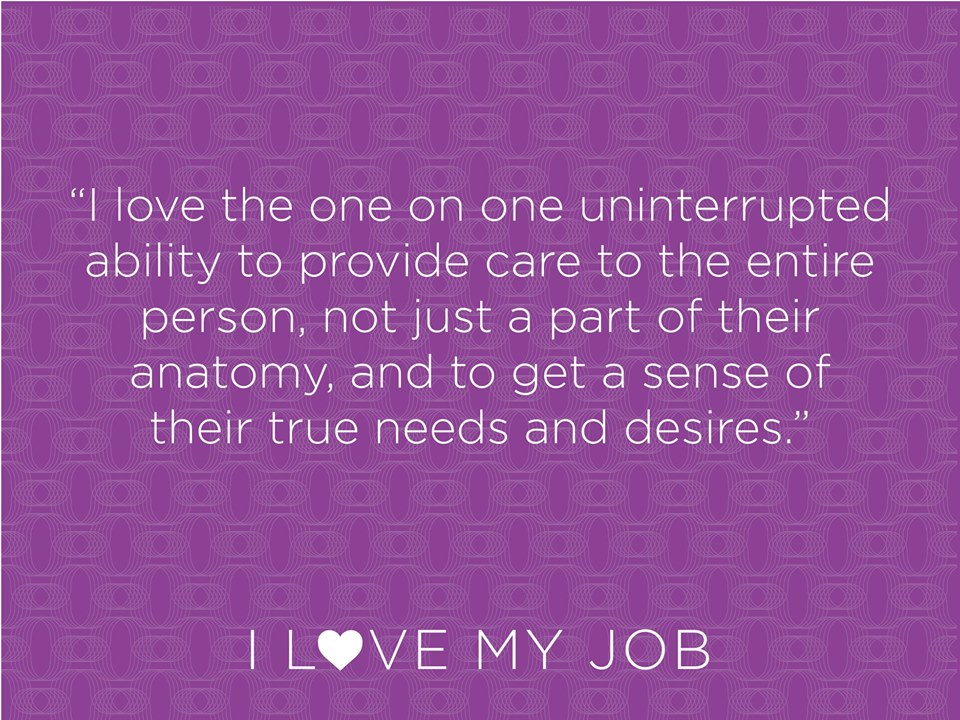 "In all my years of work experience for various employers, including a church, I have never felt the depth of calling that I do toward my position as chaplain within the UPMC system. I love my work as hospice chaplain and I love the team I am privileged to work beside. I am blessed daily to witness the caring support our hospice team extends to our patients and their families. Lives are changed because of YOU!" – Randy Kightlinger, Spiritual Counselor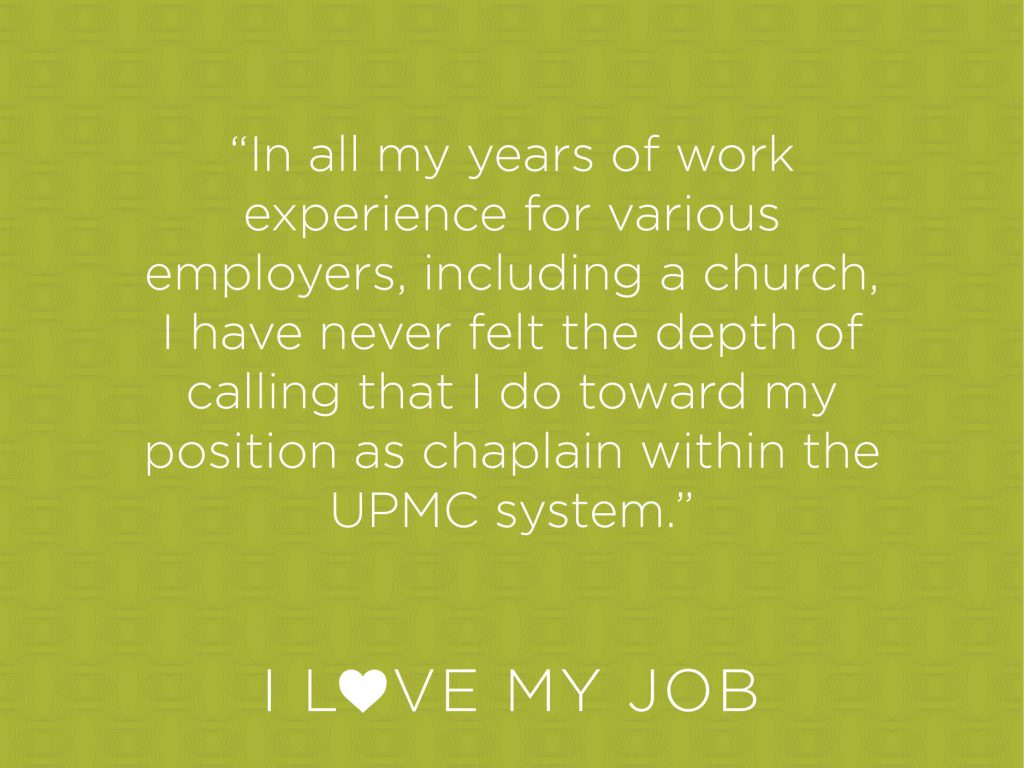 "I absolutely love the systems of people I get to interact with daily. On any given day, I work with physicians, physical therapists, athletic trainers, medical assistants, nurses, patients, students, coaches, educators – the list goes on. I consider myself lucky to be a part of each of these circles every day." – Jessica Falvo, Athletic Trainer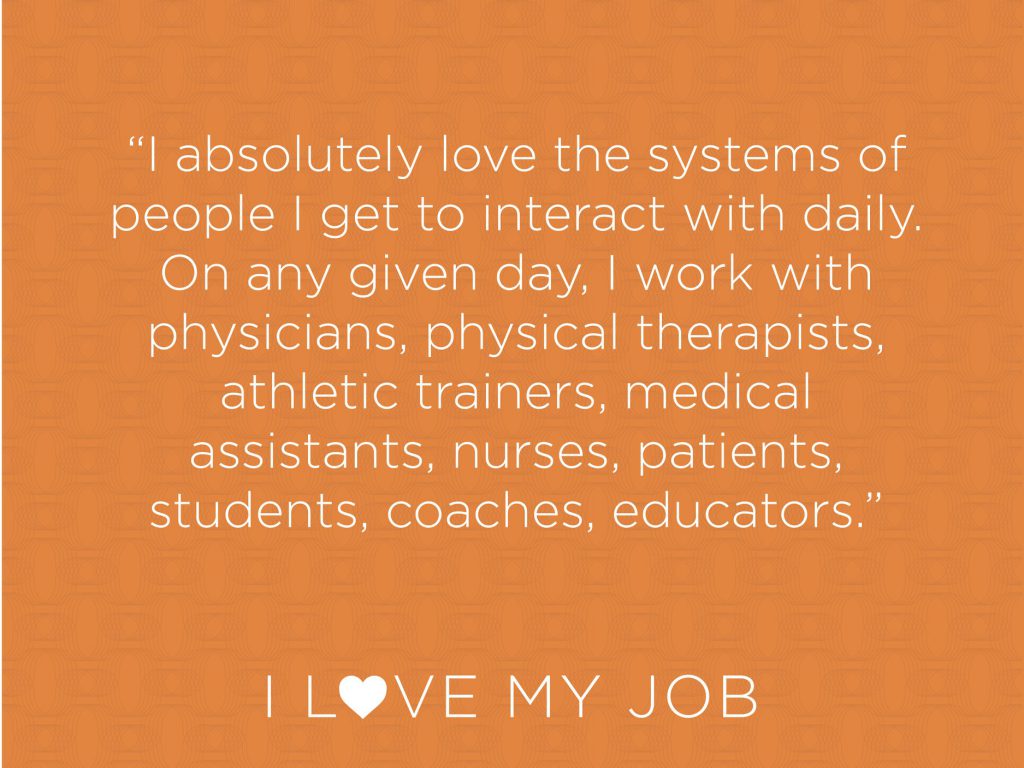 "I sat at my desk and cried immediately after walking through the hospital for the first time. "I feel like I'm not able to do enough" I told my colleague. She answered in a way that completely transformed how I was feeling—"There is more than one way to help a child." A week later, I once again walked through the hospital; this time with Sidney Crosby. I may not give shots or heal wounds, but I do give unexpected surprises. I may not be able to take away the stress a parent feels when their child is in treatment, but I am able to take away the stress that comes from paying for that treatment. I may not be able to provide the power of medicine, but I am able to provide the power of hope, love, and optimism. There are many ways to heal a child—I may not be able to heal their body, but I can certainly do my best to heal their spirit." – Ashten Farah, Development Coordinator, Special Events, CHP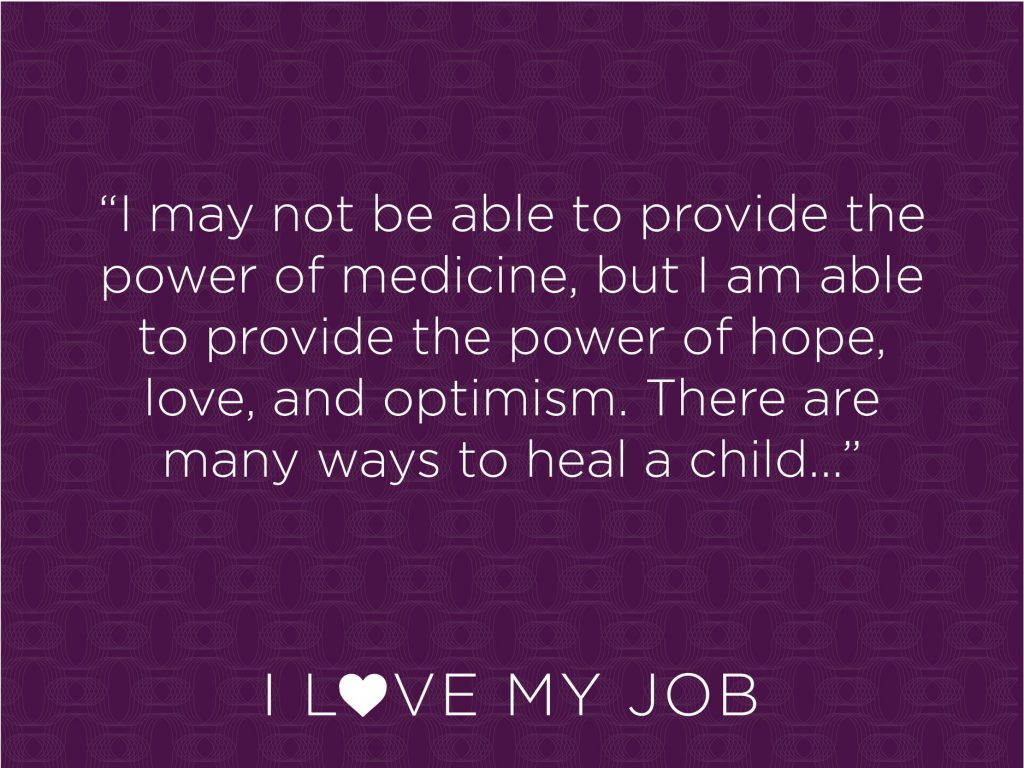 "I don't consider this a JOB. I consider my residents family. I absolutely love coming here and seeing them each day. I have laughed with them cried with them. I have just sat and held their hand. I get more from my residents then I could ever give to them. This is truly rewarding everyday the smile on their faces is priceless! I have found my forever home at Muncy Valley Skilled Nursing." – Tayne Sampson, Activities Aid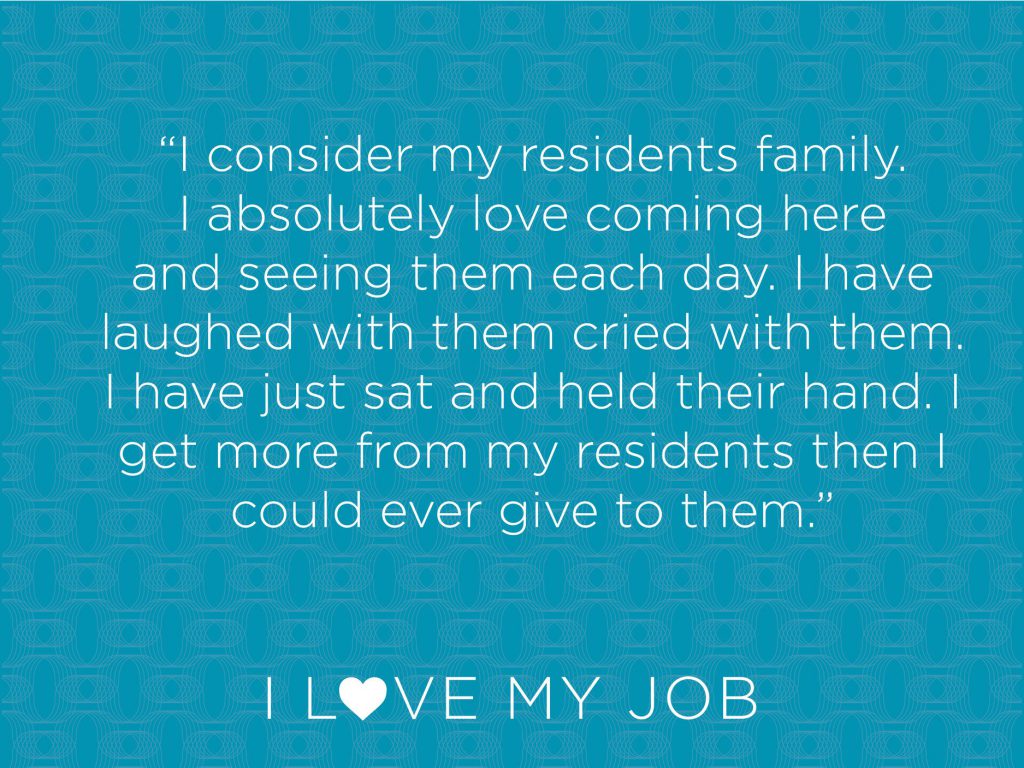 "What I love about my job is the educational support UPMC provides. I receive financial help in the form of tuition reimbursement for my college costs. My unit director is also very flexible in coordinating my work schedule around college." – Tracy Randall, Health Unit Coordinator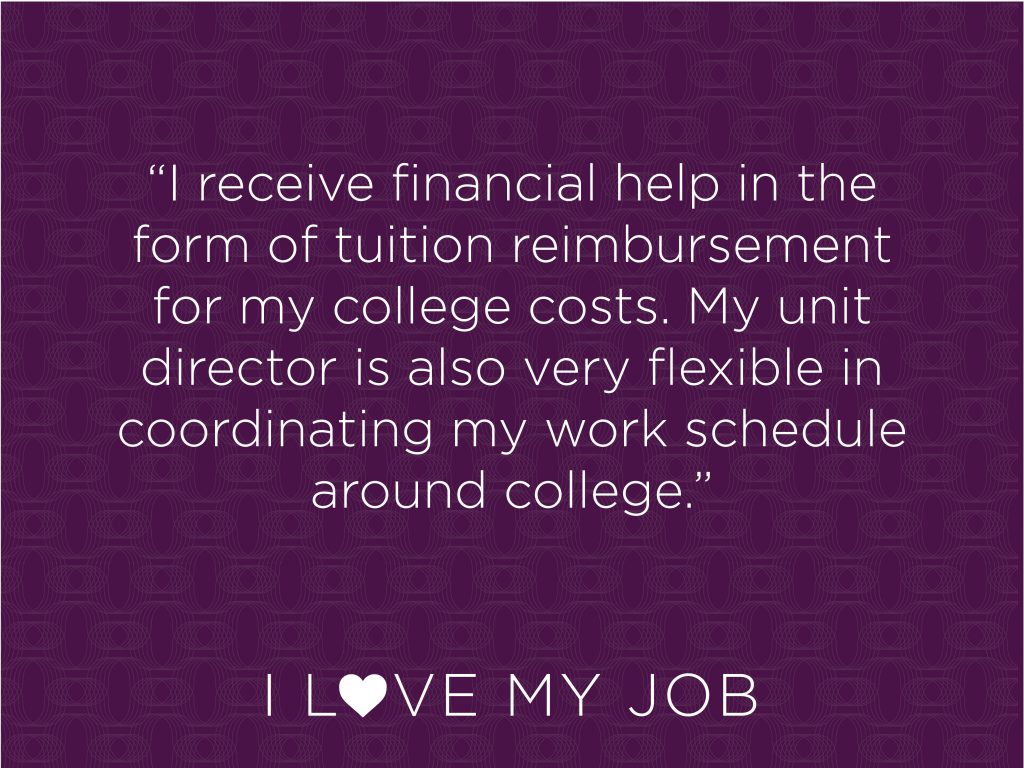 "I love the fact that I have the ability to help people with resources that they never knew existed. I am able to help my members gain transportation to doctors appointment and assist them with finding the right PCP. This job is very rewarding. It's that look on my member's faces after completing a task that they may not have understood how to complete. It's the relieved look in their eyes knowing that we are here to help to the best of our abilities. I feel so blessed to have this position. The feeling I get helping these members is priceless…That is why I love my job." – Carolyn Freeman, Community Health Worker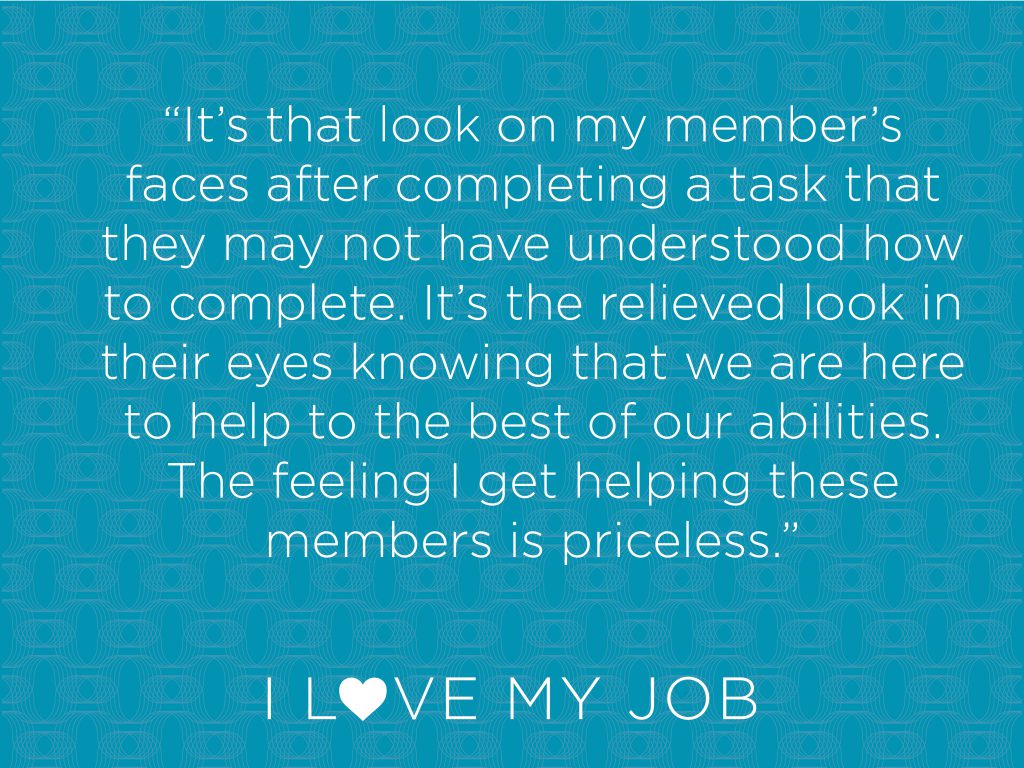 "I've been a nurse in the operating room since 1984. Working on the transplant team and variety of surgical specialties provides opportunities to grow and make a difference in patients lives. Over the years changes and challenges resulted in personal and professional growth. I like nurturing new employees, maintaining quality assurance, and of course assisting in the process of teaching others how to provide safe patient care. As a clinician, it is rewarding working with people and being able to mentor and assist the staff toward unified goals is rewarding. I am honored to work with highly skilled surgeon and medical staff." – Michele Marcone, Clinician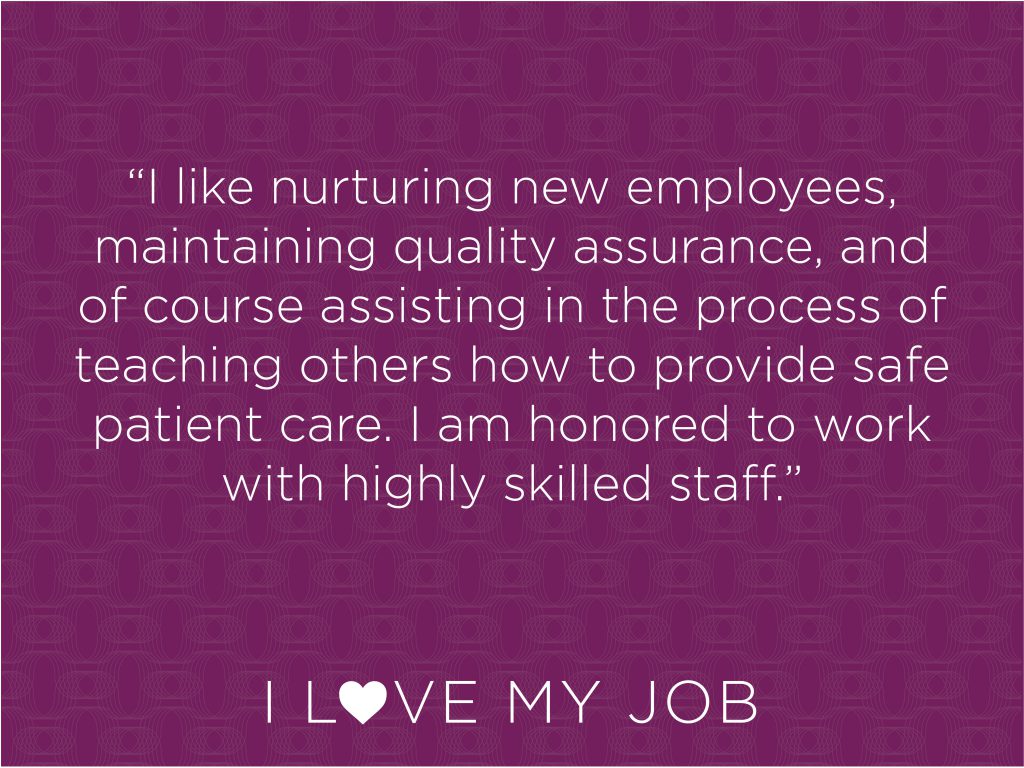 "I moved from New York City more than five years ago to start a new life in Pittsburgh- my employment with UPMC since I've relocated has been a dream! From working in billing initially to my current position in patient business services, UPMC has been an employer that has given me great pride in my work. My devotion to my vocation has grown stronger with each passing year, thanks to great co-workers & team members, supportive management, and superior ethics. I would not want to work anywhere else, and I hope to be part of the UPMC family for decades until I retire. Like a citizen's loyalty of the Steelers or Penguins, I am faithful to one of the best healthcare systems in the USA, not only as an employee but as a patient for my routine and acute medical needs. I am proud to be part of UPMC." – Samuel Magen, CDM Analyst, Team Lead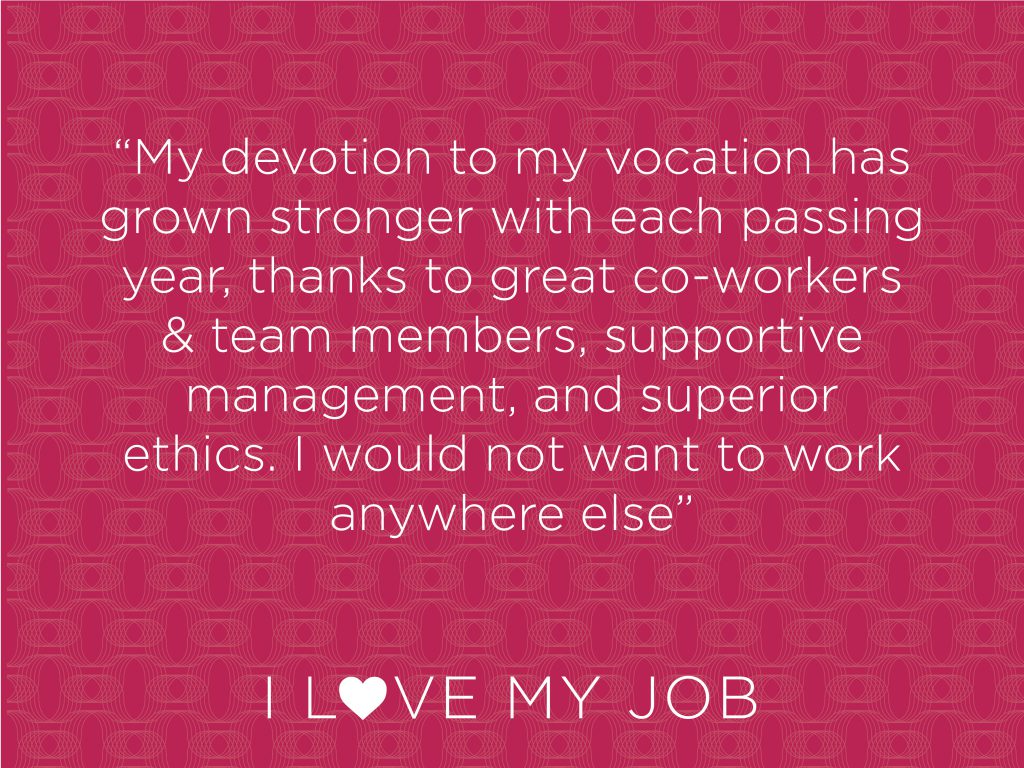 "My story with UPMC and my current position begins before I was even a nurse. Having attended a UPMC School of Nursing and then holding a position in the Trauma Intensive Care Unit, being apart of a team that requires so much collaborative effort is what makes me truly love my job. There is such a strong connection between staff across the entire healthcare spectrum that not one single doctor, nurse, or another advanced care provider can work alone. Within the field of trauma, we work with a patient population that is experiencing an event that physical and mentally is the worst day of their entire life. To be at their bedside as their care provider is what makes me proud to be apart of the trauma service and UPMC." – Charlie Blakeley, Registered Nurse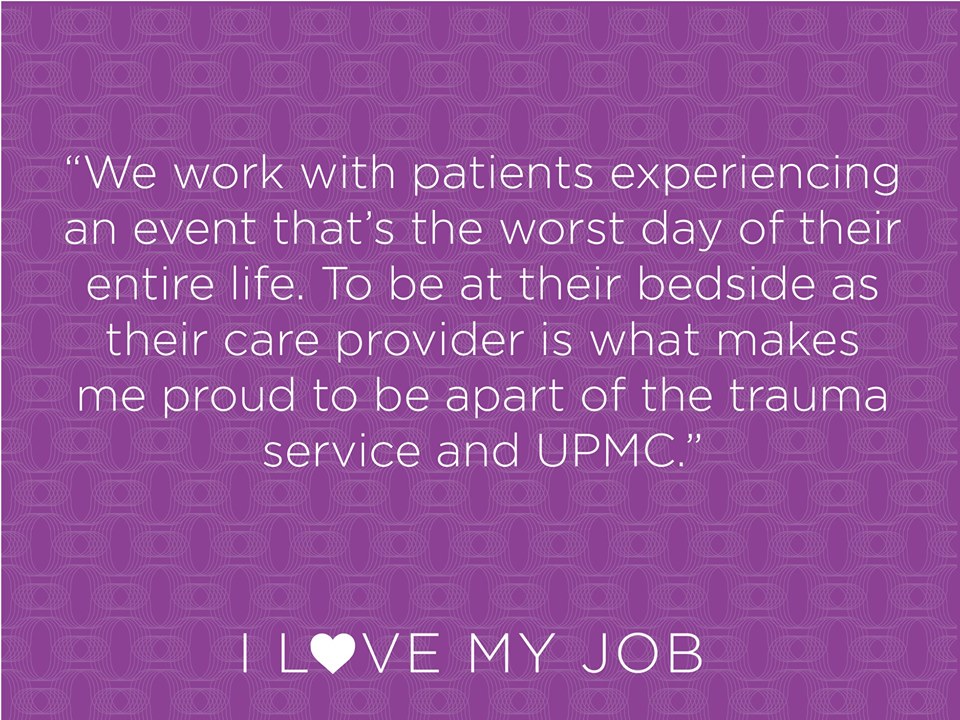 "Being able to help our patients, families, caretakers with the professional, continuous and multi-facet expertise that our physicians and nurses possess; at the Mercy Wound Clinic. This the foremost reason of why I love my job! Having a strong support system in the organization makes every day work seamlessly cohesive." – Constance M Greco, Clinician, Mercy Wound Healing Services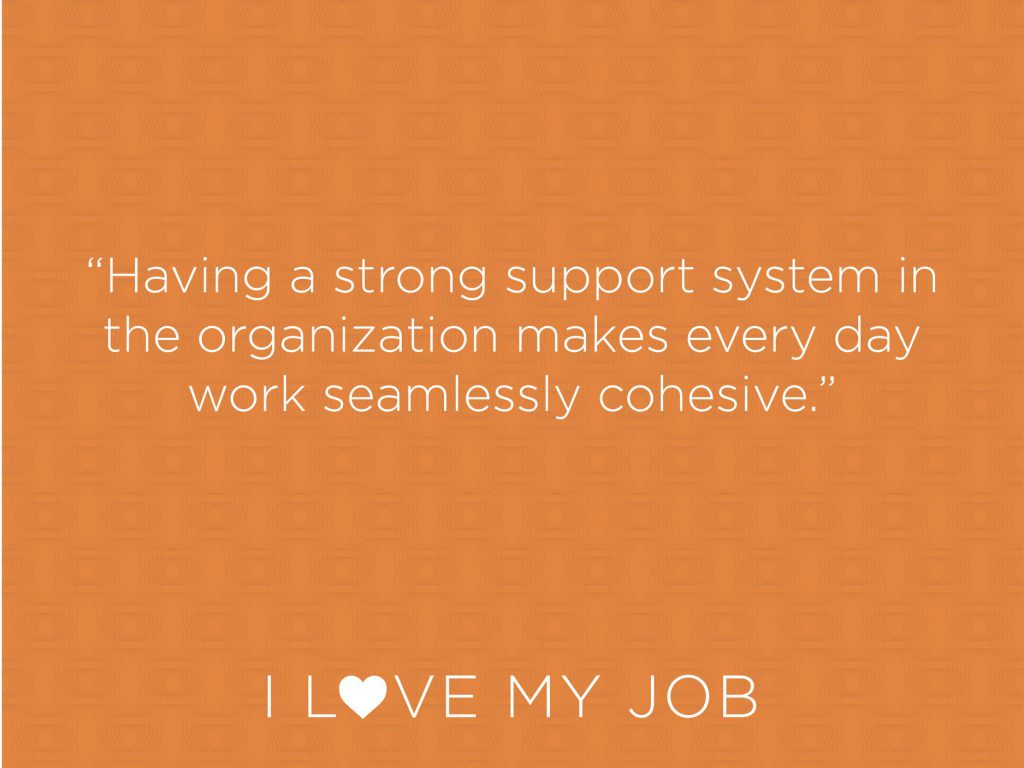 "I am a rehab liaison and I love my job because I am on the front-line of recovery. Assisting patients in taking the next step to getting better medically, functionally and mentally to get back home safely with their families and return to their independent lifestyles. Not to mention, my coworkers are like best friends and my manager is knowledgeable, considerate and kind. I am happy to come to work in the mornings thanks to the excellent team I work with at UPMC." – Jessica Laubach, Rehab Liason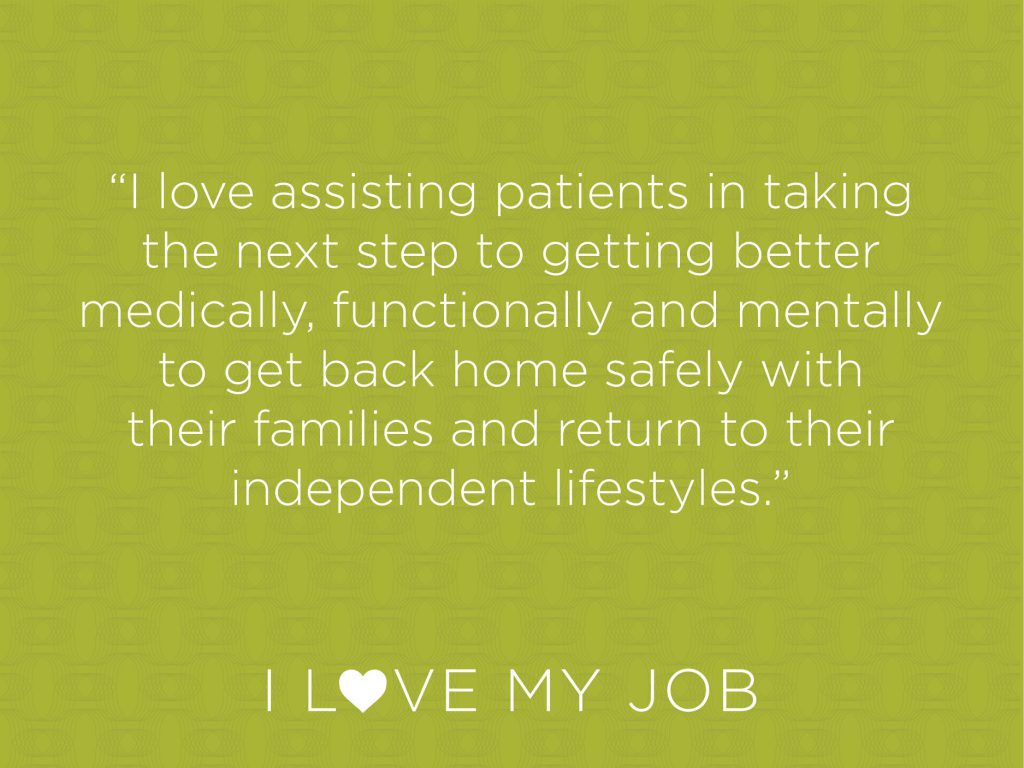 "I have worked in the health field for about 19 years. I have a back ground dictated to providing emergency, and non-emergency care. I started out as an outpatient Medical Assistant, along with working as an EMT. My passion has always, been to be the best health care provider that I can possibly be. That required me to really learn all that I can from the wonderful, and experienced nurses, that Ihave worked alongside over the years. By doing that, it has molded me, and shaped me to be the care provider that I am today.
I was always a people person. And my motto was always to treat everyone as if it was your own loved one. No matter what their status is in life, if I was taking care of them, it meant that they are viewed as one of my family members. I currently am now working in a New Role that UPMC has developed called "Wellness Guides." This role has allowed me to really show a different side to rendering quality patient care. It focuses on the different areas of a person's life, that contributes to living an unhealthy lifestyle. It allows me to help motivate the patient to overcome barriers that causes them to have high cholesterol, Diabetes, High Blood Pressure, Weight concerns, and Stress management. This role allows me to use motivational interviewing methods to help encourage self-efficacy, and self-awareness. To help the patient to overcome obstacles and barriers in being unhealthy. By using motivational skills, smart goals, and encouraging accountability in one's ability to do better. This helps the patient to strive to improve in their health, and make necessary changes, to reduce their risk factors of heart disease, Diabetes, obesity, and stress. The reward that comes from seeing a patient believe in themselves, and overcome barriers that have caused an unhealthy lifestyle, is priceless. So needless to say, I love being a Wellness Guide for UPMC. I also find great joy in seeing a patient invest more time' and energy into their own health. To me that is priceless. That is why I love being a health care provider, patient care is always number one in my book." – Media Brown, Wellness Guide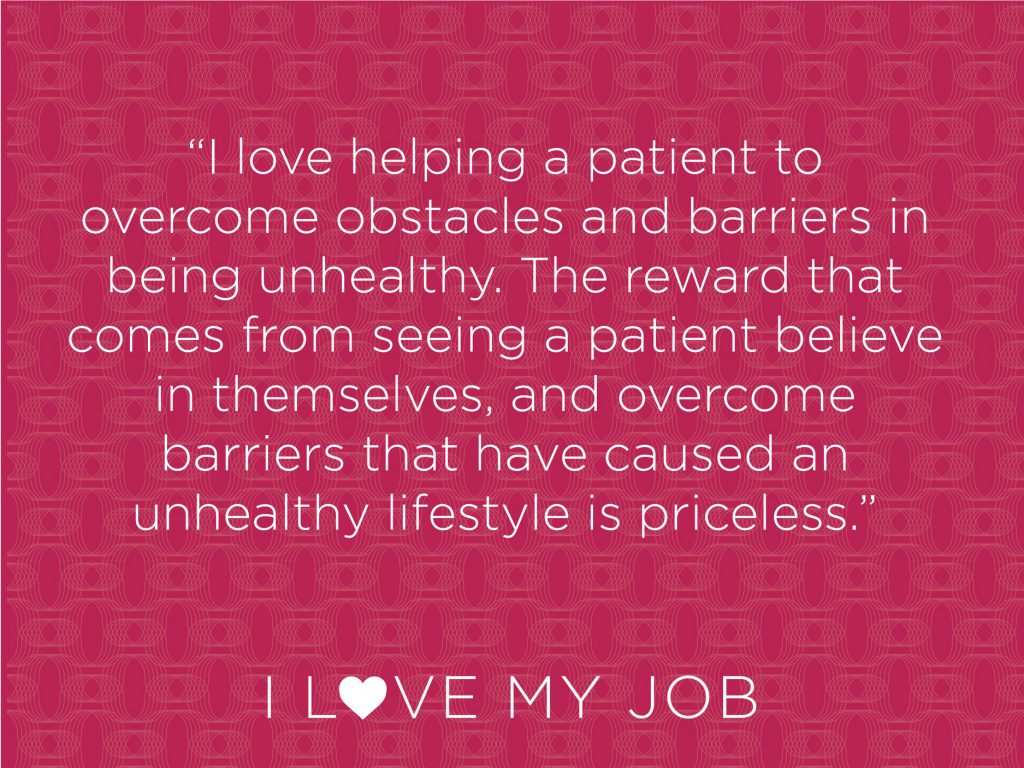 "I love my job at UPMC because it does not feel like a job – it is more of a calling – to lead, support, mentor, and encourage the best from people. In 16 years with this organization, I have been afforded so many opportunities to advance in my career, earn 2 degrees, and be part of fantastic advancement in healthcare delivery through daily operations and leading projects such as the UPMC Outpatient Center at Hampton. I have had the pleasure of working with supportive leaders, and hope that I have left a positive mark on UPMC!" – Dina Perry, Executive Administrator, Community Medicine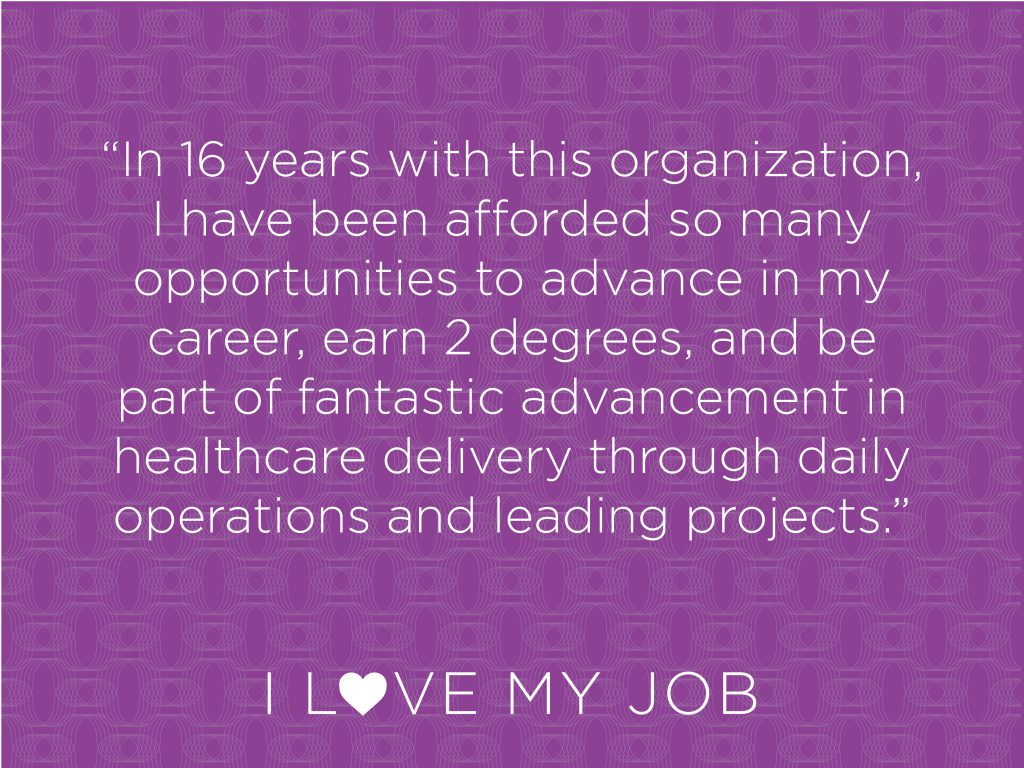 "My husband battled Stage IV lung cancer for over 7 years and finally succumbed to the disease this past November. During that time, management went above and beyond in regards to allowing me a very flexible work schedule being that I was my husband's primary caregiver. Their compassion, kindness and generosity allowed me peace of mind and relieved any strain associated with holding down a full-time job." – Barbara Bahney, Senior PeopleSoft Analyst, Corporate Information Services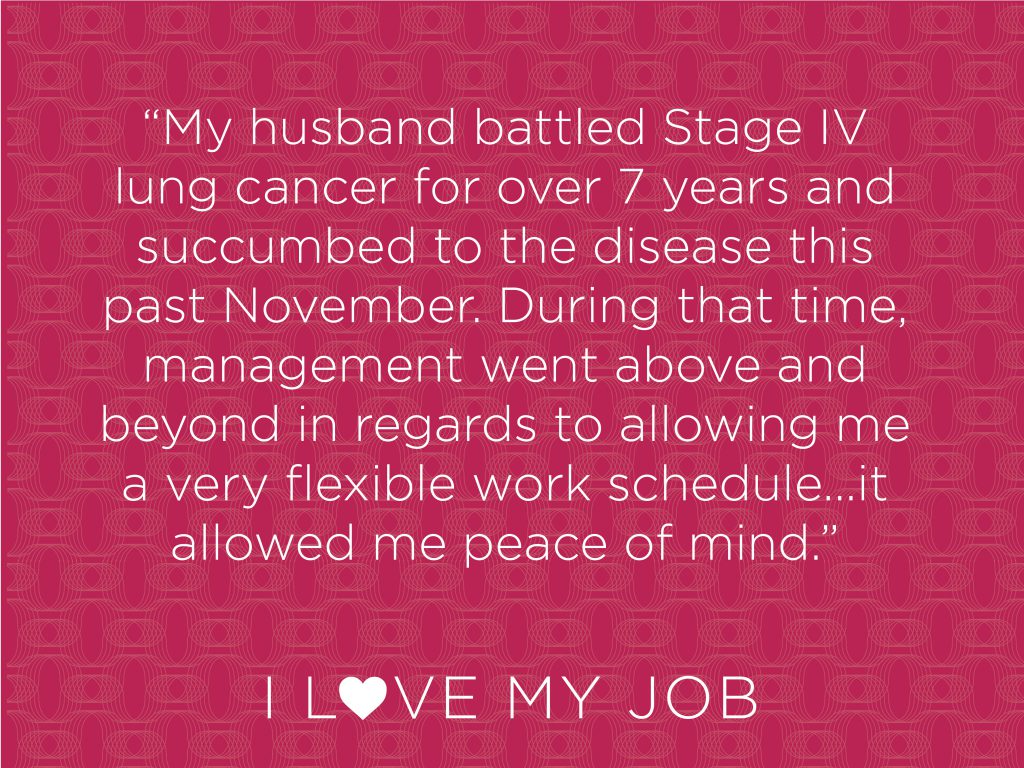 "I am blessed to work with the most amazing patients in the world. Oncology is a practice of extremes: we ride the roller coaster alongside the patients, celebrating every victory, but feeling the heartbreak and devastation of loss as well. I would not trade it for the world. Seeing patients through their respective journeys has been one of the most rewarding experiences of my life and the past eight years with Gyn/Onc have taught me so much. When I gave birth to my first son in 2013, my husband and I were completely shocked to find out that he was born with a rare genetic condition that has required several complex surgical interventions. It was largely due to the strength, determination and undying faith of the Gyn/Onc patients that helped me through one of the most difficult times in my life. Seeing what they go through on a daily basis is a testament to the strength that is within all of us. They have helped me so much more than they could ever know!" – Emily Stranahan, Access Lead-Gynecologic Oncology, Magee-Womens Hospital of UPMC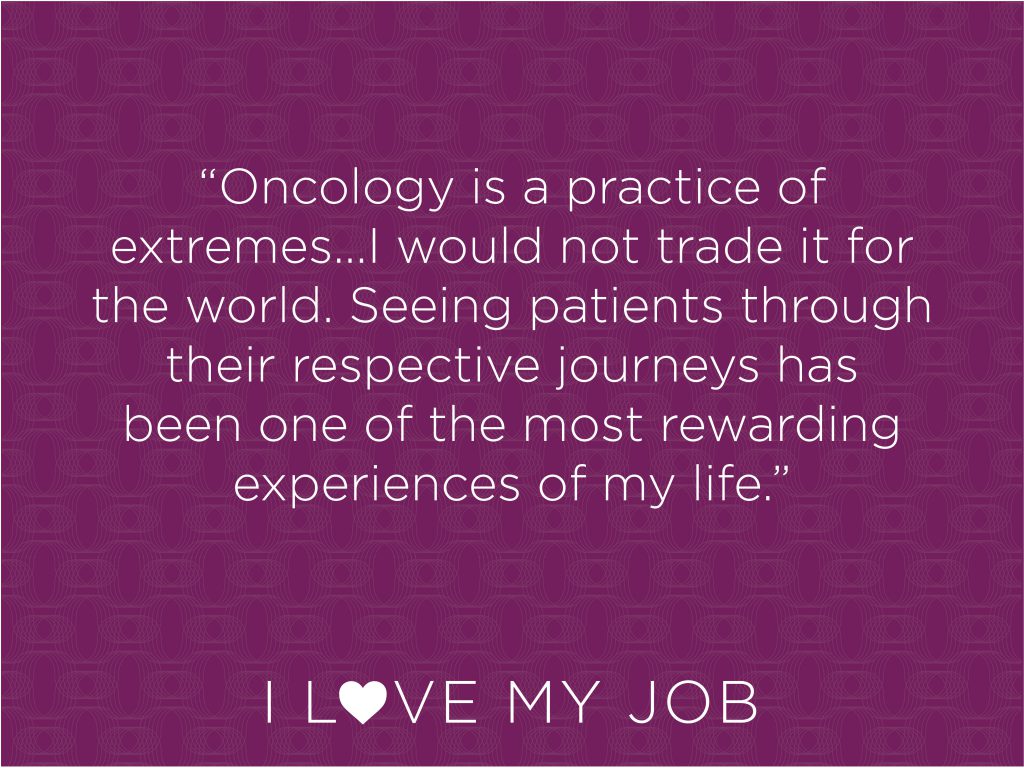 "When I was 17 years old I had a near death experience with Myocarditis. UPMC Presbyterian Hospital doctors and nurses saved my life. I couldn't have asked for better care. In my current role with UPMC I strive to provide excellent customer service to every patient that walks through the door. My first role with UPMC was at the Hillman Cancer Center and current
ly I am at Magee Womancare Associates as an administrative assistant. I want every patient to experience the same kindness and compassion that I received. I am truly considering going to nursing school to become a UPMC nurse.The nurses in the ICU made me feel human and helped me through my illness. I am forever grateful that UPMC was there for me when I was at my lowest point in my life." – Megan Chapman,

Administrative

Assistant, Univ. of Pgh

Physicians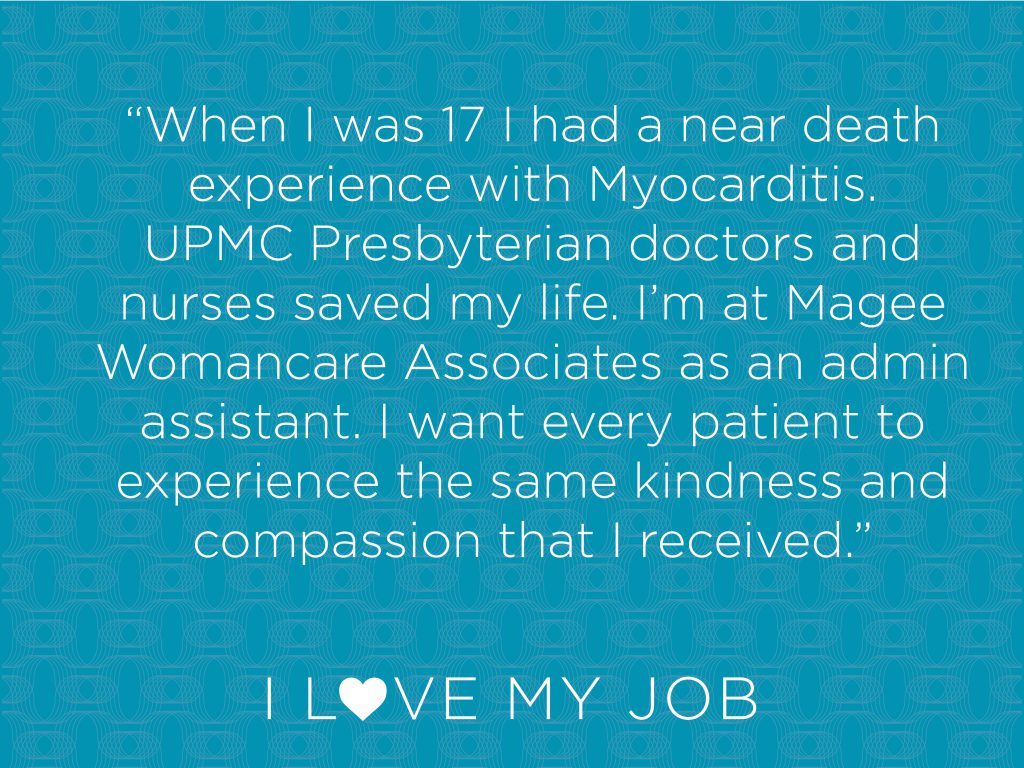 "This was my first job out of nursing school. I was so grateful to UPMC for giving this new nurse a chance. I took it and ran with it! I've learned so much; more than I could ever have imagined. I've interacted with some of my most memorable patients and made life long friends!! I couldn't have asked for a better place to begin my career!" –
Alissa

Bolinger, RN, Senior Communities
"I have always been interested in teaching and in the healthcare industry. Although I always wanted to pursue nursing or become a teacher, life took me down a different path. My job as a EHR Operations Analyst, allows me fulfill both. I work directly with clinical practices implementing PROs (Patient Reported Outcomes), which allows me to indirectly help patients. During implementations, I get to work with office staff to teach and share the knowledge and value of collecting outcomes. Life provided me the best of both. I am blessed to have a job I love at UPMC." – Suzanne Liposky, EHR Operations Analyst, Lead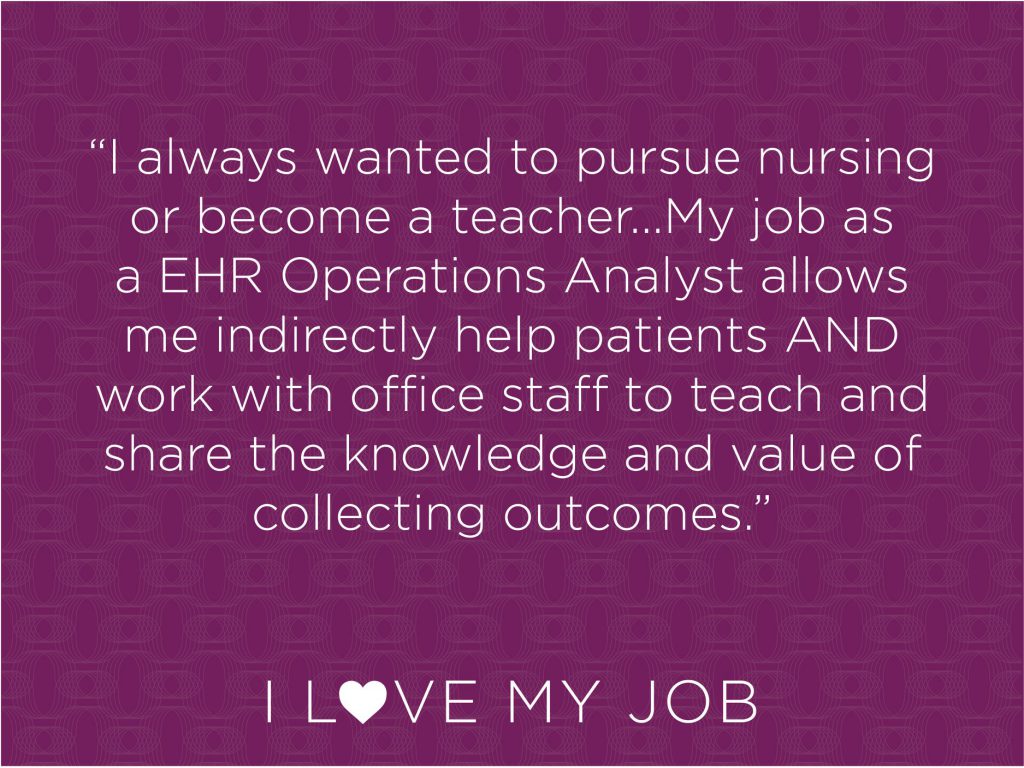 "I love my job not only for the management team and their caring, but for the opportunity to continuously learn. Never in my wildest dreams while sitting in nursing school did I think my career would include the ability to assess ears, throats, skin etc via Telemedicine! It is crazy fun and I learn so much from the providers that help to care for all of our UPMC employees." – Kathi Duncan, Occupational Health Coordinator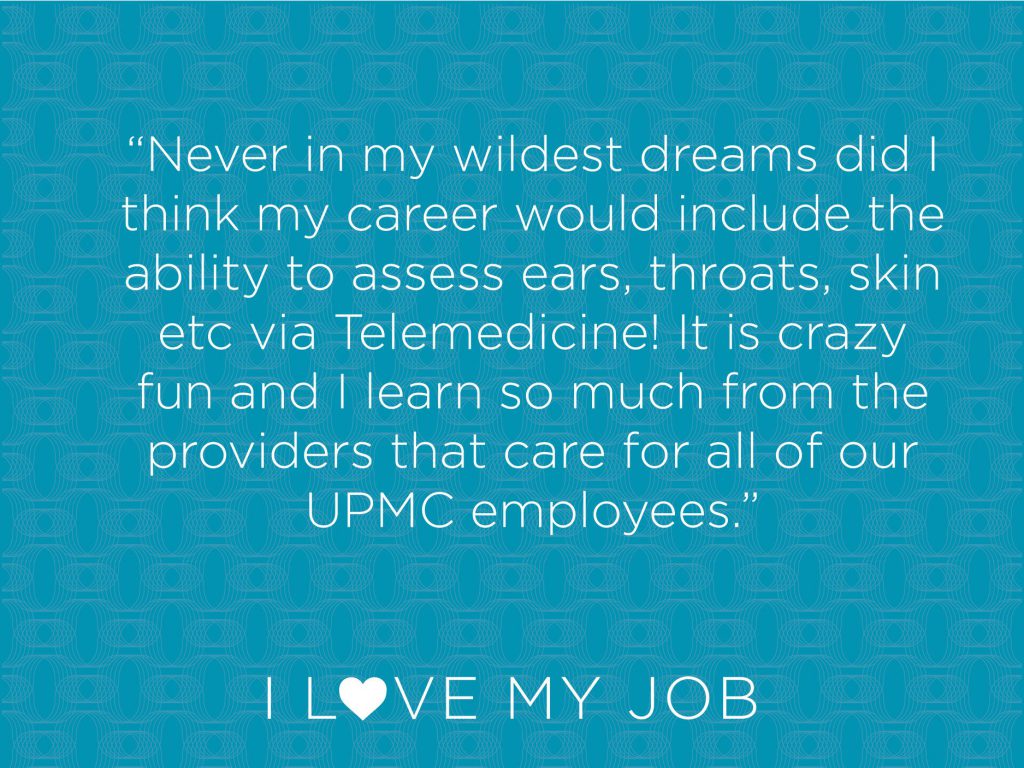 "The reason I love my job is that I get to teach and influence nursing students for many generations to come! I find my job very fulfilling and I have a wonderful support group. All the nursing instructors and staff at UPMC Mercy School of Nursing collaborate well together so that we are able to provide competent and dependable nurses for UPMC. We can rely on each other to improve our teaching abilities to help students provide the best quality patient care. We encourage, respect and celebrate together. I couldn't imagine working with a greater group of individuals!" – Gail Hoover, Nursing Instructor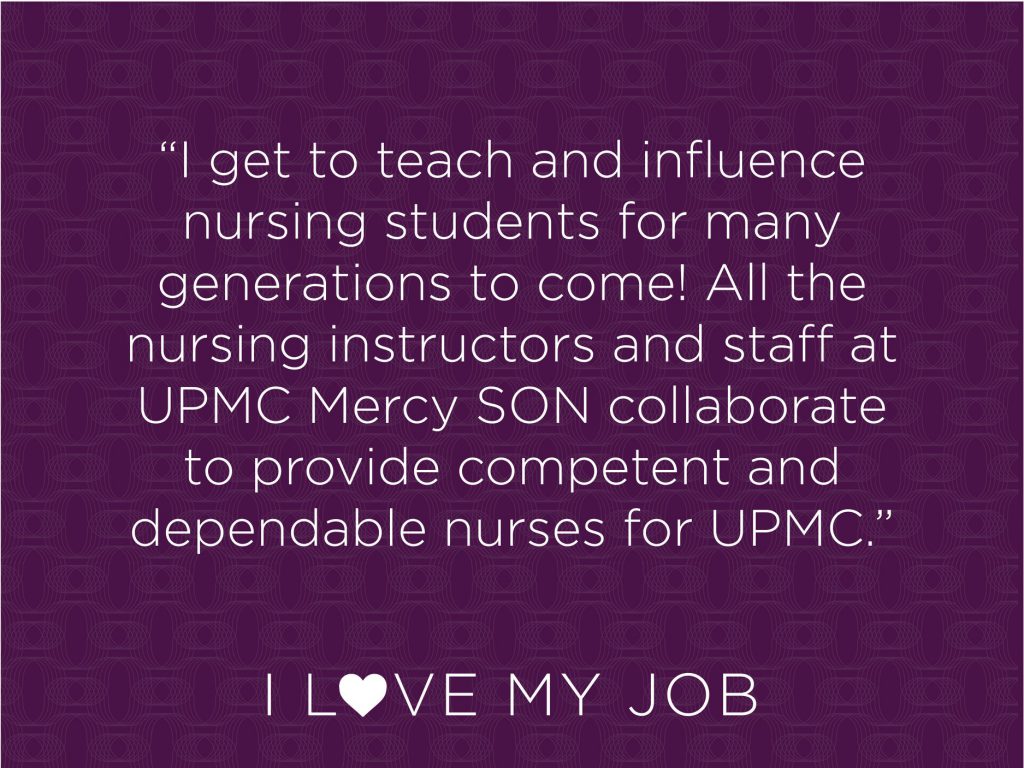 "I love my job because I always receive more than I give from my colleagues, patients and leaders. As a Hamot Strong nurse I am a part of a team that practices upon the permission slip to do more, give more, hope more, accomplish more and to purposefully make an immeasurable impact on others. Because our leaders, titled and transitional, lead by example with outstretched arms that move us all forward, complacency is absent, and we are able to move the needle of the patient experience and healthcare toward our goal of a 5 Star institution. This inspiration is the kryptonite, the catalyst, the reassuring difference that propels me forward to scale any challenge, to dream beyond what is seen, to anticipate each new work day with hope as we participate in something larger and more important than ourselves! Thank you UPMC Hamot, the strong, the North Star! Thank you for the opportunity to share our stories!" – Janet Rice, RN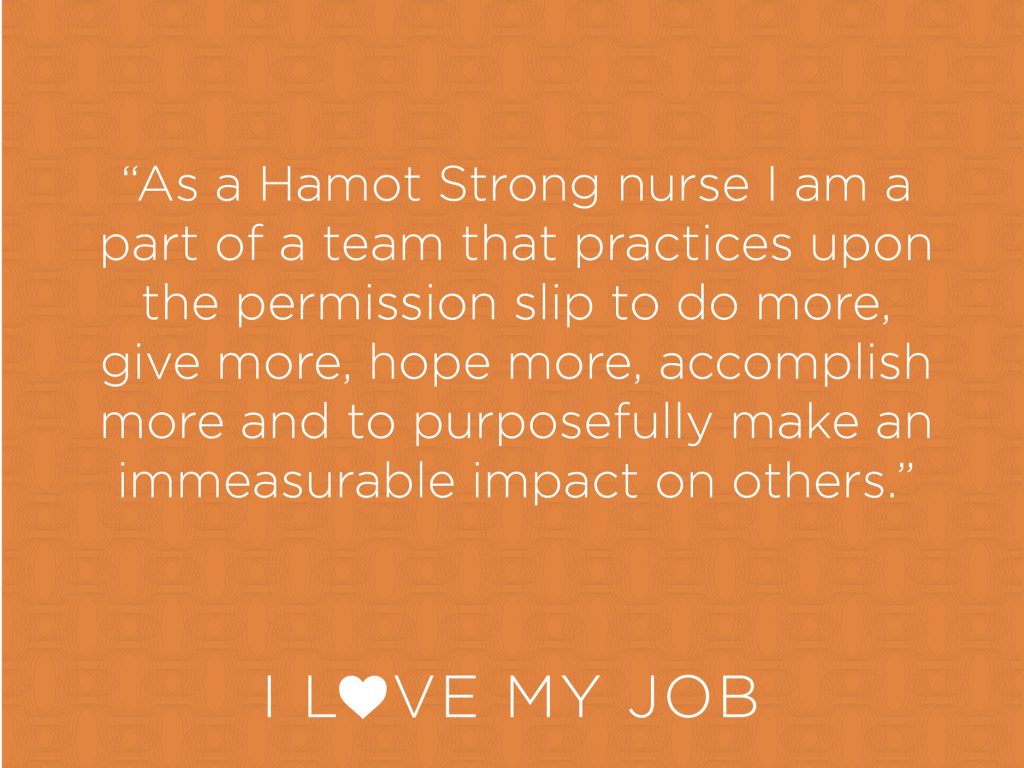 "I love serving the senior population. It is such an honor to be a part of their lives at this time of their life. Working for UPMC Sr. Communities has been a a blessing because the focus is always about the residents and staff and that IS what it is all about. I LOVE MY JOB!" – Nancy Woodward, Administrator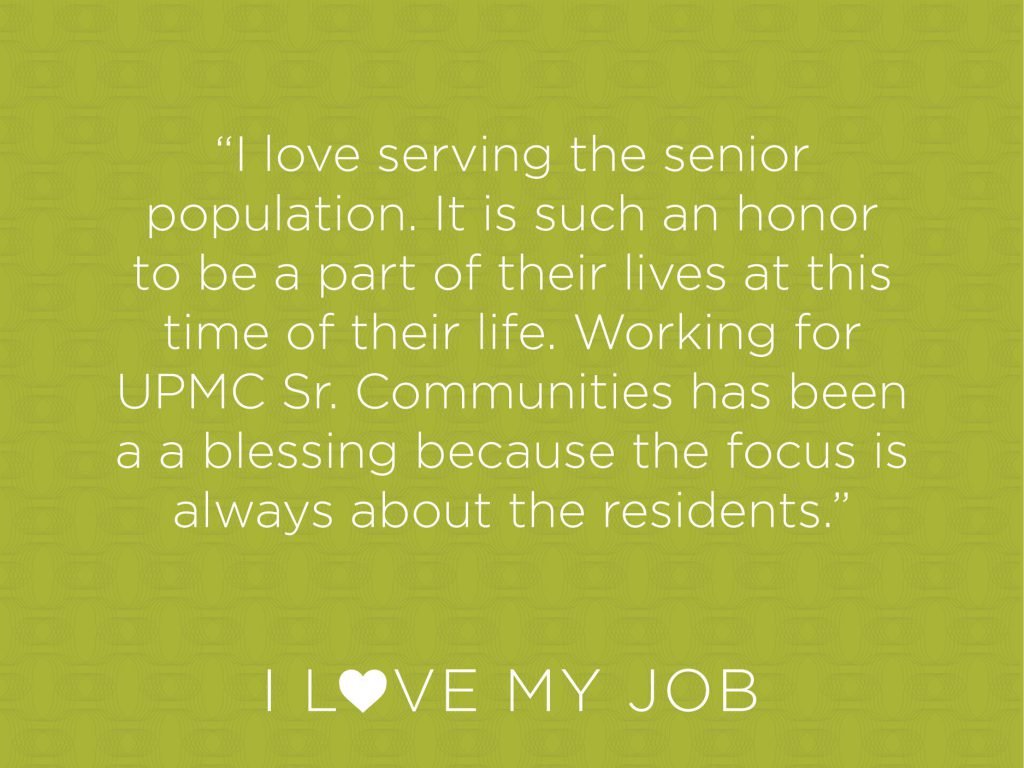 ---
Posts can be found below throughout the month of February. Check back each Wednesday and Saturday for new additions to this post or follow the original posts on our Facebook or Twitter accounts. 

SaveSave
SaveSave
SaveSave
SaveSave