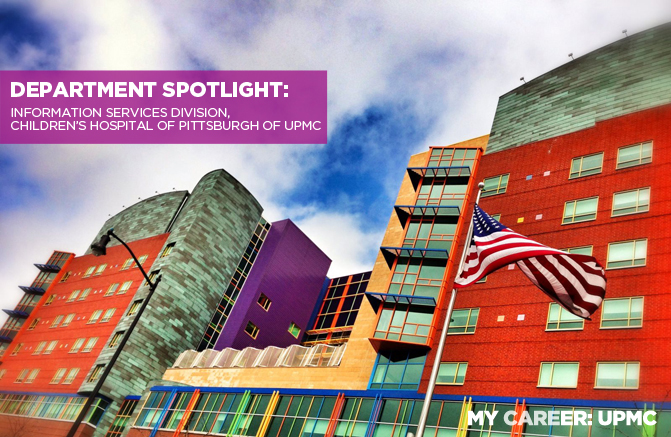 Once I received the email that I would be working at Children's Hospital of Pittsburgh of UPMC in the Information Services Department with the myCHP patient portal team, I truly did not know what to expect. I never went to CHP as a child and even if I had, it was not merged with UPMC until 2001. At CHP we are still seeing signs of this merger today. Here in the Information Services Department, this is extremely evident because computers running on different systems do not "talk" very well. For example, most of the UPMC system uses EPIC. However, Cerner is used at CHP. This causes Children's to have a separate patient portal (myCHP) rather than UPMC's (myUPMC). There are many other dilemmas that we run into, but this is just an example I have become more familiar with.
As opposed to some of the jobs I have worked in the past, I have met with, worked with, or helped nearly everyone in my division. Everyone here at Children's has been very accommodating and has helped me through all of my tasks. The Information Services Department covers a wide variety here. On the floor we not only have people who have previously worked with patients, nurses and pharmacists, but also programmers and analysts. We are responsible for most of what goes on in CHP that is related to computers. Whether it is a doctor that is unable to bring up a patient's chart, or a member of the registration staff that is unable to send an invitation to the patient portal, the Information Services Department is accountable for resolving it.
As a member of the myCHP patient portal team, I work on maintaining and improving the features of the portal. All of the projects that I have worked on have been different. I am currently creating scripts to automate data collection, but I have also worked on creating and implementing a new customer support model, a new questionnaire feature for the portal, and also updating and maintaining multiple SharePoint sites.
Being a Summer Associate at Children's Hospital of Pittsburgh of UPMC has been a great opportunity for my career. In the process of writing this post, I have started and stopped numerous times to help my team work on various projects. I have not only been working with my team, but I have worked on projects with other teams such as data warehousing, marketing, nursing informatics and many more. Working with different teams has given me the opportunity to evaluate what I am interested in and what I want to do with my career. With a few weeks left, I feel as though I have learned, experienced and accomplished many things here at UPMC.
Anthony Vescovi, IT Summer Associate