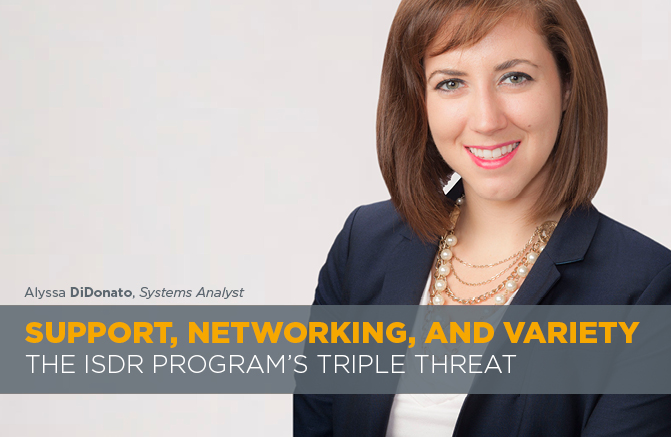 I believe the constant support, networking opportunities, and variety of work are the best parts of being an ISDR. Currently, there are only 13 ISDRs. Being a part of such a small group has allowed us to become like a close-knit family. Even though we all work in different buildings, we often get together to discuss our rotations and experiences. It is great being a second year, I have been able to share and give advice on my experience to help the 9 new ISDRs.
Also, I think the care and time the ISDR leadership team has given us is incredible. I have found that they truly want us to succeed and are willing to help in any way they can. I really enjoy our monthly ISDR meetings. I think it's a great way to learn what is new in the UPMC Information System Division, as well as an opportunity to share some of the projects we have been working on during our rotations.  It is a wonderful way to get a full view of the Information System Division at UPMC, which I believe is definitely a great advantage.
Not only have I received support from my program, but also from my team members in my rotations. I think it has been an awesome opportunity to network with individuals. Not everyone has a chance to experience different aspects and individuals across the division. Upon graduating from college, I knew I wanted to use my skills in Information Systems to help people, but was not exactly sure how I wanted to do this. This program has given me the unique exposure to different people and various jobs, allowing me to see how my skills might be used to provide "Life Changing Medicine." This is a privilege!  Overall, support, networking, and variety are truly the triple threat of the ISDR Program.
Alyssa DiDonato, Systems Analyst