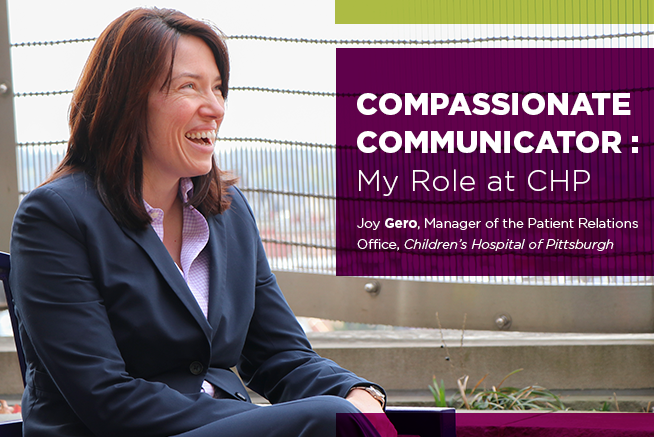 When someone asks me why I love my job, a story comes to mind from a few years ago when I first began my career with UPMC. It was my second day at Children's Hospital of Pittsburgh, and my supervisor Dr. Andrew Urbach took me on a tour of the hospital. He did three things during the tour:
Greeted everyone we met (and all employees by name).
Let everyone through doorways first.
Picked up every piece of trash on the floor.
Without ever uttering one word, he communicated the expectations he had for me as a fellow leader at Children's Hospital. One reason I love my job at UPMC is that I work with engaged leaders like Dr. Urbach who model what they expect and show me that being a compassionate communicator is a vital part of life-changing medicine and leadership at UPMC.
In my role as a manager with the Patient Relations office at Children's Hospital of Pittsburgh, I come back to the ideas Dr. Urbach modeled in my first week here. As a leader, I should always be willing to do the things that I am asking other people to do. Being a compassionate communicator isn't about politeness; it's about shaping all my interactions around the values of dignity and respect and caring and listening. These qualities are not just something UPMC encourages from a systemwide perspective, but how my colleagues and I live our lives and do our work.
So much of modern medical care is about the work we do to form relationships with the people we serve. It's important for me to remember that my role at UPMC is about helping and empowering people. If I'm meeting one-on-one with a patient or their family, taking a phone call, or facilitating a training session for new nurses, empowerment is my focus. I am consistently given a chance in these moments to show compassion. My day is spent helping families with children in our hospital who have questions, concerns, or predicaments that make this time especially challenging. Being able to help these families, listen to their concerns, and connect them with services that ease their difficulties is how I provide Life Changing Medicine.
Working in health care can be challenging; there's no doubt about it. But it's tremendously rewarding to see patients and families have a moment where gratitude and joy break through during what are often extremely hard days. I witness that and am inspired knowing that a family saw my team and me as teammates and helpers in their journey at Children's.
Every day here at Children's is different. Every patient's story is unique. Every fight brings its own struggles. Every week at work brings a new set of challenges. But what remains the same every month and year that I've been an employee here is the amazing opportunity I have every day to become a more compassionate communicator. This is my contribution to UPMC's mission to provide Life Changing Medicine to patients and families.
I love what I do and consider it an honor to be a part of the UPMC story.
Joy Gero, Manager of the Patient Relations office, Children's Hospital of Pittsburgh