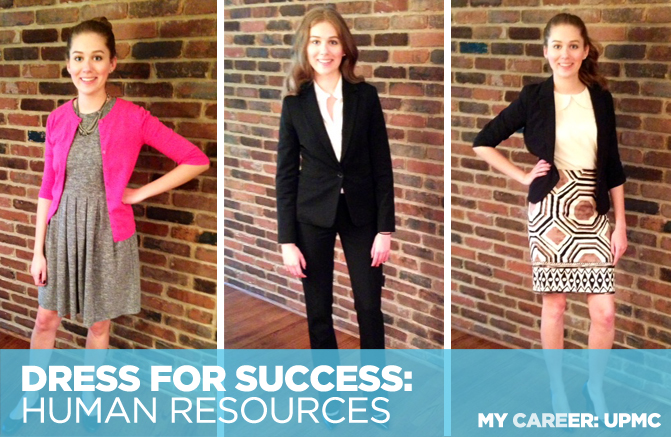 Every morning, I ascend to the 60th floor of the US Steel Tower to join the Human Resources team for the International and Commercial Services Division and the Information Services Division.  The HR Consultants that I work with are constantly interacting with people from various facets of UPMC, whether they are conducting investigations, facilitating manager training sessions, or meeting with executives about new international initiatives.  "Casual Friday" is but a dream for the ICSD & ISD crew.  It is important for us to look professional every day of the week.
Monday:
Dressing for success every day is crucial to making memorable first impressions, which every Summer Associate must strive for.  Our eleven weeks at UPMC are marked by a blur of cursory handshakes with people whom we hope will be lasting contacts.  In order to put your best foot forward and stand out in a positive way, it is important to express your professionalism and personality through your work attire.  Though I had no meetings lined up for Monday, I wanted to make sure I looked the part: you never know when you might bump into an executive at the Steel Tower Starbucks!  I wore a knee-length dress, a pink cardigan, and buckled flats.  An interesting but understated necklace added some work-appropriate flare.
Tuesday:
I donned a full suit on Tuesday, as I had an important meeting to attend with a number of HR leaders.  Conservative black heels added a touch of formality.  If the prospect of spending a day in heels has you envisioning a surefire face plant, a dressier flat shoe is a fine alternative.  The goal of wearing a suit is not only to look put together, but to feel it.  The confidence that comes from knowing you look your best gives you the courage to extend a firm handshake to an executive and assert yourself as an intelligent and prepared member of your team.
Wednesday:
On Wednesday, I balanced a patterned skirt with a more subdued top, adding a blazer as the finishing touch.  I experienced the power of the blazer during my first day at UPMC, when the Vice President that I work with invited me to a meeting with an executive. Though I had not worn a full suit that day, I swiftly buttoned my blazer and grabbed my notebook, eager to dive into my first meeting experience.  It may sound silly, but the blazer allowed me to feel comfortable and confident on the elegant and professional 62nd floor.  I may have been a new and inexperienced Summer Associate, but I looked the part – and if I looked it, I knew I could act it as well.
Your clothing is the first thing that others notice about you.  Therefore, particularly when it comes to work, getting dressed is more than a necessary morning routine.  It is a chance to define how you want to be viewed by others: your colleagues, your manager, and even the strangers you pass on the escalator.  The opportunity to make connections presents itself each and every day, sometimes under the most unexpected circumstances.  So dress for success!  Look and feel your best.
Jessica Brodman, HR Summer Associate