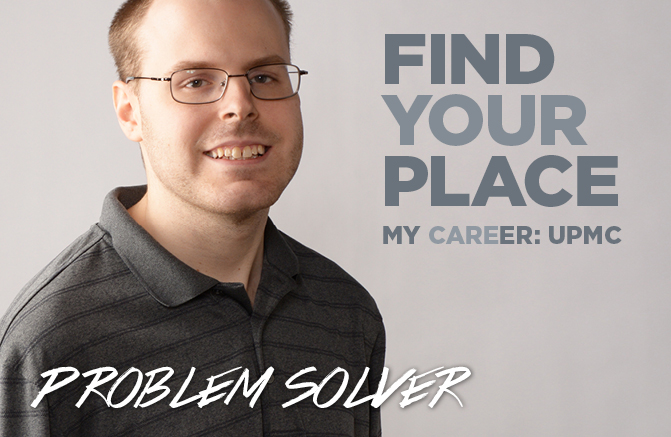 I've worked at UPMC Health Plan as a Customer Service Representative since April 2013. At that time, I wanted a job in Pittsburgh, where I went to college, and somewhere that offered more personal interaction and tangible impact than my last workplace. UPMC provided both and more.
It's hard to describe an average day at UPMC since each day is different. As a Customer Service Rep, you will answer anywhere from 50 to 70 calls in an eight-hour day. Some members call with easy issues that you can resolve in two minutes. Others require research, outside calls and hold time. Some members are friendly and patient, others can be more frustrated.
Dealing with members can be difficult. Some members are frustrated with ongoing issues,while some members need help understanding why a prescription or claim was rejected. Some members might just need to talk with somebody.
When you're talking with members, it helps to remember a few things. One, members aren't angry at you: they're upset because something isn't resolved. Two, insurance is complicated: what might seem obvious to you isn't always clear to members. When you get that tough call, stay calm, don't take anything personally and try to help. The members won't always like your answers but they'll usually appreciate your help.
Fortunately, UPMC's work environment compensates. Everyone here is friendly and supportive. If you're stumped on a question or can't find something, your neighbors can probably help. If you need to change shifts one day, you'll always find a coworker willing to switch. Besides monthly team meetings, we also hold team events and lunches. This builds camaraderie: everyone's working towards the same goal and willing to help each other.
Our management team helps with issues big and small. If you're stuck on a tough call or need help with an ongoing project, go to a team lead or even a supervisor. They're very patient, helpful and understanding. Recently, our Vice President initiated focus groups to ask reps for suggestions. It's great to know that our thoughts and concerns matter.
UPMC requires flexibility with hours and product expertise. I started taking calls for Medicaid and CHIP, but later learned Marketplace and Medicare too. These insurances have different rules and guidelines, so it can be frustrating at first. Fortunately, our management team helped us into these new roles through training and guidance. And new hires usually won't learn other insurances until they're comfortable with their own line of business.
As for hours, expect more overtime in the winter. Medicare and Marketplace both have open enrollment during this time, so call volume skyrockets. Luckily, business drops during the spring and summer, so you'll work a normal eight-hour schedule during those seasons.
Regardless, there's always satisfaction in helping our members. Terence Rattigan wrote that "a single success can atone… for all the failures in the world." When you resolve a member's problem, you make a difference in someone's life. And that's the best part of working for UPMC.
Chris Saunders, Senior Customer Service Representative
Check out our upcoming job fairs and learn more about our opportunities at UPMC Health Plan!