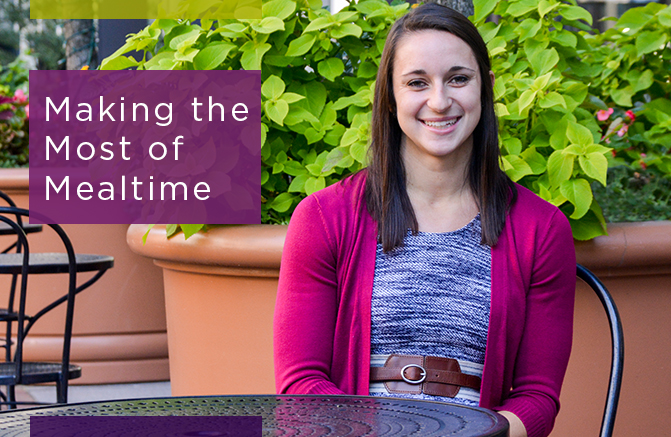 Breakfast, lunch, and dinner: every one's favorite parts of the day, right? Staff members of the nutrition, dietetic, and food service team at UPMC's independent living facilities are in the business of making meal time truly the best time of the day for the senior residents they assist! Kitchen stewards, food service attendants, and nutrition service attendants are tasked with making the most of mealtime as they actively engage with UPMC's values all while accessing some of the great benefits granted to UPMC employees.
For UPMC's own Talent Acquisition Training Specialist Paige Rogers, working as a food service attendant at Sherwood Oaks when she was in high school and college was about so much more than serving a meal; it was an opportunity to interact with the residents and brighten the days of people in that community. Whether she was learning how to build relationships with a different age group, interacting with her co-workers, or getting to know residents and their families, Sherwood Oaks proved to be a great place for Paige to gain valuable skills, work experience, and independence while she was in school. "The most fun aspect of the job was getting to know the residents and putting a smile on their face," Paige shared while reflecting on her time at Sherwood Oaks. "When I was employee, both my co-workers and the residents at Sherwood Oaks became like friends and family!"
For Paige, the benefits of her high school job at Sherwood Oaks have gone on to influence her career path and current role in Talent Acquisition at UPMC. Though Paige is only three years out of college, her past-service at Sherwood Oaks coupled with her experience in the corporate sector of UPMC means she is approaching nine years of service to UPMC. Such a milestone is rewarded by UPMC, and Paige's choice to become part of the UPMC family back in high school now allows her more days of PTO (paid-time-off) to enjoy with her friends and family. Talk about making the most of mealtime!
Whether you're like Paige and love talking to people, or if you enjoy working more behind-the-scenes, there is a place for you as a staff member at one of UPMC's independent living facilities! Employees can join the team on a casual, part-time, or full-time basis while enjoying the flexibility of daytime, evening, and/or weekend shifts. And if you do join the team, you might find out (just like Paige did) that making the most of mealtimes has more benefits that you ever thought!
Are you're jumping in to the work force for the first time or just making a job change? Do you enjoy interacting with others, or perhaps working behind-the-scenes? If you said "YES!" to any of these questions, than there's no better time than now to become part of the UPMC team at one of our Senior Communities and independent living facilities in the area of nutrition, dietetic, and food service! Employment at one of UPMC's senior living facilities is an excellent place to build valuable skills all while giving back to the community. Explore opportunities today!