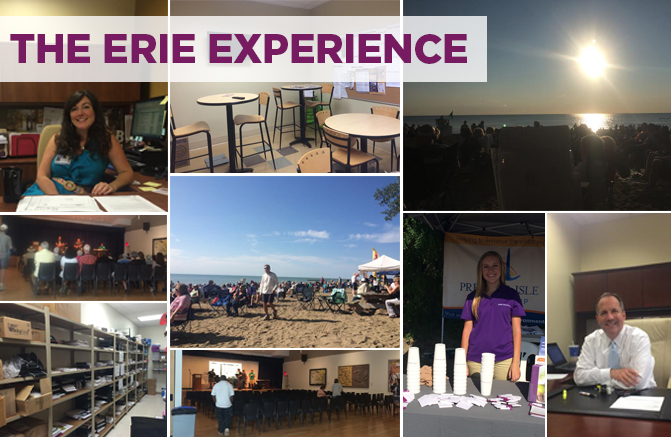 My participation in the UPMC Summer Associates Program with UPMC Health Plan in Erie has made for quite the interesting summer. Specifically working in marketing and community outreach has afforded me time and opportunity to explore the community and all it has to offer! On any typical day, I meet with community leaders, help manage sponsorship information, and represent UPMC Health Plan at sponsorship events.
Check out my picture timeline – You'll hopefully get a feel for what life is like here!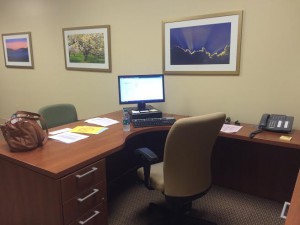 Welcome to my desk! When I am not out representing UPMC in the community, I spend a lot of my time at the office, here. My co-worker Rob and I share this collaborative space.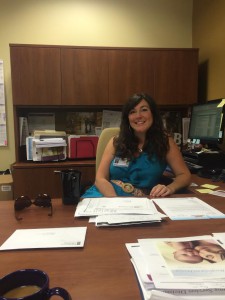 After checking my emails, I start my day by meeting with Jenny, my mentor. During our meetings, we typically catch up and review my projects, and chat about new work she has for me to complete.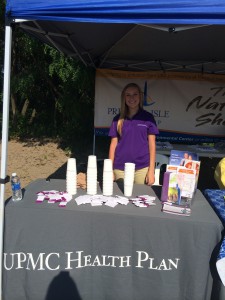 On Wednesdays, UPMC Health Plan sponsors the Mid-Day Art Break at the Erie Art Museum, which is a free public concert series throughout the summer. I table at the event and provide UPMC information and giveaways, while enjoying the concerts. On days with poor weather, we relocate inside the museum. Eric Brewer was the guest musician for this particular week!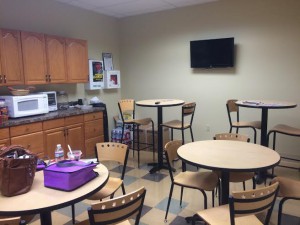 Here is where the office takes lunch for most of the week. We are convinced we could win 'Who Wants to be a Millionaire?' from seeing so many episodes during the lunch hour. It's always nice to catch up with everyone over lunch, and it keeps us close, as a team!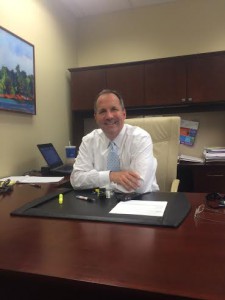 At least once a week, Jenny and I meet with Boo Hagerty, the Vice President of the Northern Tier. We go over sponsorship information as it rolls in, updating one another on our work. I assist Boo with projects just as I do with Jenny, so this discussion time is important to ensure that we are all on the same page.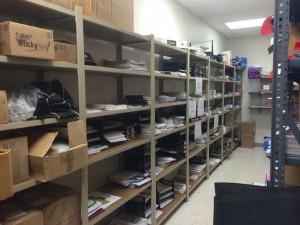 Here is a room with some of our giveaways. Before each community event, I pack up and prepare the sponsor table, grabbing anything from sunscreen to Frisbees to water bottles, depending on the event. Furthermore, I always make sure I bring some literature about UPMC Health Plan and maintaining a healthy lifestyle when I prepare for days like this.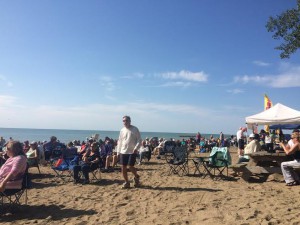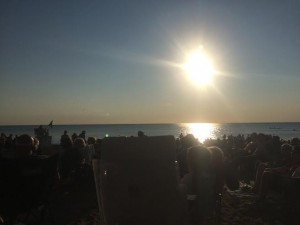 My day in the office is over, and I'm off to the beach! Each Wednesday, like the Mid-Day Art Break, we sponsor the UPMC Sunset Music Series at Presque Isle State Park. Check out our UPMC Health Plan booth right by the stage! Great weather makes for a beautiful night at Presque Isle with these talented local bands and great people. This week, Tyler Smilo and Tennessee Backporch performed.
…and with that, my day is over! It's time for me to go home until tomorrow. Today I got to represent UPMC, ace 'Who Wants to be a Millionaire,' manage sponsorship information and community events, and hear some great music along the way. No day here is exactly the same, but I find even the relaxed ones to be rewarding!
Amanda Kruszewski, Marketing Summer Associate