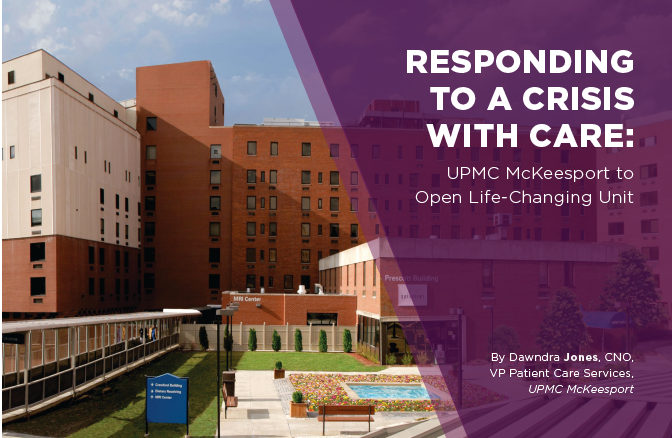 Today, the health care industry is confronting what many medical professionals are calling a crisis. With addiction to controlled substances on the rise around the country and right here in Pittsburgh, health care professionals and providers are now in the unique position not only to provide medical solutions, but also to bring hope to individuals, families, and communities facing the perils of addiction.
Dawndra Jones, chief nursing officer and vice president of Patient Care Services at UPMC McKeesport and a 27-year employee with UPMC, shared with us what this crisis means for the Pittsburgh community and what opportunities are available for nurses to join a life-changing and hope-giving detox and rehabilitation inpatient unit at UPMC McKeesport.
When I became the chief nursing officer at UPMC McKeesport in 2014, our hospital set a goal of "growth and access," which meant consistently assessing if we had what we needed to provide service to our community. Western Pennsylvania, like many areas of the United States, has seen the crisis of addiction hit our community harder than ever before. With our promise to serve our community in mind, UPMC McKeesport was determined to be a mecca for hope for the Mon Valley and beyond. That's why in the fall of 2017, we are opening the first detox and rehabilitation inpatient unit in this region right here at UPMC McKeesport.
Though our community is negatively impacted by addiction to alcohol, opioids, and other controlled substances, this new unit will be a tangible way to provide hope and break the cycle of addiction, step by step and day by day.
UPMC McKeesport will be the only hospital in the county offering treatment that safely tackles all the components of addiction, including comprehensive medical care, behavioral health services, and rehabilitation services. As we look forward to opening this unit in the fall of 2017, we're going to need compassionate and caring nurses to join our team, a team that will truly embody UPMC's mission to provide Life Changing Medicine to our community.
This detox and rehab unit will be a place where nurses can truly help people break a cycle that has such a deep impact on every facet of their lives: their families, their dreams, their resources, and more. People can be at their lowest low when facing addiction. Here, nurses have the chance to use their skills and care to help restore people's hope that they can have a sustainable and normal life again.
What other place could give you this much satisfaction that you're helping a family, helping a child have their parent back, or helping someone sustain a career and have a bright future? As a nurse in this unit, you will know that you help people get their lives back on track.
How You Can Be Part of the Solution to the Addiction Crisis
What's required to be a nurse in the UPMC McKeesport detox and rehabilitation unit? There's the education and training all UPMC nurses are equipped with. But more than that, it's possessing the UPMC Core Values: Quality & Safety, Dignity & Respect, Caring & Listening, Responsibility & Integrity, and Excellence & Innovation. You need to be understanding, and you need to be ready to meet people where they are and to connect with them during a difficult, but truly life-changing, experience.
As a 27-year employee of UPMC, I've seen leadership change, medicine advance, and patient needs evolve. But what's remained the same after all these years is the important stuff: my passion to serve, my desire to grow, and UPMC's commitment to care. It is an honor to be able to be a leader at UPMC McKeesport and lead this new team as we launch this life-changing detox and rehab program.
Won't you join me?
– Dawndra Jones, CNO, VP Patient Care Services, UPMC McKeesport
---
Your opportunity to be part of the solution starts at UPMC McKeesport. Explore nursing positions that allow you to make an impact while using your nursing skills in a brand-new detox and rehab unit. Learn more about UPMC McKeesport's Addiction Medicine Services and discover what career benefits await you here at UPMC.