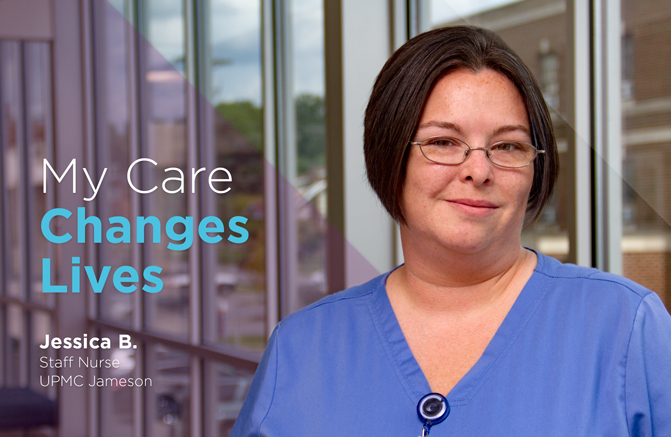 If you have set foot into the medical world, then you have probably been impacted by the work of a nurse. All across the country, nurses are the caretakers, advocates, teachers, and friends who make caring happen.
Come along with us as we open the doors to the world of nursing. What does it take to be a nurse? What kind of impact do nurses have on their patients? Why is nursing such a meaningful career?
It's time to hear the stories of how nurses change lives.
---
The Heart of a Nurse
Every job requires certain skills for success. Whether they're technical, social, or communicative, in every career there are processes to learn and skills to acquire along the way.
In this way, nursing is no different from any other career. To be successful, nurses must have the skills to assess patients, address their needs, and perform basic care functions. But according to Jessica B., Staff Nurse at UPMC Jameson, nursing is so much more – it's a way of life.
While Jessica hasn't always been a nurse, the heart of a nurse has been a part of her since long before her career beginnings.
Inspired by Family
Jessica didn't follow a traditional path into the field of nursing. Mother to three boys, Jessica waited until after her sons were teenagers to pursue nursing school. Despite this later start, her decision to enter the field was an incredibly meaningful one, a choice that followed in the footsteps of her grandmother.
When Jessica received her acceptance to nursing school, she flew down to her childhood home of Tennessee to share the news with her grandmother, a former nurse. Jessica's grandmother was in the hospital at the time, but the moment they shared, as two women with a common profession, was a very special one.
Sadly, Jessica's grandmother passed away shortly after Jessica's nursing school acceptance. She didn't get to see her granddaughter become a nurse, but she serves as Jessica's inspiration every day.
Jessica has adopted that family-focused mentality as her approach to her whole nursing career. She said, "Every patient that walks in here is someone's mom, someone's sister or brother. They're a family member, so you just have to see them as that."
More Than a Career – A Way of Life
For Jessica, the motivation behind nursing has always been a part of who she is. She said, "It takes a certain kind of person to be a nurse." While clinical skills and medical knowledge are essential for successful care, equally important is the mentality that a nurse brings to the hospital. "You need to be compassionate, and you have to take your own biases and put them aside, because you can't just look at someone and know their story automatically. Everybody's story is different." Now, Jessica is in a profession where she can live out that mindset every day.
Jessica said, "Everyone has their own opinion of what nursing is, but I don't see it as a career." Like any other occupation, nursing provides a field for individuals to support their families, pursue career goals, and experience professional growth. To Jessica, however, nursing has become so much more than an occupation. "It's a way of life. It's compassionate care. It's how you live every day – you're just doing it a little differently and helping others instead of helping yourself."
Every day in the UPMC Jameson Emergency Department, Jessica changes the lives of her patients. But her work as a nurse has changed Jessica's own life, as well.
---
Are you ready to discover what a nursing career at UPMC could mean to you?
For more stories of UPMC's life-changing nurses, follow along using the hashtag #mynursingstory on Facebook, Twitter, and LinkedIn
---