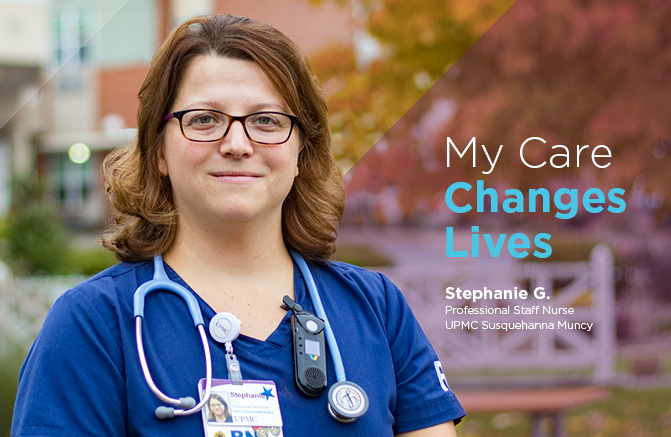 If you have ever set foot into the medical world, then you have probably been impacted by the work of a nurse. All across the country, nurses are the caretakers, advocates, teachers, and friends who make caring happen.
Come along with us as we open the doors to the world of nursing. What does it take to be a nurse? What kind of impact do nurses have on their patients? Why is nursing such a meaningful career?
It's time to hear the stories of how nurses change lives.
---
Most of life is made up of small, ordinary moments. Between commuting to work, juggling family needs, and traversing through the daily grind of the week, it's easy to take for granted how quickly everything we have could be taken away from us.
But for Stephanie G., that's something that she knows firsthand.
A Bumpy Road Into Nursing
Nine years ago, Stephanie was a brand-new graduate of nursing school, ready to receive her certification and launch her career in the field that she cared so much about. Her enthusiasm was halted, however, when she sat for her nursing boards – and didn't pass.
Stephanie considered taking the exam a second time, but she let the discouragement of her initial failure get the best of her. While debating what her next step should be, she accepted a job with an insurance company and quickly grew comfortable in this alternate career.
After receiving a promotion within her company, Stephanie chose to stay in the insurance field, and she started to let go of her nursing dreams. Although her career hadn't gone as planned, she was happy with where life had taken her, until a major life event shook her whole world.
Saved at Susquehanna
Two years ago, Stephanie suffered a massive heart attack. First responders life flighted Stephanie to the Emergency Department at UPMC Susquehanna Muncy, and within 45 minutes of arriving, she was undergoing surgery in an operating room. Thankfully, the doctors and medical staff at the hospital saved Stephanie.
After recovering from her surgery, Stephanie was transported to UPMC Susquehanna Williamsport, where she spent almost eight months undergoing cardiac rehab. While in the rehab facility, Stephanie got to know the cardiac nurses who cared for her, and they were fascinated to learn the story of her career journey.
Inspired by the incredible care that she had received, Stephanie began to pursue her nursing certification once again. After surviving her own health scare, she felt motivated "to be the person then who makes a difference in someone else's life and pays it forward." With the encouragement of her cardiac nurses, Stephanie spent the better part of her eight months in rehab studying for the certification exam.
Seven years after graduating from nursing school, she retook her nursing boards – and passed!
Stephanie's Second Chance
For just over a year, Stephanie has worked as a Professional Staff Nurse in the Med-Surg unit of UPMC Susquehanna Muncy, the very same hospital that she credits for saving her life. "I love this hospital because of everything I've been through," Stephanie said. Many days, she works alongside the same Emergency Room nurses who cared for her amid her heart attack two years ago. The community bond at Susquehanna Muncy is strong, and Stephanie wouldn't have it any other way.
"We are a small hospital, but if you talk to the families, they will say that they choose to come here because of the small community atmosphere, because they know that they will get taken care of," Stephanie said. "We might not have the same technology [as larger hospitals], but the actual care and compassion that the nurses provide drives them to come here. And I think that's really important with a small hospital."
As a resident of Muncy, and a mother of children in the local school district, Stephanie is in the perfect position to care for her community. "It really makes you focus more on the kind of care that you want to provide to people, because these are our neighbors and friends and the people you go to church with."
Stephanie's life was saved at UPMC Susquehanna Muncy. Now as a nurse, two years later, she's able to extend that same care to the people who matter to her.
---
Are you ready to discover what a nursing career at UPMC could mean to you?
For more stories of UPMC's life-changing nurses, follow along using the hashtag #mynursingstory on Facebook, Twitter, and LinkedIn
---