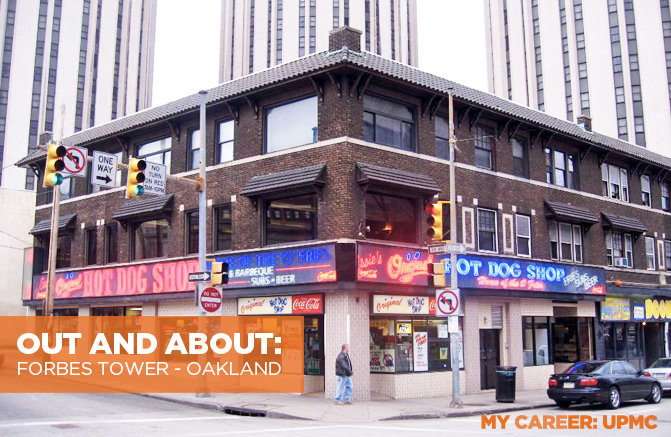 Forbes Tower is located in the heart and center of Oakland, PA, amidst the hustle and bustle of the University of Pittsburgh's Main Campus. If you find yourself located working at Forbes Tower, you can be assured that Oakland is a fantastic place to work.
Restaurants/Places to Eat
Because the Tower is located in the center of Pitt's Main Campus, there are plenty of restaurants where you can enjoy your lunch breaks. While there are many well-known food options like Chipotle, McDonalds, or Five Guys, there are also plenty of local favorites to try. After all, you can get Chipotle almost anywhere in the world these days, so try one of the local restaurants! My favorites are Primanti Brothers, The Original Hot Dog Shop ("The O"), Uncle Sam's Subs, and Fuel and Fuddle, all located within five minutes of Forbes Tower.
Parking and Transportation
There will be days you will have to venture downtown to the US Steel Building for meetings and Summer Associate events. Getting downtown from Forbes Tower is easy because almost every Port Authority bus runs through Oakland. You can take any of the 71 or 61 busses to get downtown quickly and easily, but I suggest the 71D or the 61B, which stop at 6th Avenue and Centre Avenue, your ideal bus stop going to US Steel. To ride from Oakland to downtown, it is a $5 round trip.  Of course, you always have the option to drive if you have a car, and you can park at any of the parking lots or garages downtown. I suggest the parking garage directly across from the Consol Energy Center in Chatham Center.
On a related note, if you are working at Forbes Tower and are planning on driving to Oakland, there are plenty of parking options. There is a parking garage directly under the building, but it can cost upwards of $25 a day! There are many other parking garages and street parking nearby for significantly cheaper rates, including the Forbes Semple Garage right across the street.
What to Do
Oakland is not only a great place to work, but it is also a great place to live. If you are not from the Pittsburgh area, you can find apartments or houses to lease. With many Pitt students still living in Oakland for the summer, there is always something fun happening. You should consider visiting the Cathedral of Learning, the Carnegie Museum, and Phipps Conservatory, all of which are entertaining, beautiful, and "must-sees." At night, you can enjoy a drink and have a good time at any of the popular restaurants and bars including Peter's Pub, Hemingways, Mad Mex, and Pizza Sola.
Hopefully this helps and you enjoy your time in Oakland and/or working at Forbes Tower!
Mario Nicolia, Finance Summer Associate