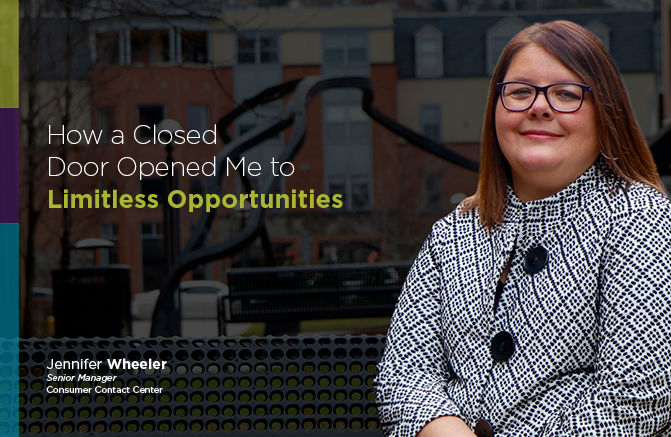 Patient access representatives and patient information coordinators are the first point of contact for patients in physicians' offices and hospitals. They greet patients, schedule appointments, collect payments, and more. Contact center specialists work in our Consumer Contact Centers and schedule appointments, verify insurance, and answer after-hours calls. Each of these entry-level roles impacts our patients' experiences and can be a great first step toward a rewarding, full-time health care career.
Learn how by following along with four UPMC employees who began their careers as patient access representatives!
***
How a Closed Door Opened Me to Limitless Opportunities
Eleven years ago, I got the news that would change the course of my career. I was seven years into my job as a data conversion operator with the United States Postal Service when advances in technology eliminated my position. But as the quote goes, "When one door closes, another opens."
As I considered what to do next, I found myself drawn to UPMC. I'd always been interested in health care, and the stability of working for a well-known organization was very compelling to me. When I saw the posting for a , I decided to apply. Although a patient access representative is an entry-level position, I am evidence that the opportunities at UPMC are endless. Little did I know that applying to be a patient access representative would open the door to a variety of opportunities that would change my life for the better, time and time again.
***
How Listening Helped Me Advance From Patient Access Representative to Senior Manager of the Consumer Contact Center
Over my last eleven years here at UPMC, I have been able to advance my career multiple times. Starting out as a patient access representative, I was taught the building blocks that were necessary to become successful at UPMC. Though I enjoyed working as a scheduler, after a few years I felt it was time keep building! In January of 2010, I was promoted to a location supervisor of scheduling. With this advancement, I saw all the working components it takes to be able to schedule a patient appointment appropriately. I still use the skills I learned about completing a registration and scheduling an appointment on a daily basis in my current role as a senior manager at the Consumer Contact Center.
My time as location supervisor took my skills to the next level, but it wasn't just what I was doing that mattered – it was who I was working with. During this chapter in my career, I was supported by two very influential women named Colleen McMahon and Kathy Whalen. I owe them many thanks for helping me not only grow professionally, but also personally. Without their support and mentoring, I would not be in the position I am today. They have been great role models to me and have always been there for me. Without the encouragement from Colleen and Kathy, I would not have completed my degree; they spent years telling me that I had to go back to school and finish up the few classes that I had left so that I could complete my bachelor's degree. Fortunately, I listened!
While I was finishing out my degree, another opportunity opened for me to accept a position as a client analyst. For the next three years, I traveled and implemented the EPIC system (a medical record software system) into practices throughout the region. Then in 2015, I was presented with the opportunity to come back to the Contact Center and work as a manager and then a senior manager with the two people who impacted my journey the most – Colleen and Kathy!
How a Strong Foundation Impacts Everything
As I reflect on my eleven years with UPMC, I think back to the beginning. Transitioning from my role at the Postal Service to UPMC was a huge change – but one that was actually easy and exciting! I never once felt like I was not going to be able to do the job I was hired for, and the training experience was beyond what I had expected. The same applied to when I went through training for EPIC. At every point in my career with UPMC, I was building off of a strong foundation of knowledge and support. I have not come across a single person here at UPMC who was not willing to take the time out of their day to explain something I was unsure of. This culture of empowerment is something I'm thankful for, and something I don't take for granted.
How My Work Changes Lives
Another thing that has defined my time is realizing the impact of my work. Each one of us supports the UPMC mission to provide Life Changing Medicine – everyone contributes through their work, every day. As a patient access representative, I learned that every interaction you have with a patient means the world to them. Nobody wants to be sick or spend time coming to the doctor or hospital; it is a challenging part of life. A few extra words or even a smile when you pass them in a hall can put someone's mind at ease and is sometimes all they need. Every patient deserves to be treated with care and compassion, and it has been an honor to carry out that mission in my work in the past, in the present, and into the future.
When I think about what lies ahead, I see myself growing even more within UPMC, continuing to learn, and accepting more responsibilities. I have a strong foundation to keep building on, and eleven years of experience and life lessons to support me through whatever door I walk next!
***
Join Our Patient Access Team 
Jennifer isn't the only one who's shared her story about the possibilities of a patient access representative role. Read more from our patient access representative series and hear from others who know firsthand how a rewarding career awaits you at UPMC!
Check out our Patient Access Fair in February or explore open positions for yourself at UPMC Careers to begin building your strong foundation as a patient access representative.

SaveSave
SaveSaveSaveSaveSaveSave