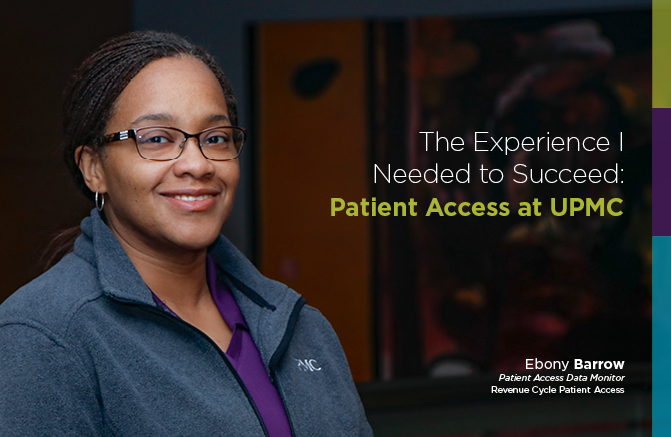 Patient access representatives and patient information coordinators are the first point of contact for patients in physicians' offices and hospitals. They greet patients, schedule appointments, collect payments, and more. Contact center specialists work in our Consumer Contact Centers and schedule appointments, verify insurance, and answer after-hours calls. Each of these entry-level roles impacts our patients' experiences and can be a great first step toward a rewarding, full-time health care career.
Learn how by following along with four UPMC employees who began their careers as patient access representatives!
***
By Ebony Barrow, Patient Access Data Monitor
Before working for UPMC, I had experience in member services and insurance. So when I was looking for employment, I knew UPMC was a strong, expanding company and there would be opportunities at UPMC that would suit my membership and insurance experience.  
I was first hired as an emergency room patient information coordinator at UPMC Mercy. It was an easy transition into my new role. Management was positive and transparent about the process, which made everything go more smoothly. When I first started, someone told me, "You are going to have a pleasant experience," and I feel that if you think positively that way, it will happen that way.  
My favorite part about my role in patient access has been my day-to-day interaction with patients. It is an exciting experience; you have a chance to make someone who is not well physically feel better mentally.
---
It is an exciting experience; y

ou have a chance to make someone who is not well physically feel better mentally.

 

 
---
My managers and coworkers have encouraged and supported me in my advancement within UPMC. I started out working in the Central Testing and Endoscopy Department, and I was able to gain experience that gave me the opportunity to advance and become a patient information coordinator II.  I have since advanced to become a patient access data monitor.
In my current position as a patient access data monitor, I have enjoyed learning new processes, but I also continue to use the skills and systems I learned when I first started out as an emergency room patient information coordinator. I'm excited to be part of a newly created department, and I hope to continue to further my career in patient access. 
***
Join Our Patient Access Team 
Cory isn't the only one who's shared his story about the possibilities of a patient access representative role. Read more from our patient access representative series and hear from others who know firsthand how a rewarding career awaits you at UPMC!
Check out our Patient Access Career Fair in February or explore open positions for yourself at UPMC Careers to begin building your strong foundation as a patient access representative.