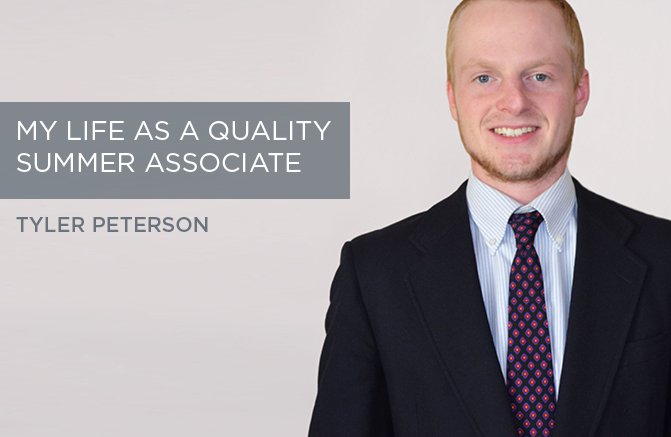 Every day at the Wolff Center for Quality, Safety, and Innovation looks a bit different. Throughout the summer, I've explored a variety of quality improvement, data analysis, and patient experience projects that are occurring across the UPMC system. Interested in my experience? I've outlined one of my work days from this past week – Check it out!
6:30 to 7:30 a.m.
Woke up early to participate in a conference call for the task force charged with reducing surgical site infections (SSI) for UPMC Presbyterian and UPMC Shadyside. Important to note, Summer Associates work 40 hours a week, but our daily schedules shift due to the time and duration of meetings and events. Today I'm banking a little time to take off early later in the week.
7:30 to 7:45 a.m.
Drove to the Baum Building – the Wolff Center's office in Oakland. Scored a sweet parking spot! Day is off to a great start.
7:45 to 8:00 a.m.
First things first, coffee. Proceeded to check emails and plan the day's schedule.
8:00 to 9:30 a.m.
Conducted research on behalf of Chief Quality Officer concerning Comprehensive Cancer Center requirements. Spoke with program director at the National Cancer Institute as well as several experts within the Wolff Center.
9:30 a.m. to Noon
Assembled a toolkit to assist in the rollout of same-day hysterectomy services at Magee-Womens Hospital of UPMC. Compiled information from observations and interviews I had previously conducted with surgical schedulers and pre-operative nursing support. Developed an improved workflow for scheduling and treating patients on a same-day discharge plan.
Noon to 12:30 p.m.
Lunch in the conference room! The Baum Building isn't particularly close to many restaurants or food courts, so most people bring their lunch. Honestly, we have a pretty solid lunch crew.
12:30 to 4:00 p.m.
Conducted an observational study on advanced practice professionals serving as preceptors for NP students. Traveled to Magee-Womens Hospital of UPMC to observe a nurse practitioner and student in an outpatient OB/GYN clinic.
4:00 p.m. onward
Went home, hit up the gym, cooked dinner, spent time with my wife and cat, and prepared for another day as a UPMC Quality Summer Associate.
Travis Petersen, Quality Summer Associate