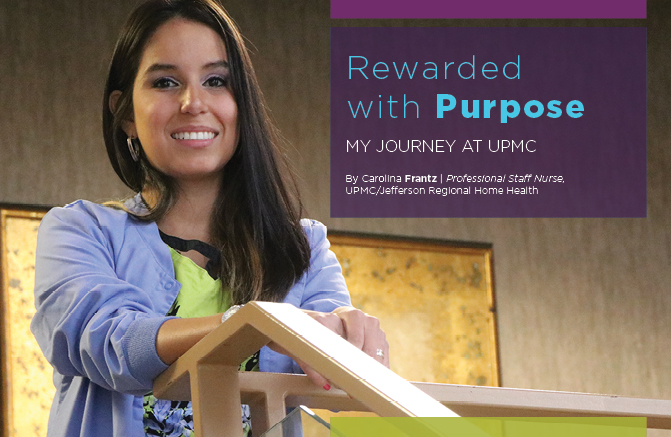 UPMC's Total Rewards program helps REAL employees achieve both personal and professional goals through compensation, benefits, respect for work-life needs and opportunities, employee development, and extension of career opportunities. In other words: UPMC's Total Rewards program helps people just like YOU get to where they want to be!
Carolina Frantz, a current UPMC employee, shares with us how UPMC's Total Rewards Program made an impact in her life, and how she found the ultimate reward in her work as a Professional Staff Nurse.
"To be successful, the first thing to do is fall in love with your work.
"
When I began my career journey at UPMC in 2006, I hoped I'd fall in love with my work. What I never expected, however, was that I'd also  discover my life's purpose along the way! Coming to work at UPMC has opened doors for me to learn and grow in my career, as well as gain access to knowledge and resources beyond what I ever would have expected. As both a nurse and a mother, I have realized that my true calling is to care for others and that the act of caring shapes me into who I am, day in and day out.
I started my career journey at UPMC ten years ago as a Patient Care Technician, but through hard work and attention to detail, I was soon promoted to an Advanced Patient Care Technician position! During this time, I took advantage of UPMC's tuition assistance program and began classes at The Community College of Allegheny County to become a nurse.  Since I had two little ones at home, I knew it would be important both for my future and my kids' futures to push myself in my career and education, and to continue to aspire to get better each and every day.
Once I completed my nursing degree, I was hired as a graduate nurse at UPMC Presbyterian's Neuro-Intensive Care Unit. I passed my boards with ease and transitioned into my role as a nurse. It was such a rewarding moment in my life, and would mark the beginning of an exciting new direction of my career journey!
Since then, I have worked as a charge nurse and a senior staff member in the ICU of UPMC Presbyterian, and also worked as a member of the IV team where I helped educate patients and their families on the process of venous and vascular access and treatment.  Two years ago, I finally transitioned to my current role as a visiting nurse. As I prepared for this new role, UPMC equipped me with classes and training to teach me a wide array of skills and knowledge required for many home-based care providers. Class time included information about how to track and document care, as well as guidance on the case management role. Overall, this orientation period for home care nursing was very thorough, and left me feeling very prepared for my new role!
Since entering the area of home care nursing, I've kept the promise I made myself to continue to push myself and grow in my experiences and knowledge.  I have gone on to complete the wound treatment associate course, and have been given national certification in the area of wound care. I am excited to keep on learning and growing in my career and calling here at UPMC. Within the next few years, I plan to continue my education, finish my bachelor's degree, and study and sit for the WOCN certification (Wound Ostomy Continence Nursing Certification Board).
Throughout my career at UPMC, I have been given access to the best technology and resources,  been exposed to innovative, cutting-edge medicine, and have received endless educational opportunities. If there is something I am interested in learning, my management allows me time to dive in and pursue new experiences. Because of this culture of service excellence that I have gotten to work in, I was recently nominated and received a Cameos of Caring® award for my work with UPMC's Visiting Nurses Association, which honors exceptional bedside nurses.  Being recognized in that moment for my hard work all these years at UPMC left me feeling truly rewarded.
But at the end of the day, this job isn't about the recognition I get or the certificates I am awarded: it's about my patients. I am rewarded daily by the interactions I have with the patients I care for and have the honor and privilege of seeing them recover and become independent. My job is more than just something I do: it is my purpose. The love that can be shared with people and the relationships that nursing can form is immeasurable and invaluable. I have come to realize that the ultimate reward in my career at UPMC is knowing that I have made a difference in the lives of the people I care for. I can honestly say that I love my job. I am proud to work at UPMC, and teach my children about the love we are meant to give to others through service.
Are you seeking a position where you can set your own schedule, develop relationships with your patients, and make a difference all while taking advantage of UPMC's Total Rewards?