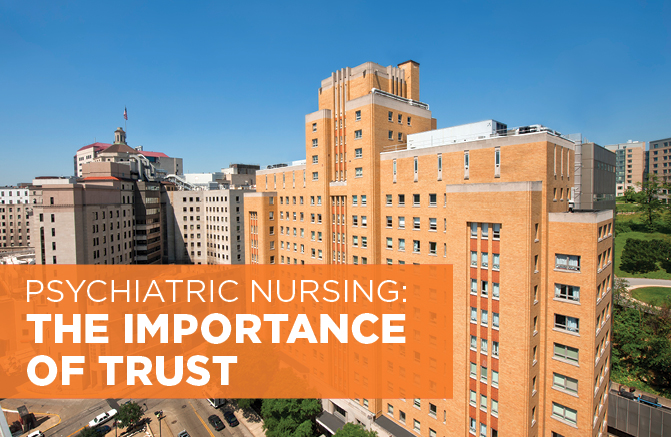 The beginning of a new internship is always an exciting, yet nerve-racking experience, especially in the medical field. Prior to orientation, I was not sure what to expect. Now, after being immersed in the hustle and bustle of a psychiatric hospital, I can confirm that it is extremely different from the clinical work I've done before. So far, working with incredible staff members, as well as a wide variety of mentally ill patients, has taught me much more than nursing school ever could. Psychiatric nursing can be quite stressful, but over the past month I have realized that despite how stressful it may be, at the end of each shift, helping better the lives of mentally sick individuals is beyond worth the temporary stress associated with the work!
There have been countless memorable experiences over the past month at Western Psychiatric Institute and Clinic, and it is difficult to choose just one. While working in psychiatric nursing, you become very close with and engaged in your patients' personal lives, so every interaction seems memorable. However, one of the most rewarding experiences I have had this far is having the privilege of working with a 32-year-old female who suffers from borderline personality disorder and major depressive disorder. This specific patient struggles every single day to heal not only mentally, but also physically and emotionally. Over the past few weeks it has been an honor to watch her conditions progressively improve. Some days are better than others, and there are still times where she experiences depressive episodes. Overall, though, she has come a very long way from where she was before she was admitted to the hospital. Initially, this very patient wanted to sign an AMA to be released from the hospital – many fellow staff members would have been happy to see her go because she is a very difficult patient! However, despite others' opinions, I sat down with this patient and spent time listening to her. As I listened and comforted her, she slowly developed trust in me!
In my short amount of time in this rotation, I have learned that my main objective as a psychiatric nurse should be fostering trust with my patients, as they often have severe trust issues. Compassion and empathy are powerful tools in the successful treatment of all patients, not just psychiatric patients. I learned this valuable lesson from this particular patient, and for that I will be forever grateful.
Kelsey Austin, 2015 Student Nurse Internship Program