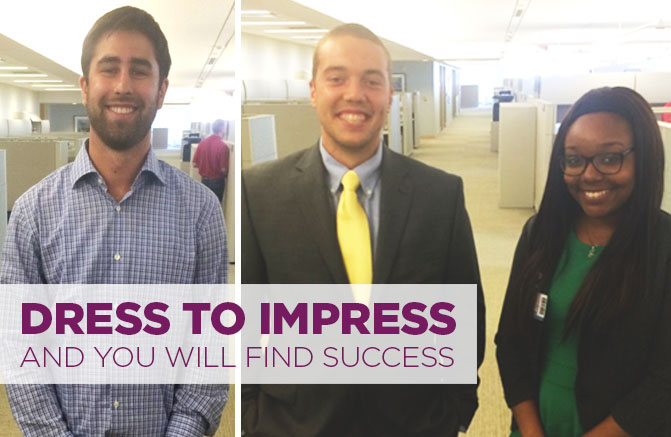 The Dress Code is something that every company must focus on at one point or another. Appropriate dress can be a key factor in finding success in the business world. Most people tend to dress to the level of formality that their manager does.  Looking sharp can show people that you are serious, focused, and ready to work hard, whereas underdressing can make you stand out in the crowd – not in a good way.  Not only does dressing well make you look more serious about your job, but it also makes for a much more enjoyable experience. Take it from someone who has worn jeans and t-shirt for their blue-collar job: wearing a tie and some nice pants is a much better feeling!
In UPMC's Supply Chain Management department, most employees can be seen sporting business casual attire. This style usually entails donning nice shoes, pants, and a polo or button-down shirt for the men, and a blouse or appropriate top for the women.  Some employees, on the other hand, do choose to dress in a more business professional way, such as a jacket and tie, because they are meeting with vendors or other important people on a daily basis.  On Fridays, if you choose to donate a dollar to the floor's donation box, "Hector the Collector," you can wear jeans to work for a more relaxed end of your week.  People enjoy this system because not only are they donating money towards the SCM department's holiday party, but they are also able to be a bit more comfortable on the last day of a long week.  It is not required that you do this but a good amount of people do participate in the jeans-for-cash deal.
Upper management officials usually tend to wear more business professional attire because they are the representatives of the entire department, no matter where they travel, and must appear as such. Personally, I enjoy putting on nice pants and a tie.  While there is nothing wrong with business casual attire, and most people in the department do seem to choose that route when it comes to how to they dress for work, I believe that you should dress in a way that shows not only your dedication to the job but also your style.  Putting on a tie and a jacket can instill confidence and determination in someone that I feel jeans cannot inspire.  Nonetheless, whether they are rocking their favorite pair of jeans on Friday or their best tie on Monday, there are a lot of good looking people in Supply Chain Management and we certainly dress for success.
Summer Associate Chris Rader shows off his "business casual" look
Summer Associates Nick Barclay and Jalyn Eaton show off their "business professional" attire
Andrew Shaw, Supply Chain Management Summer Associate