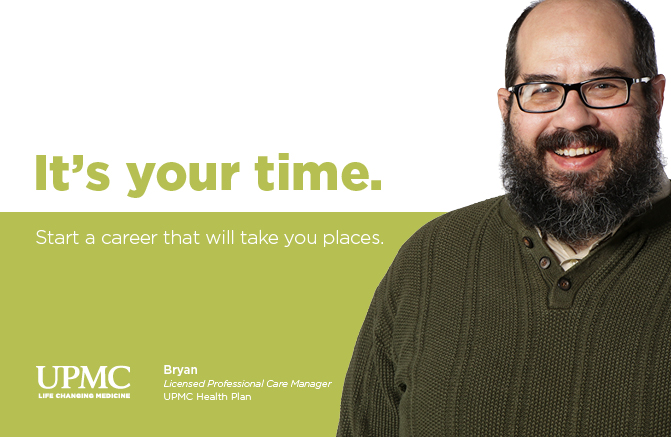 Welcome to UPMC Happenings

, our most up-to-date list of upcoming recruitment events! E
xplore exciting career opportunities, and learn how you can make a difference with UPMC
UPMC Insurance Services Division Spring Career Event
Thursday, May 24 |10 a.m. to 7 p.m.
It's your time to build a better future, make your mark, and start a career that will take you places.
We are looking for talented people like you for more than 250 opportunities across a diverse range of departments and specialties.
From the entry-level applicant to the senior director seeking a new leadership opportunity, everyone — in virtually every field — is invited to explore the possibilities to grow and thrive with UPMC Insurance Services Division.
Here are just a few of the career areas we will be recruiting for:
Customer service professionals and claims examiners
Marketing and communications professionals
IT professionals, programmers, and data scientists
Accounting and finance professionals
Business development and sales professionals
Project managers and business analysts
Pharmacists, nurses, and behavioral health professionals
Graphic designers and user experience designers
Join us
Thursday, May 24
10 a.m. to 7 p.m.
Pittsburgh Marriott City Center
112 Washington Pl,
Pittsburgh, PA 15219
It's your time to be a part of something that will make a difference for you, your community, and the future of health care.

UPMC Shadyside Nursing Support Interview Event
Tuesday, April 24 | 8:30 a.m. to 1:30 p.m.
Are you interested in a career that provides plenty of opportunity for growth and development? Join our team at UPMC Shadyside! With an excellent benefits package, multiple shifts available, and competitive compensation, we invite you to explore opportunities with us.
If you are interested in a nursing support opportunity, join us for a chance to interview one-on-one with one of our unit directors!
We are hiring the following full-time positions to support the inpatient departments:
Nursing assistants
Patient care technicians
Advanced patient care technicians
UPMC Shadyside has been providing compassionate and top-quality care to patients in Pittsburgh since 1866. Come be a part of our legacy!
Event Details
Tuesday, April 24 | 8:30 a.m. to 1:30 p.m.
UPMC Shadyside
5230 Centre Ave.
Pittsburgh, PA 15232

UPMC APP Spring Career Event
Tuesday, May 15, 2018 | Noon to 5:00 p.m.
Are you looking for a career that offers new challenges, exciting educational opportunities, and plenty of room to grow? Join us for an afternoon of on-site prescreening, professional development, and networking.
Cumberland Woods Village
(behind UPMC Passavant)
700 Cumberland Woods Drive
Allison Park, PA 15101
412-635-8080
Free Parking – Refreshments
What to expect:
Prescreenings for current openings
Career fair with hiring specialties
Speakers and networking
You will have the opportunity to meet with hiring managers to learn about their respective areas and specialties, learn how you can continue to grow professionally through our unique APP clinical ladder, and find out about our exceptional employee benefits.

UPMC Imaging Services Student Networking Event
Monday, May 21 | 4:30 to 6:30 p.m.
Are you are an upcoming graduate of a radiologic, sonography, or nuclear medicine imaging program interested in an imaging career where you can reach your potential? Grow with UPMC Imaging Services! Our new imaging career ladder was created to help you grow professionally, with opportunities to develop your skills and advance into leadership roles. Don't miss your chance to explore rewarding career opportunities in our innovative, cutting-edge facilities. Join us for an afternoon of networking and professional development, meet with recruiters and representatives from UPMC imaging facilities, and enjoy appetizers and refreshments on us!
Event Details
Monday, May 21 | 4:30 to 6:30 p.m.
Magee-Womens Hospital of UPMC
Conference Room 2131
300 Halket St.,
Pittsburgh, PA 15213
Convenient parking available in the Magee-Womens Hospital garage – validated for all RSVPed attendees.
RSVP
Walk-ins are welcome, but you can let us know you'll be there by clicking the "click to register" button below or by contacting recruiter Jenna Tritschler at rossettijm@upmc.edu.
UPMC College Student All Access Day Events
If you'd like to get your foot in the door at UPMC, don't miss the opportunity to network with our recruiters! You'll practice interviewing, hear from a panel of UPMC recruiters, and learn tips to strengthen your resume. We can't wait to meet you!
Upcoming Event Dates
April 13, 2018
May 11, 2018
June 8, 2018
July 13, 2018
August 10, 2018
Please check the event registration page, for dates and times may have changed.
UPMC Community All Access Day Events
Looking for a chance to network with UPMC recruiters? Join us at our next Community All Access Day event to brush up on your interview skills and learn more about exciting career opportunities!
Upcoming Event Dates
April 17, 2018

May 2, 2018

June 6, 2018
July 18, 2018
August 1, 2018
September 5, 2018
Please check the event registration page, for dates and times may have changed.