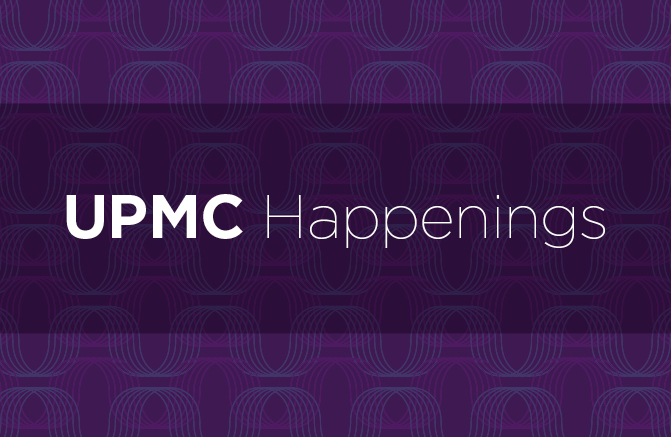 Welcome to UPMC Happenings, our most up-to-date list of upcoming recruitment events! Explore exciting career opportunities, and learn how you can make a difference with UPMC
Jump to Event
---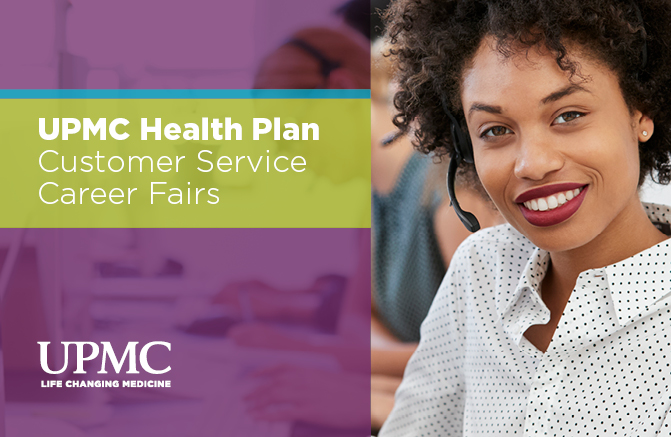 UPMC Health Plan Customer Service Career Fairs

Pittsburgh, Pa. | Sept. 12 and Oct. 11
Do you have strong customer service, organizational, and analytical skills? Are you looking for a career that offers personal development and plenty of room for growth? If so, now is the perfect time to join our growing team at UPMC Health Plan!
Learn More
UPMC Health Plan is currently seeking temporary and full-time customer service representatives.
Event Details
Sept. 12 and Oct. 11 | 10 a.m. to 5 p.m.
Pittsburgh Marriott City Center
112 Washington Pl
Pittsburgh, Pa. 15219
What Can We Offer You?
Commitment to Service Excellence
Close-Knit Work Environment
Great Opportunities for Growth
If you have excellent customer service skills, a drive to help others, and an interest in ongoing career growth, join us on Sept. 12 or Oct. 11 and find your place with UPMC Health Plan. We're looking forward to meeting you!

---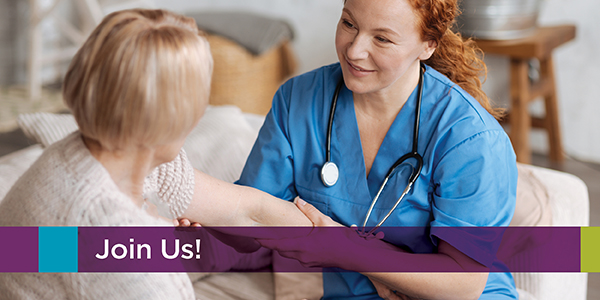 UPMC Home Health Nursing and Physical Therapy Networking Events

Multiple Dates and Locations
Are you looking to combine one-on-one patient care with the flexibility of working outside of an office or hospital? If so, a career in Home Health could be the best fit for you! Join us for one of our upcoming Home Health networking events to learn about our excellent benefits package, discover our various areas of care, and find out how to join our team! At each event, you will get to network with our team of experienced professionals and learn how Home Health is revolutionizing health care in America.
Whether you are new to Home Health or looking to join our world-renowned organization, you don't want to miss this!
Learn More
Event Dates
Wednesday, Oct. 3, 8 to 11 a.m.
Panera Bread
210 West Bridge St.
West Homestead, Pa. 15120
Monday, Oct. 8, 5 to 7 p.m.
Dave & Buster's
182 E Waterfront Dr.
Homestead, Pa. 15120
Thursday, Oct. 11, 5 to 7 p.m.
Montecello's
2198 Babcock Blvd
Pittsburgh, Pa. 15209
Wednesday, Oct. 17, 5 to 7 p.m. (home health nursing only)
Log Cabin Inn
430 Perry Highway
Harmony, Pa. 16037
Tuesday, Oct. 23, 8 to 11 a.m.
Panera Bread
4172 William Penn Highway
Monroeville, Pa. 15146
Why Join Our Home Health Team?
$5,000 Sign-on Bonus
Flexible Schedule
Generous Paid Time Off
Competitive Pay
IRS Mileage Reimbursement
Excellent Benefits Package
Daylight Hours
---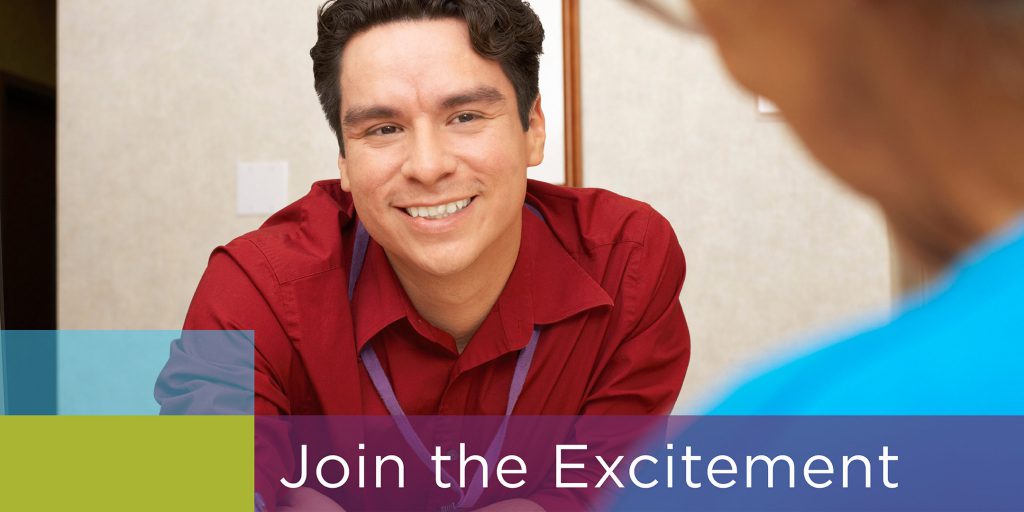 UPMC Patient Registration Career Fair – Emergency Department

Pittsburgh, Pa. | Thursday, Oct. 11
We are looking for individuals who are interested in beginning or continuing a rewarding career at UPMC. At this event, you will be able to learn about a career within Patient Access at one of our hospital Emergency Departments in Allegheny County.
An Emergency Department registration employee is responsible for:
Greeting and registering patients
Obtaining patient information
Collecting consent signatures
Counseling patients on insurance coverage
Promoting a culture of service excellence
Learn More
REGISTER TO ATTEND
---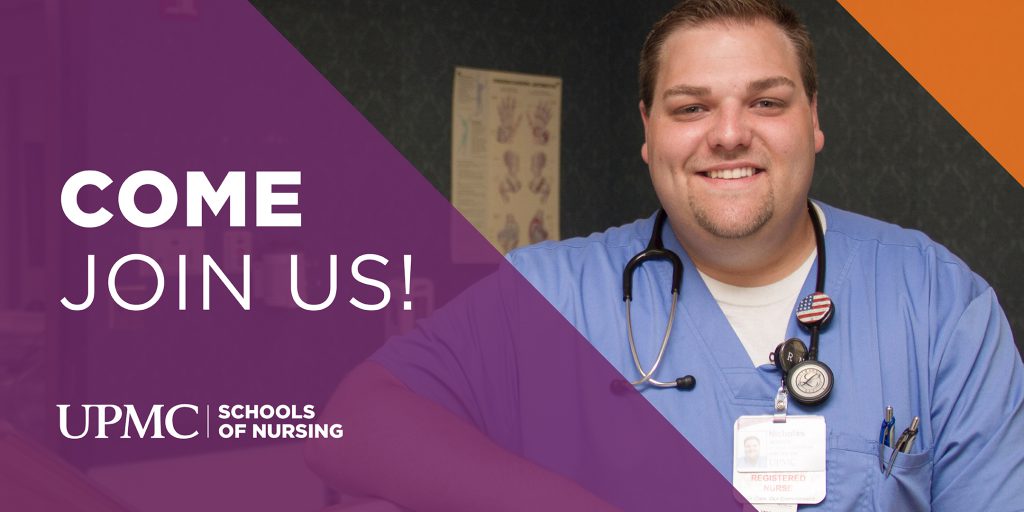 UPMC Jameson Memorial Hospital School of Nursing Open House

New Castle, Pa. | Wednesday, Oct. 17
Are you interested in advancing your career?
Join faculty of the Jameson Memorial Hospital School of Nursing, part of UPMC Schools of Nursing, to learn about our 16-month RN diploma program and our partnership with Westminster College for students to earn a Bachelor of Science in Nursing (BSN) degree in a four-year program. Current students will be on hand to share their experiences and answer your questions.
Tuition benefits are available for qualified UPMC employees.
Learn More
Event Details
Wednesday, Oct. 17, 2018, 6 to 8 p.m.
Jameson Memorial Hospital
School of Nursing auditorium
1211 Wilmington Ave.
New Castle, Pa. 16105
Register to attend by contacting Tracy Forletta at 724-656-4052 or forlettatl@upmc.edu.
---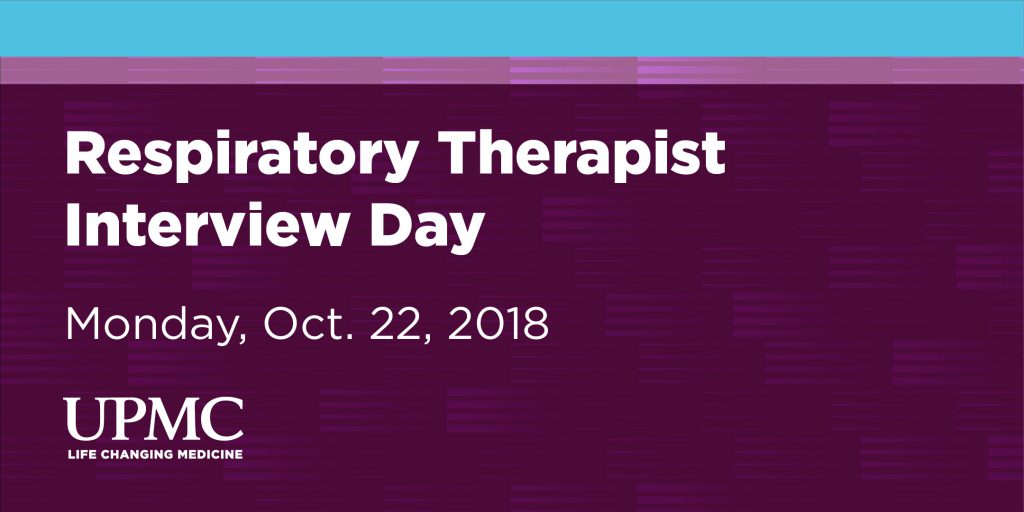 Respiratory Therapist Interview Day

Monroeville, Pa. | Monday, Oct. 22
Are you a respiratory therapist who is passionate about delivering the best care possible? Would you like to make a difference in the lives of patients, their families, and the community? If so, we invite you to answer your calling at UPMC!
Learn More
Build Your Career
As a respiratory therapist, you will receive ample opportunities for personal skill-building, professional development, and continuing education. Through flexible scheduling, strong management, and comprehensive training, we offer you the chance to advance through our distinct career ladder while cultivating a profession you love!
Respiratory therapist CRT and RRT
Sr. respiratory therapist RRT
Lead respiratory therapist RRT
Supervisor respiratory therapist
Ready to take on new challenges? Explore this exciting opportunity, today!
Join Us
Monday, Oct. 22, 2018
UPMC East
2775 Mosside Boulevard
Monroeville, Pa. 15147
Parking is free and available in the UPMC East parking garage. Please enter through the main entrance and make your first right towards the Conference Center.
Interviews from 1:00 p.m. to 4:00 p.m.
Managers will be on site from UPMC East, UPMC Mercy, UPMC Magee Womens Hospital, UPMC Altoona, UPMC St. Margaret, UPMC Children's Hospital of Pittsburgh, UPMC McKeesport, UPMC Shadyside, UPMC Presbyterian, UPMC Hamot.
Next Steps
We will contact you a week or two before the event to schedule your interview times. We ask that you hold time on your schedule from 1:00 – 4:00 p.m. We will send confirmation days before with your time slots.
REGISTER TO ATTEND
---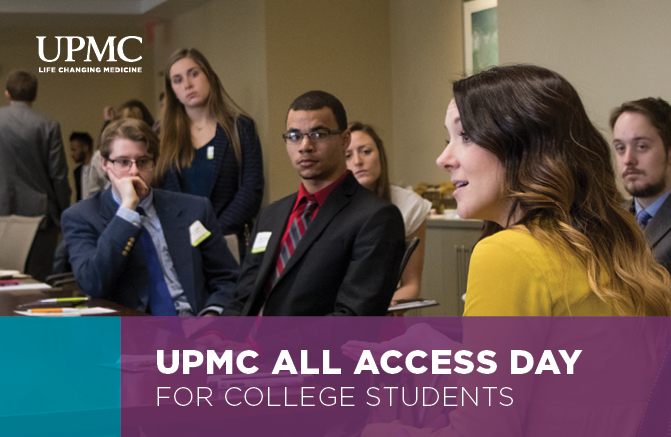 UPMC  All Access Days for College Students
Are you ready to take your first step into the professional world? Join us for a half-day program to get a behind-the-scenes look at what it's like to work at UPMC and UPMC Enterprises. You'll learn about our internship and full-time opportunities for students in fields throughout UPMC, and our recruiters will be there to network with you and help you prepare.
Are you wondering what recruiters look for in candidates? Worried that your resume could be stronger, or that you won't know how to answer interview questions? Whether you're studying nursing, business, or anything in between, we're here to help you make your mark.
Learn More
What to Expect
Hear from a current intern or a UPMC employee who started his or her career here as a student
Pose all your application, resume, and interview questions to a panel of UPMC recruiters
Learn how to make a great impression during one of our professional development activities (past activities have included resume building, mock interviews, elevator pitches, and networking tips)
Take your first steps toward your future with confidence. Join us at one of our All Access Days for College Students!
Upcoming Event Dates
October 12, 2018
November 9, 2018
February 8, 2019
March 8, 2019
Please check the event registration page, for dates and times may have changed.
---
UPMC Community All Access Day Events
Looking for a chance to network with UPMC recruiters? Join us at our next Community All Access Day event to brush up on your interview skills and learn more about exciting career opportunities!
Upcoming Event Dates
Please check the event registration page, for dates and times may have changed.