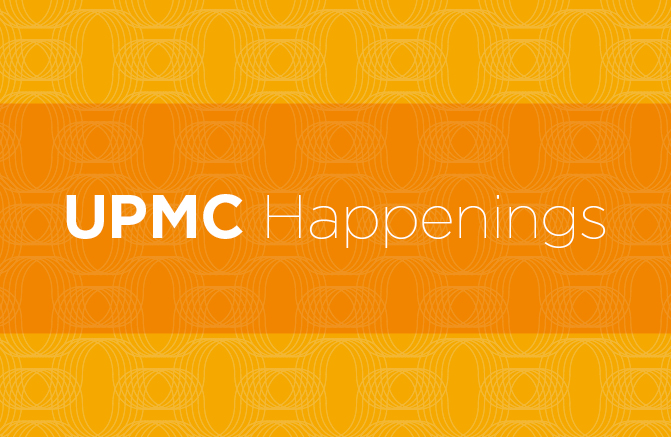 Welcome to UPMC Happenings, our most up-to-date list of upcoming recruitment events! Explore exciting career opportunities, and learn how you can make a difference with UPMC
Jump to Event
---

UPMC Susquehanna Surgical Services Networking Event

Williamsport, PA | Tuesday, August 28
Don't miss your chance to explore rewarding career opportunities in surgical services!
Would you like to grow your surgical services career in an innovative, cutting-edge OR facility? If so, join us for an exciting evening of dinner, networking, and more with UPMC surgical services hiring managers and recruiters!
Learn More
CRNAs
OR Nurses
PACU Nurses
Anesthesia Technologists
Tuesday, Aug. 28, 6p.m. to 8 p.m.
Saffron Grill & Catering
1164 W 4th St
Williamsport, PA 17701
RSVP Today!
Because we'll be serving dinner, reservations are required for this event. RSVP to let us know you'll be there!
Ways to RSVP
Email your resume to UPMC recruiter Rise` Porter-Wolf at 
Please come by after work or class to see us! Scrubs or business casual attire welcomed.
---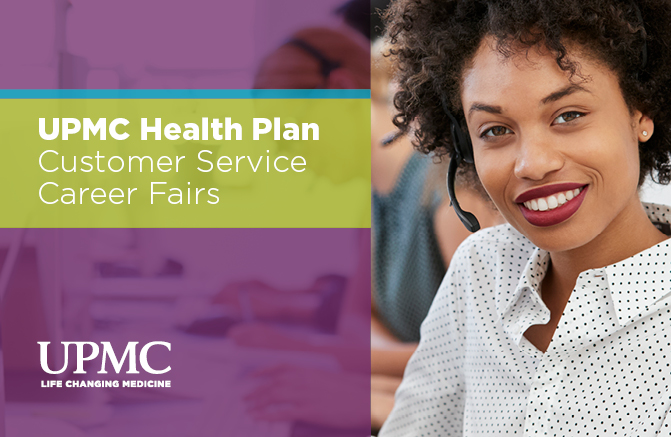 UPMC Health Plan Customer Service Career Fairs

Pittsburgh | Sept. 12 and Oct. 11
Do you have strong customer service, organizational, and analytical skills? Are you looking for a career that offers personal development and plenty of room for growth? If so, now is the perfect time to join our growing team at UPMC Health Plan!
Learn More
UPMC Health Plan is currently seeking temporary and full-time customer service representatives.
Event Details
Sept. 12 and Oct. 11 | 10 a.m. to 5 p.m.
Pittsburgh Marriott City Center
112 Washington Pl
Pittsburgh, PA 15219
What Can We Offer You?
Commitment to Service Excellence
Close-Knit Work Environment
Great Opportunities for Growth
If you have excellent customer service skills, a drive to help others, and an interest in ongoing career growth, join us on Sept. 12 or Oct. 11 and find your place with UPMC Health Plan. We're looking forward to meeting you!

---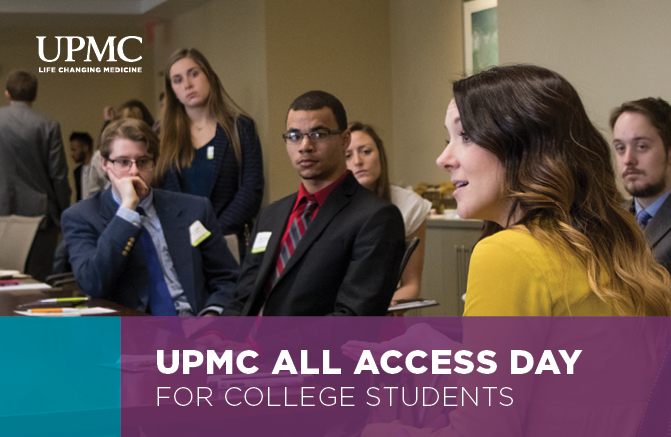 UPMC  All Access Days for College Students
Are you ready to take your first step into the professional world? Join us for a half-day program to get a behind-the-scenes look at what it's like to work at UPMC and UPMC Enterprises. You'll learn about our internship and full-time opportunities for students in fields throughout UPMC, and our recruiters will be there to network with you and help you prepare.
Are you wondering what recruiters look for in candidates? Worried that your resume could be stronger, or that you won't know how to answer interview questions? Whether you're studying nursing, business, or anything in between, we're here to help you make your mark.
Learn More
What to Expect
Hear from a current intern or a UPMC employee who started his or her career here as a student
Pose all your application, resume, and interview questions to a panel of UPMC recruiters
Learn how to make a great impression during one of our professional development activities (past activities have included resume building, mock interviews, elevator pitches, and networking tips)
Take your first steps toward your future with confidence. Join us at one of our All Access Days for College Students!
Upcoming Event Dates
September 14, 2018
October 12, 2018
November 9, 2018
Please check the event registration page, for dates and times may have changed.
---
UPMC Community All Access Day Events
Looking for a chance to network with UPMC recruiters? Join us at our next Community All Access Day event to brush up on your interview skills and learn more about exciting career opportunities!
Upcoming Event Dates
Please check the event registration page, for dates and times may have changed.