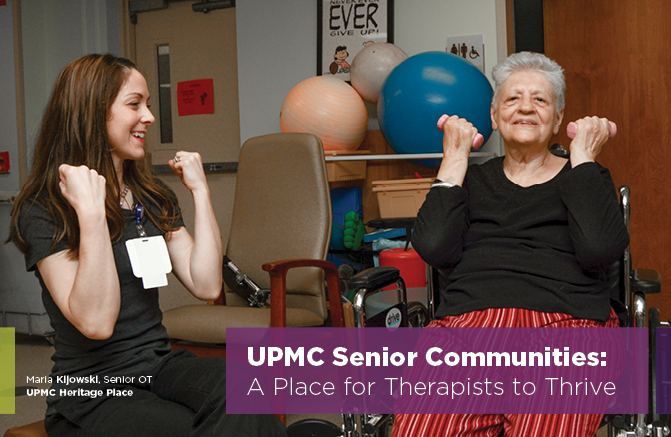 When you decided to pursue a career in therapy, you knew there would be difficult days.
You recognized that there would be long therapy sessions, that you and your patients would face physical and emotional challenges, and that there would be seemingly-endless stacks of paper work to complete. And yet, you understood that the benefits accompanying this career journey would out-weigh the difficulties – every time.
For Kaitlyn McCormick, Doctor of Physical Therapy, and Maria Kijowski, Senior Occupational Therapist, coming on board with UPMC Senior Communities presented the perfect blend of challenge and reward! Choosing to practice in dynamic health care facilities like Seneca Place and UPMC Heritage Place has continuously allowed them to develop their clinical skill, set and achieve goals, and make a tangible difference in the lives of patients and their families.
Let's take a closer look at these three benefits!
Develop Clinical Skill
Gaining valuable experience through a broad range of patient cases and care settings is one exciting perk of working with our team. Whether you're looking to practice in a skilled nursing and rehab center, personal care community, or assisted living facility, our wide variety of rehabilitation and long-term care environments provides ample opportunity to advance your expertise in your preferred setting!
We encourage our therapists to use innovative strategies and a think-outside-the-box mentality to meet the unique needs of every patient. McCormick explains, "Patient-centered care means keeping patients' best interests in mind, and allowing them to be as involved as possible in their care – I try to create programs with activities that are important to them!" Our therapy teams are always working to better assist individuals along the continuum of care by creating effective, personalized treatment plans.
Set & Achieve Goals
We strive to ensure that every employee can establish and reach their career objectives through our robust benefits package! "I was intrigued by UPMC's benefits, including insurance plans, paid time off, and the ability to gain knowledge through continuing education courses," says Kijowski. She further shares, "UPMC Senior Communities is also a large corporation, which helps with networking!" By providing access to the essential resources required for staying ahead of the ever-changing clinical curve, we aim to prevent career burn out, safeguard a sustainable work-life balance, and foster both professional advancement and personal growth!
Make a Difference
Making a lasting difference in the lives of others is why we do what we do at UPMC Senior Communities. Our dedicated therapists approach every day with passion and positivity because they recognize the deep significance of their roles! McCormick comments, "I love working with the geriatric population! They're fun to work with, full of surprises and knowledge, and you truly get to see all kinds of people in a job like this." Providing specialized care to improve patients' quality of life is exceptionally rewarding – no doubt about it. "My residents inspire me on a daily basis," explains Kijowski. "Seeing them gain happiness and independence is the most fulfilling aspect of my job!"
If you seek challenge, and are ready to take the next step in your therapy career, we invite you to explore current job opportunities with UPMC Senior Communities!