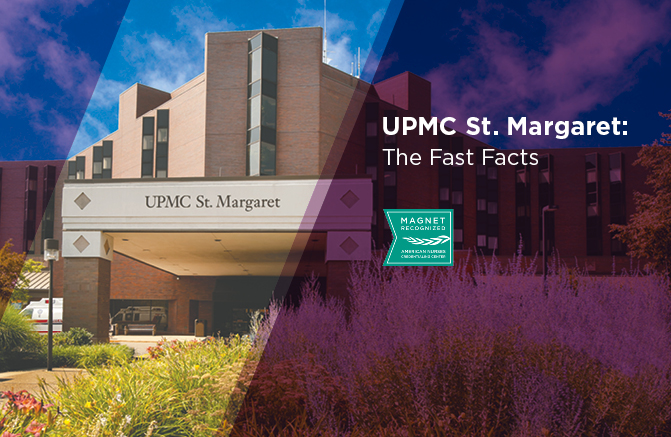 What is UPMC St. Margaret?
UPMC St. Margaret is a 249-bed acute care and teaching hospital situated on a 21-acre campus near Aspinwall, Pa. It serves more than 250,000 residents of northeastern Allegheny County and beyond, providing residents convenient access to the area's finest physicians and health services.
Does it have the specialty I'm interested in?
There's a good chance! UPMC St. Margaret provides specialized diagnoses, treatment, rehabilitation, and education in a variety of areas. Opportunities abound! Key specialties include lung cancer screening, cancer services, community and outpatient services, ear, nose, and throat, emergency services, esophageal and lung surgery, geriatrics, heart and vascular, orthopaedics, primary care, pulmonary services, sleep medicine, stroke, and surgery.
The hospital also offers:
What are some of the perks?
If you join the St. Margaret's team, you can be confident knowing that you're joining a team that's been called "the best of the best." UPMC St. Margaret is a Magnet® status hospital. Magnet® status is the highest international recognition for nursing excellence and leadership and is given to less than 500 hospitals worldwide.
Will I have opportunities to learn and grow as a nurse?
You sure will! In addition to UPMC's already-robust tuition assistance program, UPMC St. Margaret fosters an atmosphere of growth and development.
When we chatted with UPMC St. Margaret CNO Mary Barkhymer, she was excited to share with us about St. Margaret's nursing councils. Nursing councils are an active part of the nursing environment at UPMC St. Margaret and are a great way to grow your nursing career. Each group is chaired by staff and nurses at various levels and departments and helps lead, innovate, and shape the work environment there, too. Between the Quality Council, Clinical Council, Research Council, Employee Experience Council, and more, there's plenty of opportunities for you to diversify your UPMC St. Margaret experience.
Do people like working there?
We asked Emily Wickline, a senior professional staff nurse at St. Margaret, and Chief Nursing Officer Mary Barkhymer this very question. What they shared:
Emily Wickline, Staff Nurse: "Before becoming a nurse, I was a PhD research scientist at the University of Pittsburgh. My years at the lab bench were spent hoping my work would one day make an impact on the patients in the future. As I thought about my own future, I realized I wanted to make an impact sooner. I got my BSN and am now a staff nurse at UPMC. I always wanted to be a nurse in a community hospital setting where I could work directly with the primary care doctors to facilitate care for their patients." Read Emily's full article.
Mary Barkhymer, CNO: "Everyone here is very friendly, and since we're a smaller hospital, it's easier to get to know the team here…. Personally, community is what really makes me excited to come to work every day. Overseeing nurses at UPMC St. Margaret may be my job, but it's also my honor and privilege. I love the chance to connect with my nurses and hear more about their work, lives, hopes, and dreams; the dedication my co-workers have to their patients is inspiring." Read Mary's full article.
With its Magnet® designation, commitment to the community, and tight-knit and team-oriented atmosphere, UPMC St. Margaret is one of the best places to be a nurse. Explore the other features below to get the inside scoop on a career at UPMC St. Margaret and apply today.