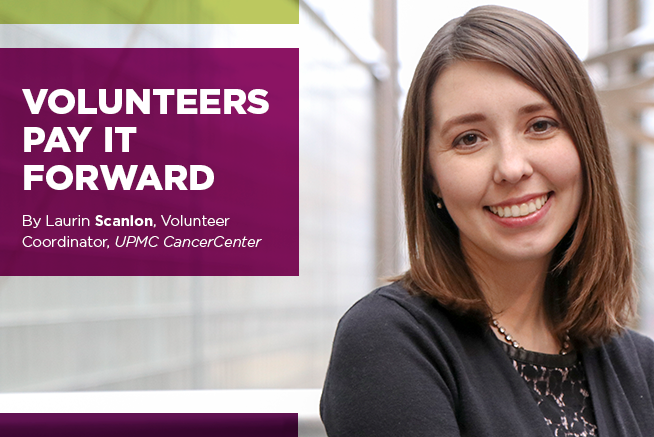 In honor of National Volunteer Week (April 23-29, 2017), we are recognizing the important work our volunteers do to assist our mission here at UPMC. To learn more about volunteering at a UPMC facility, visit our Volunteer Services page here.
---
"We make a living by what we get, but we make a life by what we give."
Winston Churchill
When people ask me what I love about my job, it's hard to figure out what to say. I love my job for many reasons, and telling one story does not do it justice—it is a compilation of kind actions and the idea of "paying it forward" to give someone's day a little more light for a brighter tomorrow.
My name is Laurin Scanlon and I am the Volunteer Coordinator for UPMC CancerCenter.
I chose to work at UPMC CancerCenter because I personally lost two family members to the disease. I oversee approximately 250 volunteers each year across seven different UPMC CancerCenter Facilities. It is a blessing to work with these volunteers, and each day witness the work of these life-changers. My job is very unique, as I oversee various programs including volunteers, pet therapy teams, UPCI Summer Academy, externs and job shadows. Together, volunteers have the ability to brighten someone's day, provide companionship, be a listening ear, and learn more about the UPMC CancerCenter.    
With the responsibilities of my role comes many great stories, but to me, the best story of all happened on a typical day in our building. Nothing was special, nothing was expected, but this is a story of how one of a patient's life was changed by kindness:
Overwhelmed by their travels, a patient and his wife arrived at the Hillman Cancer Center where they were greeted by a volunteer upon entering the building. She was kind and provided a brief tour of the building while escorting them to their first appointment. They chatted back and forth, and the volunteer learned that the patient had a grim prognosis and that he was being seen that day because his wife insisted he gets a second opinion. The volunteer helped them get checked in and settled in with their paperwork before returning to her position at the Welcome Center podium.
The following week, the patient and his wife returned, and a smile came to their face when they saw the same volunteer waiting to welcome them once again. She asked them if they knew where they were going and they smiled shaking their head yes. They explained that they had had some additional tests done last week and were coming in to get the results.
A few hours later, as this volunteer was nearing the end of her shift, she was rounding for abandoned wheelchairs on the clinic floors. I got a phone call in my office asking for the location of the volunteer from a staff member. They quickly said, "Nevermind, here she is," and hung up the phone. It turned out that this patient and his wife were looking for the volunteer! They received his test results and found out that the original diagnosis was incorrect and staged incorrectly by his local doctor. His UPMC physician explained that his cancer was a lower stage and there was hope for treatment and resection – he and his wife were moved to tears. The patient and his wife wanted to find the kind volunteer that had helped ease their anxiety about coming to the building and provided friendship in a difficult circumstance.
Together, the patient, his wife, and the volunteer hugged each other because he had a better chance at life!  
This is just one of many stories that inspire people to volunteer at UPMC CancerCenter. We are more than medicine – with a welcoming smile, friendly volunteers, and comfort, we can be life-changing. That is why I choose to work at UPMC as a Volunteer Coordinator; my life has been greatly enriched by the experiences I've witnessed and facilitated here at UPMC.
—Laurin Scanlon, Volunteer Coordinator, UPMC CancerCenter
---
Learn more about the mission of UPMC Cancer Centers here, or learn how you can become a volunteer here.

—