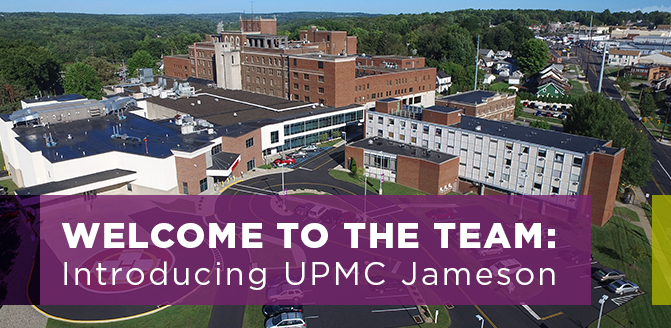 World-renowned business mogul, philanthropist, and Pittsburgh native Andrew Carnegie once said, "Teamwork is the ability to work together toward a common vision. It is the fuel that allows common people to attain uncommon results." Here at UPMC, we believe that teamwork is the only way we can achieve our vision of bringing Life Changing Medicine to the community. A better future begins with the best team!
So without further delay, we give a warm welcome to our newest team member: UPMC Jameson!  With the initial merge of Jameson Health System and UPMC in May 2016, UPMC Jameson is now officially established to deliver world-class health care to the residents of Lawrence County and its surrounding communities – talk about great news for everyone!
With this change comes many exciting opportunities for our patients, employees, and community members to gain access to new kinds of care, benefits, and experiences. You might be wondering: What will those exciting opportunities look like, more specifically?
Well, we're here to answer that!
As we welcome UPMC Jameson to the team, here's what we have to look forward to as both individuals and as a community:
Expanded physician and clinical care teams that bring a variety of career opportunities and job growth in Lawrence County and surrounding communities
Introduction of new, innovative services that are on the cutting edge of health care technology
$75 million allocated for the improvement and development of services and facilities
Unprecedented access to learning and advancement experiences that engage and empower staff members
Security and confidence in the long-term preservation and growth of the vital community asset that is UPMC Jameson and its employees
As this new chapter in the story of UPMC begins, we feel that Doug Danko, UPMC Jameson President, said it best: "We are now positioned to become stronger than ever."  We are thrilled to participate in this rewarding partnership, and feel wholeheartedly optimistic about the amazing things we will accomplish, together!
Do you want to be a part of shaping what is sure to be an exciting future at UPMC Jameson?  Keep an eye out for opportunities to join the team! Together, we can work towards our common vision to bring Life Changing Medicine to our community!