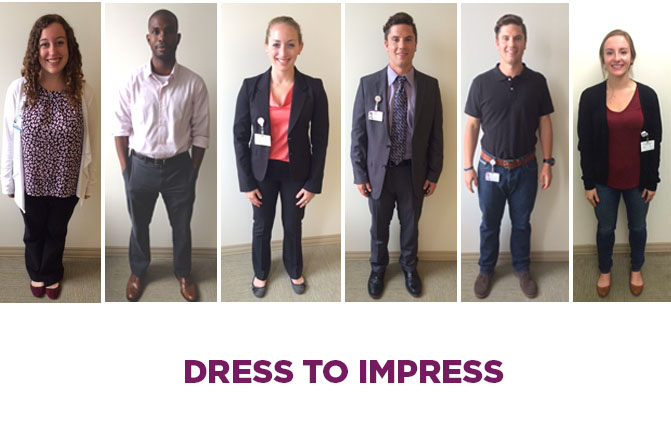 As a Summer Associate, you can have many simple questions such as, "What am I going to wear?" In most business atmospheres there are three categories of appropriate attire including:
Business professional
Business casual
Relaxed business casual
Six Sigma Online, a website for the renowned business certification, states, "The main reason why dressing in proper business attire is important for every business professional is because it gives the message that you are dedicated to your position." To show your manager and co-workers that you are serious about your position, you must dress the part. Plus, it also gives you a great excuse to go shopping. As a future Summer Associate, here are some great tips and visuals on how to dress successfully during your summer at UPMC.
Each day in Talent Acquisition, the dress code is business casual, which includes sleeveless shirts and dresses, and some men may forgo ties. On special occasions, like presentations or executive meetings, business professional (suits, ties, and dress shoes) is expected. Finally, casual Fridays round out each week in Talent Acquisition, which includes jeans and more relaxed footwear. This is the same for Physician Services Division, Insurance Services Division, and EBenefits Solutions as well.
On the other hand, departments including the Center for Engagement and Inclusion and Corporate Services err on the business professional side, opting to not include sandals and/or sleeveless shirts in their wardrobe expectations
Within the Health Services division, a Summer Associate may be stationed at Children's Hospital of Pittsburgh of UPMC, UPMC Margaret, UPMC Passavant, UPMC Presbyterian, and UPMC Shadyside. At these locations, the dress code is business casual with occasional situations of having to dress business professional for presentations or special meetings.
Personally, I dress mostly in business casual and enjoy it because it can be comfortable, yet displays professionalism. I usually wear dress pants that are a solid color, but like to switch it up in the summer by wearing printed pants. As for tops, I usually wear blouses, sometimes along with a sweater or blazer. Even though you are in a professional environment, you do not have to compromise style. Therefore, I also like to accessorize with scarves and jewelry. Since I am still a college student, I do not like to spend too much money, so I generally shop at department stores and discount stores like Marshalls and TJ Maxx.
Dressing appropriately will portray that you are serious about your position and that may even land you a job. Before you begin working, just ask your manager what the appropriate attire is for your department or reference the above list. Just remember, in business, your outfit can say a lot about you; therefore, dress to impress! Remember this quote by Edith Head, "You can have anything you want if you dress for it."
Madisen Bobish, Human Resources Summer Associate