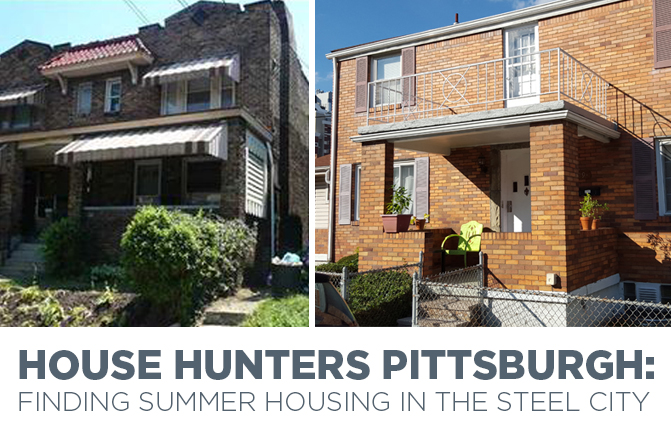 Finding a great place to live that is great can get tricky in a city environment like Pittsburgh – especially if you do not live here year-round. Luckily, the Steel City is one of the most affordable and livable cities around, giving you more options than you think when it comes to finding a place to stay.
Subletting
Pittsburgh is filled with college students, many of whom return to their hometowns or home states when a semester is not in session. For people who are doing the opposite – coming into the city to take summer classes or for summer employment, this frees up a lot of housing. If you live in Pittsburgh already, but you live in a dormitory or your lease runs out at the end of spring semester, then you are also in luck. Many college students who rent apartments or houses during the fall and spring find themselves with a lease that extends through the summer, despite the fact that they are moving out. Nobody wants to pay for a place where they are not even living, especially a college student low on income. Ask around among friends, or scan the internet for some sublease opportunities! A sublet agreement is easy to set up, and is a win-win situation for both parties.
Short-term leases
If you have trouble finding an apartment or house to sublet, try finding one that does not require a traditional August – August 12-month lease. Many landlords fill in gaps between leases or simply cater to a different crowd by offering temporary, short-term leases for rent. These can be perfect for someone looking for somewhere affordable to stay for a few short months. Try Craigslist!
Dormitories
For those used to living in a dormitory during the fall and spring, doing the same during the summer may not be a bad option. University of Pittsburgh, among others, keeps some dormitories open during the summer as housing for summer students on campus. During the summer, dormitories are much more quiet and peaceful than they are during the academic year. This option is particularly attractive for those who are interested in paying for housing and student loans together.
Get creative
Believe it or not, Pittsburgh is one city where housing is not difficult to find, even at an affordable rate. With so many thriving areas of the Steel City developing rapidly, options are only growing. There are tons of apartments and houses for rent or even for sale in neighborhoods like Oakland, Squirrel Hill, Shadyside, South Side, Downtown, and many more! Visit the website of a trusted or recommended property management company, or just start searching the web. When it comes to living affordably and comfortably, Pittsburgh is your oyster.
Dean Zaslow, Information Services Division Summer Associate