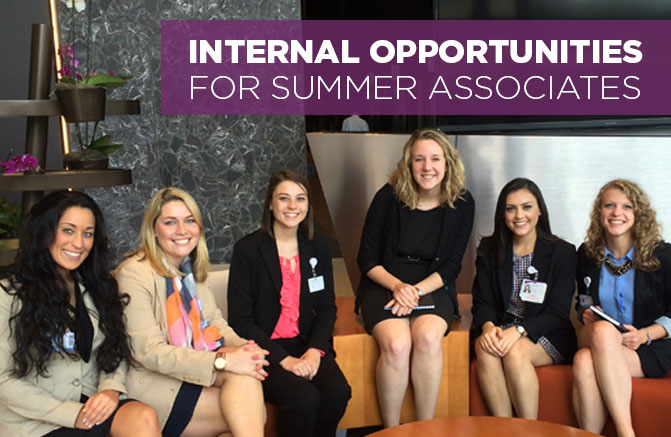 As a Summer Associate, I was given countless internal opportunities within UPMC. The 11-week program exposes students to the various facets of UPMC including: networking events, facility tours, community volunteer work, leadership development, and the chance to hold chair positions. This provides a well-rounded experience that goes beyond the daily responsibilities and tasks of a typical summer internship.
Networking Events
Working in the Health Services Division of Human Resources allowed me to network with various managers, directors, and administrators through attending department head and committee meetings. I was even lucky enough to have a personalized meet and greet with Passavant's President, Dave Martin. Every Human Resources Summer Associate is given the incredible opportunity to attend the monthly Human Resources Leadership Meeting held in the Executive Board Room of the U.S. Steel Tower. It is a great way for Summer Associates to network with major HR personnel. UPMC also hosts a networking event for all Summer Associates to attend at PNC Park for a Pirates Game. The Pirates game is a relaxed setting that gives students the opportunity to meet with UPMC's Chief Financial Officer, Chief Administrative Officer, and many other vital UPMC Executive employees for an exceptional experience.
Facility Tours
The chance to visit other UPMC facilities is also an internal opportunity provided for Summer Associates. Tours of WISER Institute, Children's Hospital of Pittsburgh of UPMC, and UPMC Mercy Hospital allow students to see firsthand how other business units operate and witness life changing medicine.
Community Volunteer Work
Giving back is a very important aspect to UPMC, and students are given a chance to support this value. Summer Associates are invited to a community service event that helps many aspects of Pittsburgh.  The various activities range from graffiti removal to weeding and it is a great way to spend time with other Summer Associates and give back to the communities of Pittsburgh.
Leadership Development
The Campus Ambassador Program is an internal opportunity that involves graduates of the Summer Associates Program with on-campus recruiting. This program provides great leadership development and ways to stay connected to UPMC while at school.  A Summer Associate has the opportunity to assist with recruiting by hosting informational sessions, encouraging top candidates to apply, and much more!
Chair Positions
Summer Associates have the chance to hold Communication and Service Chair positions during their time at UPMC. This is a great opportunity to take extra responsibility and involvement during the program. The Service Chair coordinates the Human Resources specific projects as well as the Service Event that Summer Associates participate in. The Communication Chair acts as a liaison between his or her respective department and the rest of the Summer Associates by writing biweekly departmental updates and also gathers the material for the blog.
As you can see, being a Summer Associate offers a variety of internal opportunities that give students an incredible chance to experience a wide variety of UPMC's multi-faceted system. The program offers more than just an internship, but also involvement that exposes students to a wealth of opportunities to expand their knowledge and capability to make the most out of the Summer Associate experience.
Allison Shaw, Human Resources Summer Associate