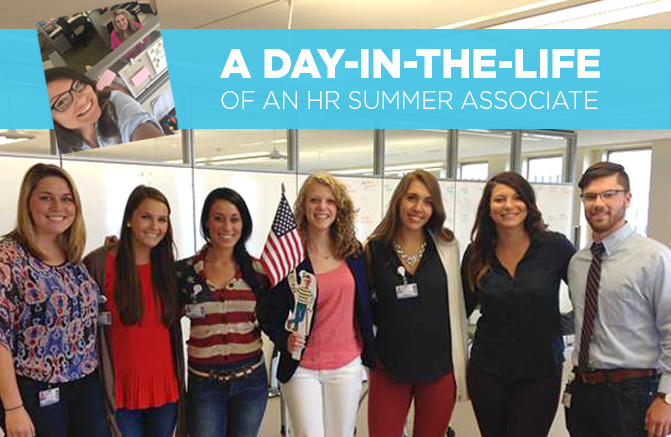 During my days as a Summer Associate, I received hands-on experience on what a full time UPMC employee does every day. UPMC Summer Associates come from all over the country to work for this organization, and it was an extremely humbling opportunity to be able to contribute to the team during the summer.  I lived in the Southside which is right across the river from Downtown Pittsburgh, and would drive into town each morning, park, and take about a ten minute walk to the Steel Tower.
I worked on the 31st floor, home of UPMC Talent Acquisition, a part of the Human Resources department.  Specifically, I worked within the Bridge Team, which is responsible for the function of the entire onboarding process.  When a candidate is extended an offer of employment from UPMC, that offer is tentative until the candidate passes a background check as well as a pre-employment physical.  The Bridge Team ensures that all these steps are taken quickly and accurately to ensure the candidate has a smooth transition into the UPMC organization.
An additional project that I worked on this summer was creating a How-To Guide for new acquisitions. UPMC is constantly growing and expanding, and part of that growth involves acquiring private health care practices.  The process of bringing on acquisitions is different than hiring one individual, so I was responsible for creating a set of guidelines to follow when a large private practice joins the UPMC organization.  It was a very tedious process, and sometimes overwhelming, but knowing that I was creating something that will be making someone else's experience better was extremely rewarding.
One great aspect of the Summer Associates Program is the care devoted to ensuring that all Associates feel welcome. At the beginning of the program we were assigned a mentor to guide us through the daily happenings from how to complete our work correctly, to where the good lunch spots are located.  Having someone to look up to during the program was extremely important to my success, and it made the experience that much more memorable.
As a UPMC Summer Associate, no two days are alike. The program ensures that there are networking events, group lunches, or meetings that keep our days busy.  You never know who you may get to talk to at an executive lunch or another networking event, which makes it crucial to come to work every day enthusiastic and prepared.  On days when there is nothing planned, the Summer Associates make it a point to gather together, whether it be for lunch, or another activity outside of work, to relax and reflect on our experience.  Getting to learn more about the backgrounds of the other Associates not only makes us work well together, but creates lasting friendships that will last far beyond the eleven weeks we are at UPMC.
Overall, my experience as a Summer Associate was great. Being so young, it can get overwhelming to enter a large corporation; however, the culture at UPMC ensures that the Summer Associates are treated as valuable members of the organization.
Aileen St. Leger, Human Resources Summer Associate