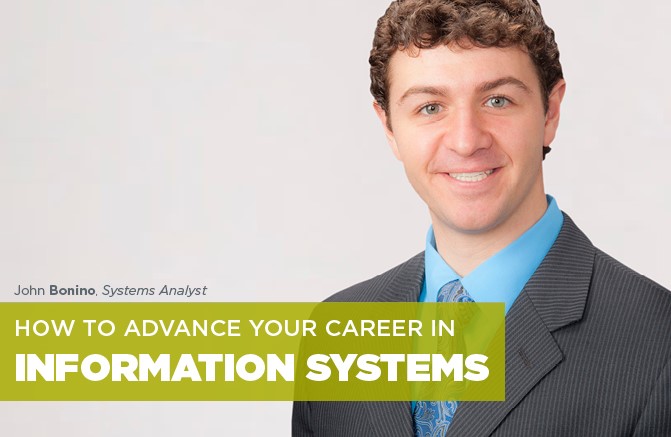 Don't feel inadequate.
You are an important asset to any company.  Don't let anyone make you feel like you are just another worker.  You will make mistakes – learn from them!  You will feel lost – ask questions!  You will have successes – build on them!  No one expects you to know everything right away. Be confident in yourself and tackle challenges head on.  Your ideas are just as valuable as everyone else's – don't think less of yourself else simply because you are new and inexperienced.
Putting forth ideas and asking questions will help you develop relationships with your team members, as well as provide opportunities to work on more projects.  There is no such thing as a bad question, as long as you listen to the answer and respond appropriately.  Remember that everyone has been where you are now at some point in their life.  There's nothing to fear…go get 'em!
Enhance your professional skills.
A career in Information Systems requires not only that you have technical skills, but also that you are able to effectively communicate via a variety of media.  Communicating professionally via email, text, phone, video conference, and social media, as well as in-person all require continual practice.  Additionally, public speaking and networking skills are very important to improving yourself as a professional.  Don't be afraid to step outside of your comfort zone to learn some of these things.  Invest in improving your skills now, and they will serve you well for the rest of your life.
See the big picture.
Learning to read between the lines is a huge part of working in IT.  Users don't always know what they want or how to describe it.  Understanding the big picture of what is needed will save you headaches and make you a more valuable team member.  Never be afraid to take the initiative and add something to a project if you think that it is what the user or client wanted, even if they didn't specifically say so.
Understand how you, your team members, and you whole department figure into the company as a whole.  It will give you better insights into what your priorities should be and where you can make the biggest impact.  Seeing the big picture will give you the head start you need to always be on top of things, establishing yourself as a difference-maker for the company.
Be flexible.
IT is a rapidly changing field that never seems to stand still.  You may be working on a project for months, just to be stopped abruptly, and shifted to another project.  Take it in stride!  Being able to adjust to a shifting landscape is part of the job.  Embrace the inevitability of change and turn it into one of your strengths.  Prioritize and organize all of your projects so that you can pick them up and put them down seamlessly.  It will prevent you from becoming stressed or disjointed, allowing you to function successfully at the highest and most creative level.
John Bonino, Systems Analyst