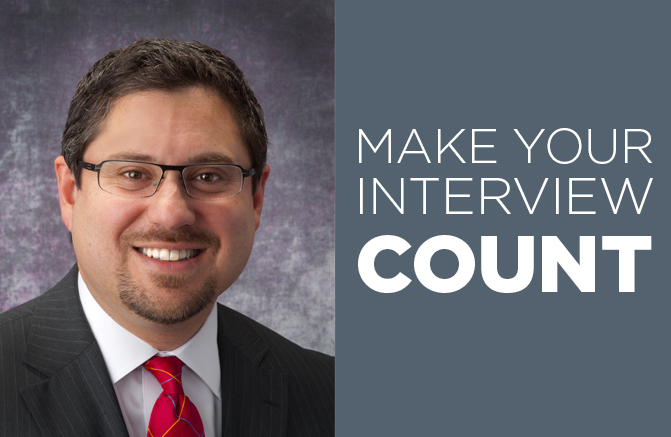 Two percent. That is the chance that a lucky rising second-year law student will have the opportunity to join UPMC's Corporate Legal Summer Associates Program. With over 125 top candidates applying in 2015 for just three available positions, there is no doubt that UPMC is a popular destination for young law students in search of engaging summer work. In order to help you increase your odds, I sat down with Mark Zacharia, an Associate Counsel responsible for selecting and mentoring those hired for the job, to discuss what he looks for in a potential Summer Associate candidate.
To be selected for one of the limited positions at UPMC, an applicant must go through a series of interviews with six of the department's attorneys. "The interview is huge," said Zacharia. "It really is the one aspect of the process that I focus on most." He noted that if you are among the handful of students selected for an interview, your resume, grades, and other credentials have already been thoroughly vetted. Therefore, he stressed that the interview is the one chance given to really set yourself apart from the other candidates. As Zacharia put it, "Sell yourself. Anything from impressive work experience to quirky hobbies can help you to stand out in an impressive field."
Zacharia stressed one element in particular he always seeks in a candidate: interest in the company itself. "We want to see that you're as invested in UPMC as UPMC will be in you," reasoned Zacharia. "When it comes down to it," he stated, "it really only takes a quick Google search to see what we are all about as an organization. If you're not willing to put in that little bit of work before an interview, what are you going be like as an employee?" Zacharia says he wants a mentee who he believes will be conscientious. "It's not just good enough to do the minimum," Zacharia emphasized, "we want someone who will look for extra work, dive deep into the material, and, when all is said and done, go above and beyond what is asked of him or her." Ultimately, the hiring attorneys want to know that you will do your best to improve UPMC in the eleven weeks you spend here.
Zacharia divulged that the final process for selecting candidates is a fairly simple one. Once the list is whittled down to just three or four candidates, it goes to a final show-of-hands vote. Though there is plenty of back-and-forth discussion about each attorney's favorite candidate, the student that the lawyers can recall without looking down at a resume tends to win out in the end.
Only a few lucky students are selected to be UPMC Summer Associates each year. While the process is steeply competitive, basic interview preparation combined with engaging and intelligent answers can be the key to success. Make your interview count!
Rory Glendhill, Legal Summer Associates