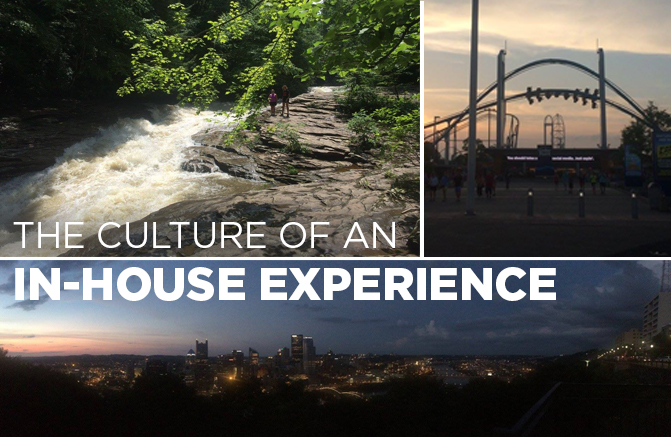 Of the three main areas in which to do a summer internship after your first year of law school (public interest, firm, in-house), in-house positions seem to be among the most relaxed and flexible, and can offer excellent work-life balance. While I can't personally speak to experiences in the first two areas, I can share numerous merits of the third.
Hours
As a Summer Associate in the Corporate Legal Department of UPMC, I am kept to a pretty strict cap of 40 hours per week. Overtime is highly discouraged and taking work home as a Summer Associate is unheard of. I come in sometime between 8:00-8:30AM and am out of the office promptly at 5:00PM or before, Monday through Friday. As a result, I have more time to pursue other interests outside of work than some of my colleagues in other internship settings. During the week, I enjoy running through Shadyside/Oakland/Schenley Park, dinner parties, movies, and happy hours with friends. Having my weekends completely open also allows me to go back to Charlottesville, hit up Cedar Point, or white water raft on the Lower Yough.
Assignments
Because we are an in-house department, there are no billable hours to track, allowing us to just focus on the assignment at hand. Additionally, the pace seems to be slower than other positions, allowing us to take more time with most assignments, not rushing or operating under a hard deadline. This provides proofreading opportunities for us to recheck sources and ensure that we produce optimal work products. Moreover, this environment helps foster a very relaxed, collegial professional culture.
Health System
Aside from the lifestyle benefits, one of the best perks of working in-house is that the legal department is but a small cog in a larger machine. This affords Summer Associates exposure to other industry areas, instead of just being stuck in a legal world. While you may work with clients in other industries and have to learn a bit about what they do in public interest or at a firm, being an integral part of a larger picture allows us to directly experience aspects of health care that you could not understand simply from talking to a client or researching a memo. We step out of the office frequently for various opportunities, including tours of facilities and hospital board meetings, not to mention the typical outings to courts.
Our program is also just one facet of the larger Summer Associates Program covering nine other departments within the health system, giving us the opportunity to interact with interns in other departments. This degree of diversified experience and interaction is fairly unattainable outside of an in-house position at a corporation like UPMC. We are able to break out of the legal bubble and hang out with interns from departments all over the health system.
Overall UPMC has been the ideal experience for me and would be for anyone with an interest in health law (which basically deals with every other area of law). A combination of manageable hours, great mix of projects and experiences, and diversity of co-workers all contribute to making the in-house experience unbeatable. If I were primarily interested in practicing law (I am a JD/MD student), I would absolutely want to end up working for a company like UPMC.
Austin Sim, Legal Summer Associate