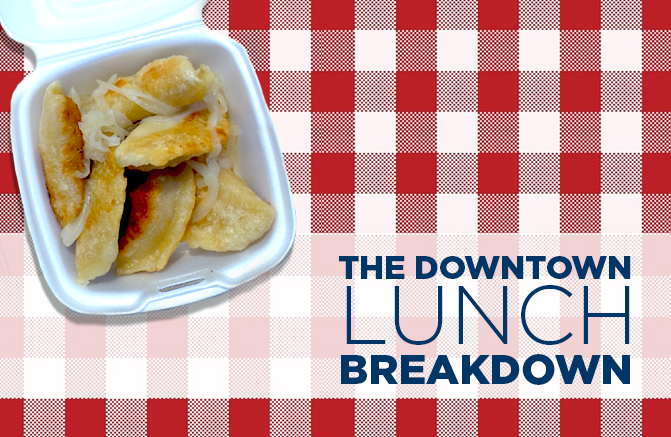 All around the world, food brings us together. Whether it's around the dinner table with your family, catching up with friends at a restaurant, or work meetings at a café – sharing a meal is a way to share time with people in our lives. Personally, one of my favorite things to do involving food is to take my lunch break to its full potential and explore what downtown Pittsburgh has to offer.
Since I started at UPMC as a Summer Associate, I've done my fair share of trying different foods in the downtown area. I'm not too picky of an eater, but I do have my favorites: tacos, pierogies, a fresh salad, and ice cream just to name a few. I was not disappointed while walking around downtown during my lunch break — I was able to find all of my favorites within a few blocks!
If you enjoy tacos, you've got to check out Bea Taco Town. The tacos are fresh and authentic — but most of all, they're SPICY. So, if you can't handle the heat, maybe this isn't for you.
For pierogies, my personal all-time favorite, I suggest you check out the farmers market in Market Square every Thursday. That's where Gosia's Pierogies sells the best homemade pierogies I've ever had! If you're a true Pittsburgher, you know this city takes their pierogies pretty seriously — so seriously that the Pirates games dedicate the 7th-inning stretch to pierogie mascots. An added bonus of trying Gosia's Pierogies is the surrounding farmers market, where there is amazing live music, fresh produce, and delicious dessert venders (if you have room)!
If you do have room for dessert, Dream Cream is right around the corner from Market Square on Liberty Avenue. Their awesome ice cream is a must during the summer heat! What's great about Dream Cream is not only the wide variety of ice cream flavors they offer, but also the positive community impact they have on Pittsburgh! Part of the company's revenue goes directly to neighborhoods around the area to repair buildings, improve school programs, and so many other amazing things.
With all these mouth-watering options nearby, it's hard to stick to a healthy diet (I've learned a few things about health at UPMC Health Plan). Thankfully, Hello Bistro on Forbes Avenue, right near Market Square, makes fresh salads — which make me feel slightly less guilty for all the tacos, pierogies, and ice cream I've indulged in during the week. My personal favorite, the Quinoavacado salad, has all my favorite veggies in it and tastes refreshing.
So whether you're craving a spicy meal, a Pittsburgh classic meal, something sweet, or a healthy meal — downtown has it all! Now that your mind is focused on food, invite a co-worker to grab lunch with you! What's even better than a good meal is good company.
Beth Giddings, Marketing Summer Associate