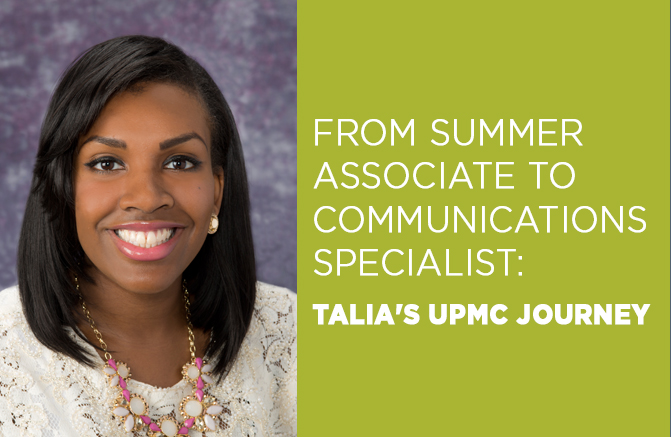 A journalism student at Duquesne University, Talia hadn't planned on applying to UPMC's Summer Associate Program, but after a chance encounter where recruiter Pam Arroyo informed her of all the program had to offer, she decided to throw her name in the hat for the summer of 2014.
A few months later she signed on to UPMC as an Integrated Marketing Summer Associate. Working with mentors Dawn Butler, Dee Dee Woods, and Barry Hogue, Talia took on a plethora of projects. Alongside Hogue she worked on internal videos and on-topic shoots, gaining experience with editing and selecting sound bytes, while Butler and Woods oversaw her work within the marketing department.
Talia is no stranger to internships; her resume boasts some of Pittsburgh's finest media outlets, including WTAE, KDKA, and WESA radio. She's also interned as a financial marketer with Legend's Financial Advisors, and received a Heinz Endowment. But out of all her internship experiences, UPMC stands out.
Anyone who's served as an SA knows that you bond with one another over the course of the eleven-week program. For Talia, this group served as a support system. Being surrounded by other ambitious students, all of whom were experiencing the same life events—college, graduation, employment search—helped her stay motivated. They deemed their conference room the "Clubhouse" and bonded over Buzzfeed quizzes and a family tree. Talia served as Community Chair and planned several service events where the group grew closer.
The marketing department, like the fellow interns, proved to be an inclusive group. She felt fortunate to be immersed in the UPMC culture, which she describes as kind and supportive. She says she was given actual work and the space to make mistakes, getting into the rhythm of a real work environment where projects come in waves. Talia knew that UPMC and her internship field were the right fit for her—it held journalistic aspects and variety—and so she reached out to manager in early August to inquire about staying on in the fall.
For the next semester, Talia stayed on with her department, now known as Marketing Intelligence and Brand, and worked part-time while pursuing her Master's degree in Media Technology and Arts from Duquesne. Most of her fellow interns also continued working with UPMC but for different departments than originally employed. Around late September she decided to commit full-time to UPMC following graduation, and her transition from an SA to a full-time employee was seamless; Talia continued on with the same team she started, and all fellow employees were welcoming.
Today Talia is a Communication Specialist at Garrison and Hughes, working exclusively for UPMC. Most of her work centers around UPMC's "Choose" ad campaign. She functions as a liaison between the clinical group and agencies to ensure that our ads get placed efficiently in corporate buys, like billboards. The campaign highlights UPMC as the option of choice in health care and clinical excellence.
Talia has a few takeaways from her hectic college and post-grad experiences. "Some people get caught up in the planning," she says. Talia suggests taking things one at a time to get the most from each experience, and that plans will come together as you work. And for those SA's interested in staying on, she advises that "doing well in the projects and tests at hand shows everyone else your work ethic. They know the Summer Associates who take the initiative and those who don't. I think that's very important. A lot of people get very stressed about whether or not they'll stay on. But it's really important to focus on the now."
Zersha Munir, Marketing Summer Associate