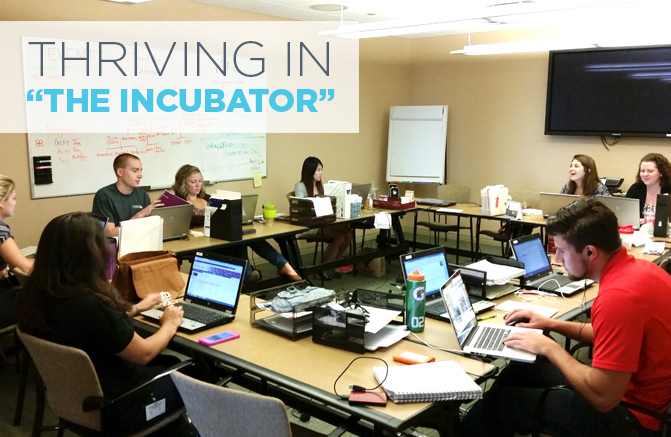 To most of the workers on Floor 57, Conference Room 57118 is just another room used to house the Marketing/Communication Summer Associates. To us, the room is much more. For 40 hours a week, it's home. It's where we learn, work, fail, and succeed. The name Conference Room 57118 seemed far too impersonal for our home, so this year we've named it "The Incubator."
The 10 of us working in The Incubator sit around a rectangle of desks. On the first day, not much was said aside from awkward small talk. Just a few weeks later, we have group message, plans after work, and some great conversations in between projects. The best part of working in this room is the people you'll meet and the ideas you'll come up with together.
For example, our white boards are covered with miscellaneous ideas. Currently, we have a sign-up list for a Kennywood trip, a food for thought of the day (today's is: there is no angry way to say bubbles) and for some reason the diagram to the Kardashian/Jenner family. There's even a reminder for a color to be worn on Wednesday by all of us in some way.
But don't be mistaken, you will have to work hard this summer to succeed at UPMC. On most days, your eight hours will be spent on projects, emails, and meetings. These are the days I'm most thankful for my fellow Summer Associates. They're always willing to assist with tough assignments, proofread, and remind you that you can't do everything. I've sent and received many rough drafts to and from the people in this room. There will always be somebody in here to have your back, even if that just means sending a funny video and forcing you to take a break to watch it.
We feed off of each other here. Positive energy is always being passed from one person to the next. I can't remember the last time I left work in a bad mood; even when I'm running out of time and have a lot on my plate, somebody makes me laugh or picks me up.
So, now that you know what life is like in The Incubator, here are a few tips to thriving in this environment:
Make friends. You'll be spending the next 440 hours with them.
Bring headphones. Some days you're busy when everybody else has free time; the room can get pretty loud on those days.
Get your work done. It's okay to take breaks, but chiming in on a funny conversation isn't worth falling behind on a project.
Be positive. Don't bring the room down with your frown™.
Make plans outside of work. Get drinks, get dinner, and go have fun. Pittsburgh is a wonderful city; you're all downtown together anyway!
You should now have a pretty good idea of what life is like in The Incubator. Follow those steps and try not to let the summer go by too quickly. Work here is fast-paced and exciting, try to enjoy every day of it. Good luck!
Peter Smith, Marketing Summer Associate