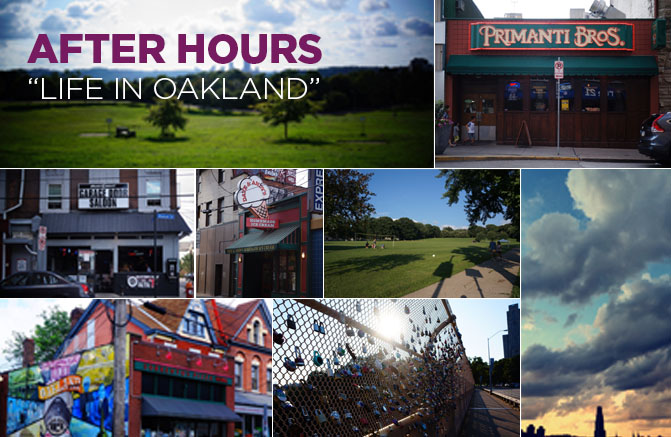 Where unforgettable memories are made and lifelong friendships are born, life in Oakland certainly offers a rich learning experience. Oakland is home to the University of Pittsburgh, Carnegie Mellon, and Carlow University, resulting in a lively and bustling city heavily populated with incredibly bright minds and a multitude of different cultures. So, if you have a thirst for knowledge, you're just a short walk away from several campuses. Also, if you enjoy a good bite to eat, the arts, or miles of pure nature, Oakland may suit you perfectly. Oakland is a central location between downtown Pittsburgh, Shady Side, and South Side allowing you to explore with ease. Following are a few photographs I captured around campus in order to show the beauty and diversity of Oakland.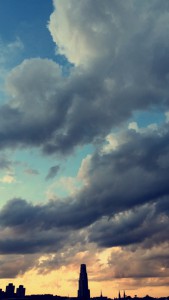 The Cathedral of Learning stands as a center piece in Oakland providing an opportunity for people to explore numerous nationality rooms or relax outside on the Cathedral lawn.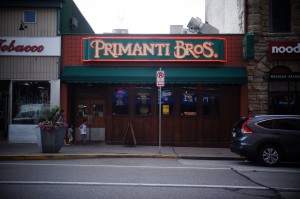 Primanti Bros sits in the center of Oakland allowing people to eat sandwiches piled high with fries and cole slaw, a staple item in Pittsburgh culture.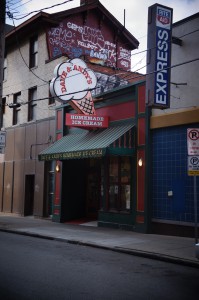 Dave and Andy's serves the best scoop of ice cream in town.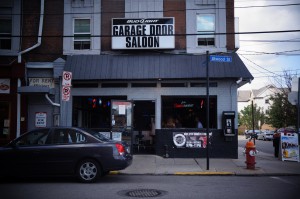 The Garage Door Saloon or commonly known as "G-Door" is a popular spot to grab a drink and a slice of pizza.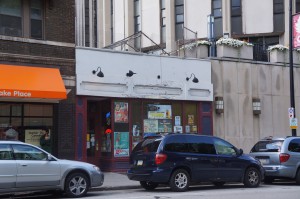 Hemingway's Café or "Hem's" is another popular bar for people to get affordable drinks and quality food. Hem's has also been recognized as one of the best college bars in the nation.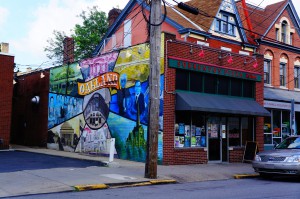 Sorrento's Pizza is home to the famous $5 dollar pizza and a decorative mural paying tribute to Oakland's long history.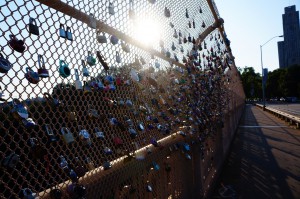 Close to Schenley Park and the Carnegie Museums, this bridge serves as an interesting art piece to walk by on the way to the Cathedral of Learning.
Schenley Park offers people the opportunity to explore what nature has to offer including running trails, volleyball, disc golf, and incredible city overlooks.
Oakland is a great place to experience the culture of Pittsburgh without getting lost in the hustle and bustle of downtown. There are countless opportunities to try unique food, explore expansive art galleries, and get some sun in Schenley Park. Not to mention, the predominant University of Pittsburgh student population keeps Oakland young and lively. Travel has been made extremely efficient and reliable since there are hundreds of public buses that ride through town each day. Moreover, living in Oakland is exceptionally convenient for the commute to the U.S. Steel Tower every morning during the Summer Associate Program.
Collin Smith, Human Resources Summer Associate