A child whose day was made with music. A couple celebrating their 42nd anniversary. A man who finally got to leave the hospital for home.
These are the images of impact that have inspired us these last few months here at UPMC as our hospitals and communities dealt with the effects of COVID-19. Though these times may feel uncertain, these images have uplifted and reminded us of all the different ways Life Changing Medicine happens right around us. Take a look for yourself:
An Extra Special Anniversary
After a 27-day stay for COVID-19, a UPMC Pinnacle patient named Robert was eager to improve his strength at the Helen M. Simpson Rehabilitation Hospital so he could be discharged in time to celebrate his 42nd wedding anniversary with his wife. Robert was able to make it home just in time to celebrate, and UPMC Pinnacle staff bought flowers for him to surprise his wife with. Their sweet reunion was so special to witness!

Quick, Quality Care
Sometimes, Life Changing Medicine happens outside of the doors of our hospitals. For our EMS flight technicians, providing quick, quality care is how they continue to make an impact.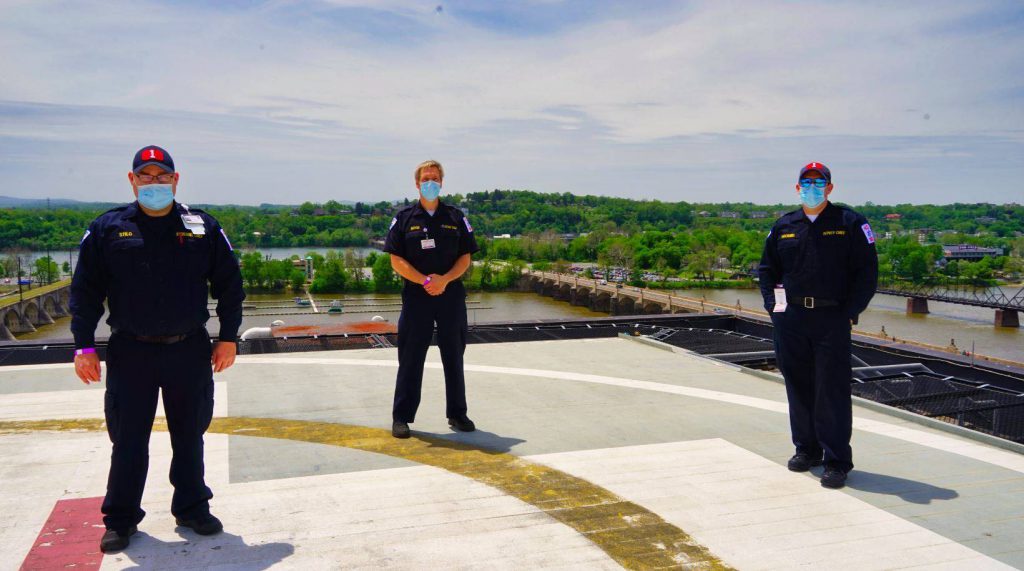 Hakuna Matata!
UPMC Children's Hospital of Pittsburgh patient Jimmy had a visit from music therapists before his routine MRI for a brain tumor. Music therapy provides pre-procedural support to help normalize the experience and provide comfort during this time.
Community at Cumberland Woods Village
Residents at Cumberland Woods Village, part of UPMC Senior Communities, recently enjoyed a sunny summer day on the outdoor patio. Our staff have done an incredible job of keeping our Senior Communities residents safe, healthy, and happy throughout the pandemic.

Community Support
In communities throughout the areas we serve, friends of UPMC helped our teams feel appreciated as they cared for others with yard signs, sidewalk chalk, special deliveries, cards, and more. We here at UPMC Careers heartily agree with the message of this sign outside of UPMC Memorial!

Celebrating Hopeful Outcomes
Our front line staff loves celebrating our patients as they leave to go home to be with their families. After a 15-day stay for COVID-19, Mr. Villedo-Maldonado was discharged. Our staff lined the halls at UPMC Carlisle to celebrate and see him off!
Message for Pittsburgh
A simple, yet powerful sign outside of UPMC Shadyside speaks for itself. We are proud of our health care heroes today and every day.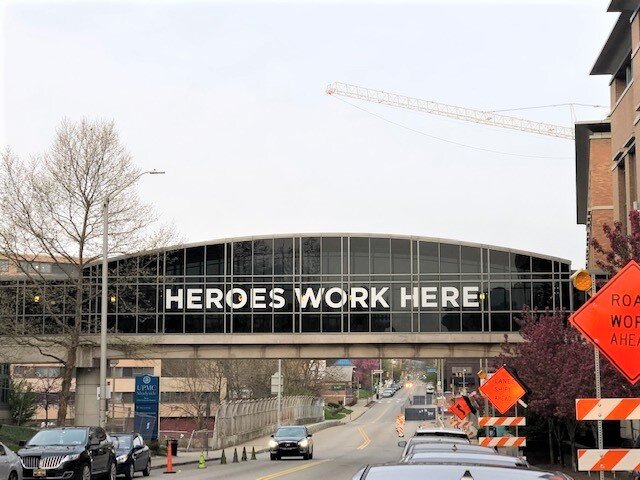 ---
We hope these photos and videos have inspired you as much as they inspired us, and remind you to keep your eyes open for more images of impact here at UPMC and beyond.