Whether it's a rejection, a difficult coworker, or a personal hurdle of some kind, challenges are inevitable in every career journey. For Brett F., a Certified Registered Nurse Anesthetist (CRNA) at UPMC, a challenging physical disability has affected the entirety of his life and career  — but it hasn't held him back in the slightest. 
---
Caring From Day One
"Ever since I was a small child, I have always wanted to help people. I think this is natural, because I was born without a right arm just below my elbow. Because of that, I spent more time in medical facilities than the average child. Many amazing health care professionals had an impact on me, and their influence piqued my interest in health care at a young age.
However, it was the acute brain injury of my grandfather when I was six years old that validated my interest in health care. During his recovery, my family gave me little jobs to help out with his care. They never discouraged my interest in helping, and they made me feel like a valued part of his care team."
My Path to Nurse Anesthesia
"My professional journey has been an extensive one, but I wouldn't change a thing about it. Because I had an interest in helping people from a young age, I became an emergency medical technician (EMT) by age 17 and eventually advanced to a paramedic after receiving my first degree.
I officially became part of UPMC when I became a flight paramedic in 2003. After pursuing a second-degree nursing program and joining UPMC Presbyterian's Cardio-Thoracic ICU team as a nurse, I was accepted in the University of Pittsburgh's Master of Science in Nurse Anesthesia program.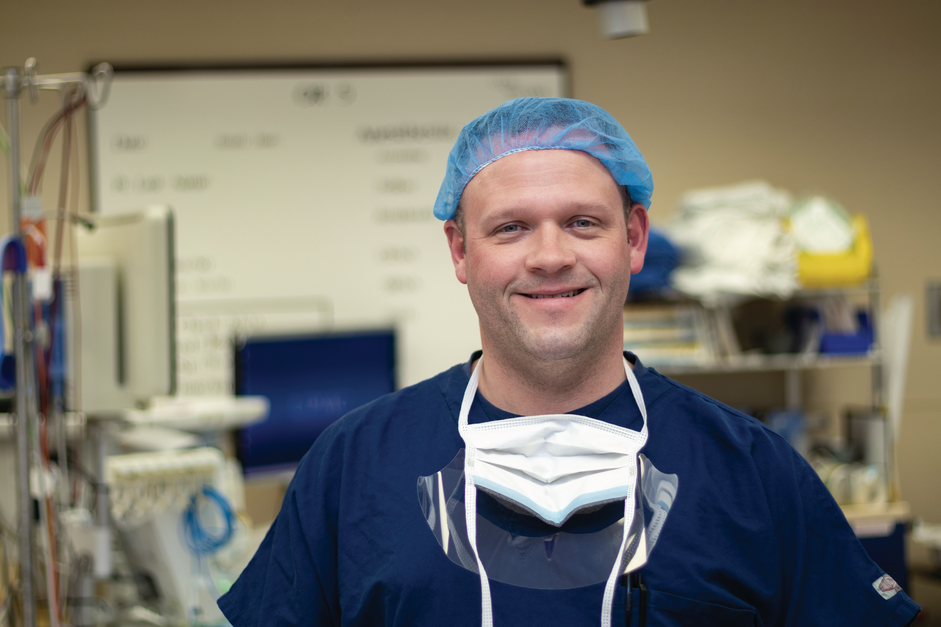 The program was rigorous, with a robust curriculum. With my physical disability, I experienced more challenges and obstacles than I ever could've imagined. I spent hours studying and practicing skills with faculty to ensure that I could perform as a nurse anesthetist, all while working 24-hour shifts as a flight nurse. As the program continued, I worked diligently until I was confident I could be successful in all aspects of my job.
Upon graduating, I started my CRNA career at UPMC Magee-Womens Hospital of Pittsburgh."
Life-Changing Responsibilities
"In my current role of Network CRNA, I am one of twelve nurse anesthetists credentialed at all UPMC facilities in Allegheny County, with opportunities that extend outside of the county. Every month, I am assigned to a facility, but I can be re-assigned daily to any site, depending on staffing and anticipated surgical volume.
My role is unique, as I have the opportunity not only to practice at different sites, but to treat patients with different medical conditions and provide different types of anesthetics. I love that I get to travel throughout the organization and embrace the specialties of each hospital.
Day-to-day, my top priorities are patient safety, clear communication and critical thinking. Knowing the details of every patient's medical history is crucial prior to administering anesthesia. I spend a lot of my time preparing for patient care, which includes ensuring medication accuracy and equipment functionality.
During surgery, I manage the airway, maintain safe positioning with close monitoring of vital signs, and treat hemodynamic alterations. When surgery is complete, I wake the patient up and transport them to the PACU or ICU."
An Immense Impact
"The team I work with is second-to-none — a dynamic team of professionals who provide excellent anesthesia care.
As we care for patients and strive to perform our jobs effectively, it's easy to get caught up in day-to-day responsibilities. It's easy to forget that something so routine for us as health care providers can be immensely impactful to a patient or family member experiencing the worst day of their life.
Every day, I'm motivated by my desire to be a father that my kids look up to. I take pride in walking the walk with everything I teach them. At the end of the day, I place high value in knowing that I'm making an impact, expanding my knowledge, and treating every patient like they are my family. I am very proud that I can be who I am and do what I love."
---
Inspired by Brett's story and interested in joining his team of Life Changers? Click the button below to view current openings for Advanced Practice Providers at UPMC:
Interested in jump-starting your career at UPMC and want to get in touch with our recruitment team directly? Contact Rise' Porter-Wolf at 412-667-6715 or wolfr@upmc.edu.