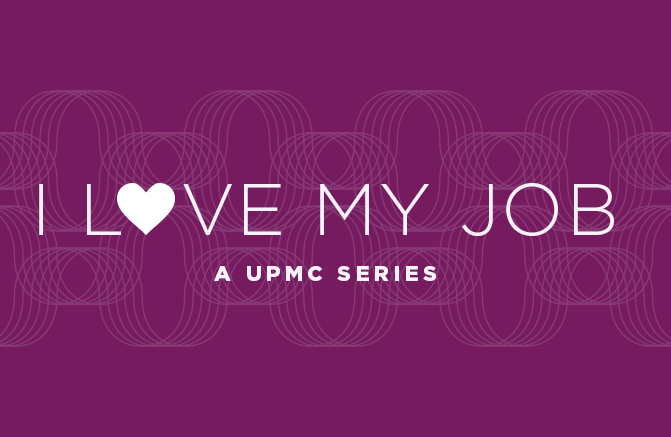 The saying goes, "Choose a job you love, and you will never have to work a day in your life." Over the next month, we're launching our I LOVE MY JOB series, where real UPMC employees will share what is it that they love about their career. Tune in over the next few weeks to hear the stories of employees who make up the UPMC team, and be prepared to be inspired!
---
I LOVE MY JOB | THE STORIES
Melanie Smith, a Respiratory Therapist at UPMC Presbyterian, is one of our 65,000 employees who contribute to our mission to serve our community by providing outstanding patient care through clinical and technological innovation, research, and education.
"I love my job because it gives me the opportunity to exercise the best parts of who I am. I work with critically ill patients with advanced pulmonary issues. I love that I can be a calming force for them and their families by simply being empathetic, listening, talking, smiling with them, and going the extra mile such as coloring a picture with my patient in an adult coloring book. Going above and beyond is more than just simple patient care—it's total care for the mind, and body. I get to address all of those needs help the patient in their journey of healing."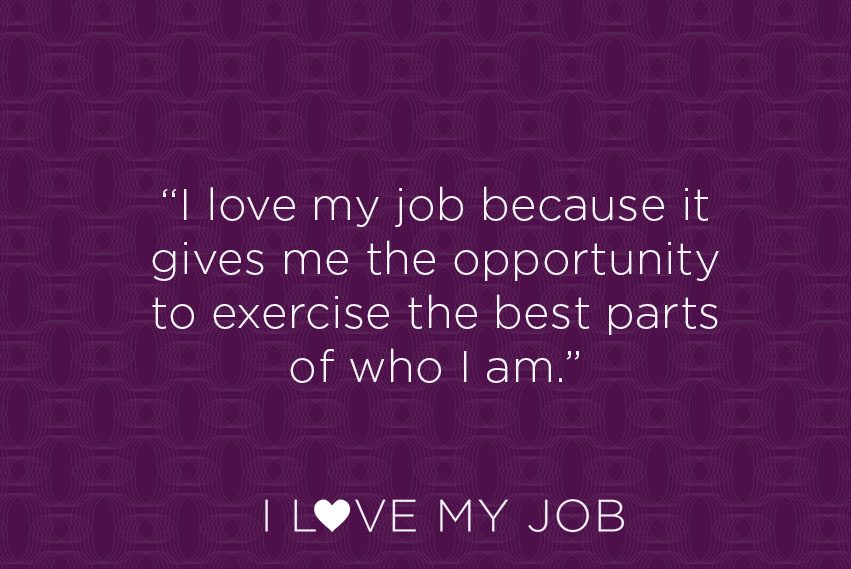 FINDING FULFILLMENT AT UPMC 
After years at other companies, John Mihaljevic joined UPMC's IT team as a Computer Programmer, a switch he called "energizing and motivating." Here's why John loves his job and is proud to work at UPMC:
"After years of working for smaller companies, and a few years of working for myself, this is my first time working in true 'corporate America.' I find the environment to be very energizing and motivating. I'm doing interesting and challenging work every day, and am constantly learning new things, which keeps my interest high. I'm lucky to be working as part of a team of good people, and learning under two excellent managers. I truly couldn't have found a better situation for myself, and have genuinely never been happier in my life than I am at UPMC. Any time I see those letters on a commercial, on a hospital, or atop the US Steel Tower, I feel a great sense of pride. Every single time."
***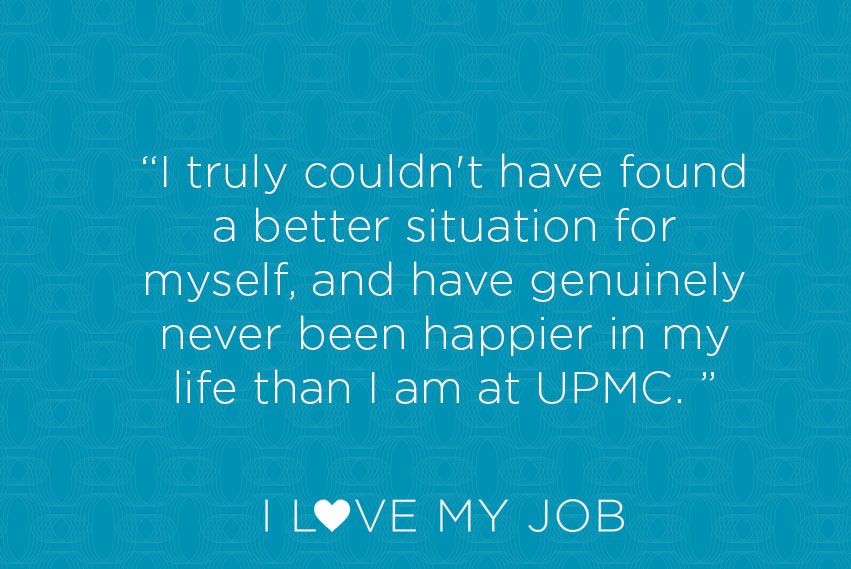 CREATING LIFE-CHANGING MEDICINE 
Chinelo Ezeonwuka loves her job at UPMC because of how she's able to use her research skills to help real patients. Special thanks to all the UPMC employees out there working behind the scenes to provide Life Changing medicine to Pittsburgh and beyond!
"I love my job because it enables me to experience the laboratory bench to the hospital bedside. It's exciting to be part of the improvement of hospital practices that limit or combat the transmission of multi
–
drug resistant pathogens that cause diseases. The research we do and experimental approach we undertake directly impacts patients, ensuring their safety and health."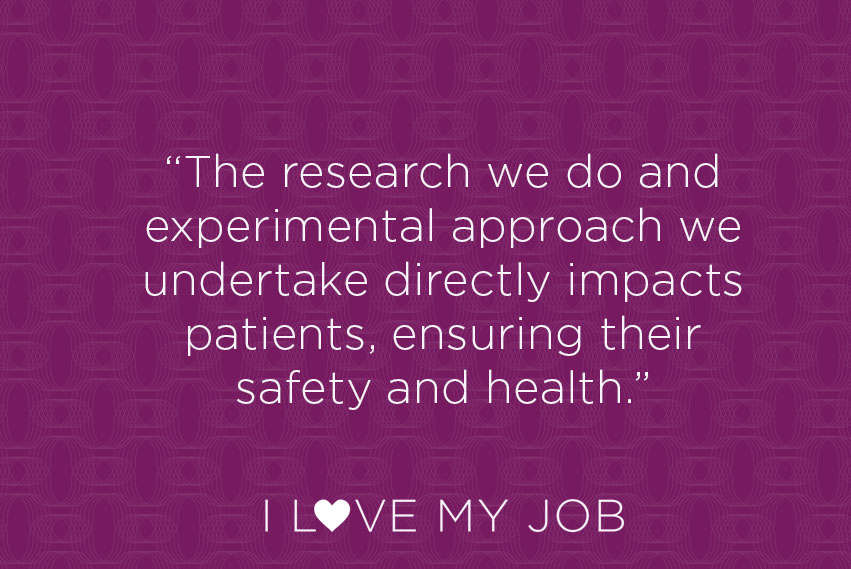 PARTY PLANNER, CARETAKER 
Rachel Cabin, a Patient Care Technician at Magee Women's Hospital, gets to attend birthday parties every day at work! Since she was young, Rachel knew she wanted to work in the medical field, and she shares below why she loves the role she now plays here at UPMC.
"I absolutely LOVE my job! Being the daughter of a nurse and a Pharmacy Business Manager, I always knew that I'd end up working in the medical field. Working in Labor and Delivery can be stressful, but being able to be there to help welcome little ones into the world is such a rewarding experience. Being able to help out a mom in any way that I can, whether it be getting her a cup of water, an extra pillow, or being able to hand her newborn to her for the first time, and seeing how much those little things mean to her, makes it all worthwhile."
***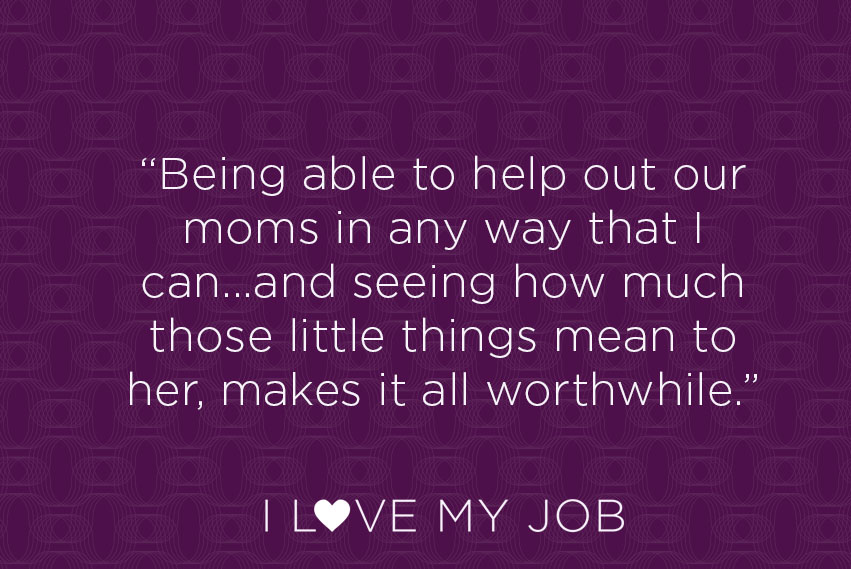 LIFETIME LIFESAVER
Lisa Bollenberg, a Practice Manager at UPMC McKeesport, began her career here 36 years ago. Ever since, she has worked hard to get to where she is today. Thank you for all your years of service, Lisa!
"I am a practice manager and work for both of the residency programs in McKeesport. It is such a rewarding experience to work with the residents that come here from all over the world to seek the outstanding training provided by UPMC. I am proud to be part of UPMC and it puts a smile on my face when a UPMC commercial comes on the TV knowing I am part of all the life
–
saving things we do for patients with the top technology that UPMC provides."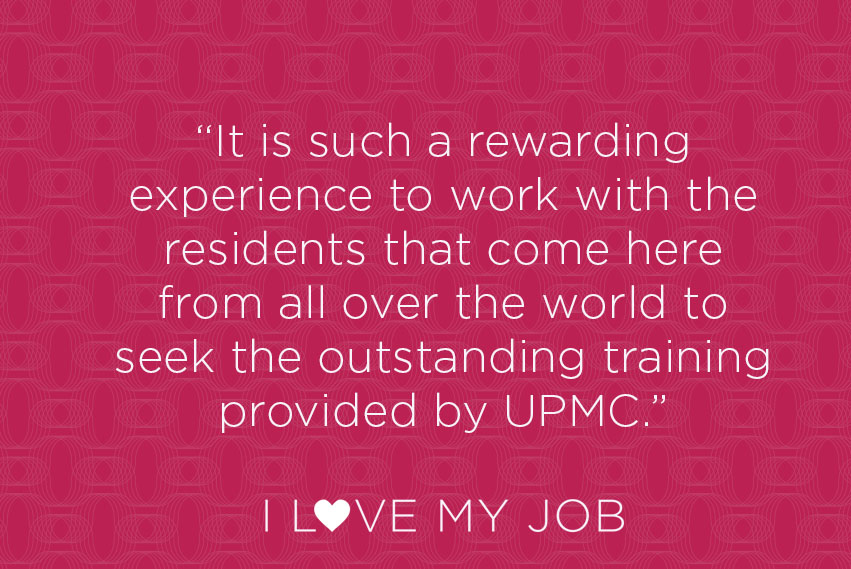 IMPACTED BY SERVICE
Leonard Picone, a chef at UPMC East, found new meaning in his job after being a patient himself. Thanks for being part of our team, Leonard, and for the work you do. We're so glad you love your job!
"I have prepared tens of thousands of meal trays for the patients in the last four and a half years, but that didn't prepare me for the first time I received and ate one myself. An emergency medical situation landed me in a patient room and the roles became reversed. The compassionate care that I received was overwhelming to me and my medical needs were taken care of very quickly. When my first food tray arrived later that first day, I saw it in a completely different light. The cheerful hostess, the friendly nurses, and all of the supporting cast of associates made sure that all of my needs were taken care of. My experience has made an impact on how I see my role here at East. I have a fun, rewarding, and very important job to do every day. I feel very lucky to get to be a part of such a great team."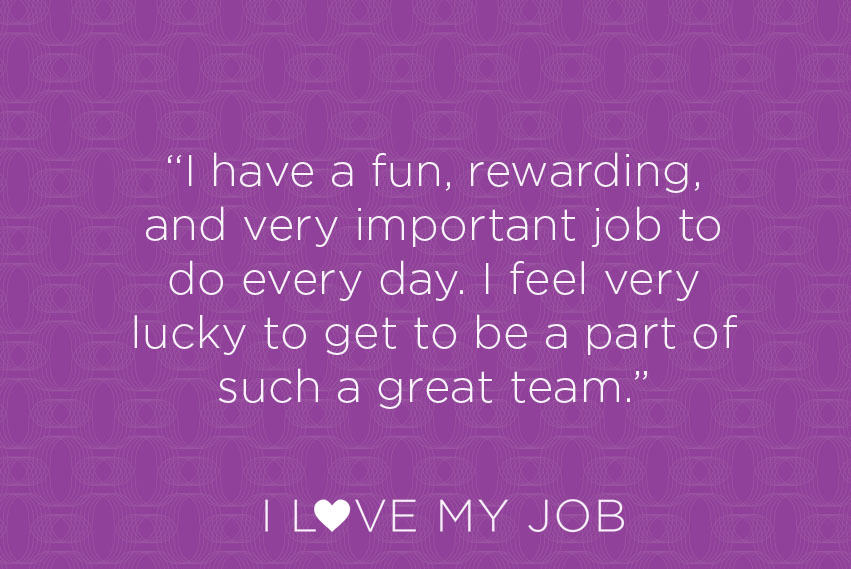 TIME WELL SPENT
Kristy Christy is an LPN at UPMC Altoona. We appreciate the work of employees like Kristy who help make the patient experience here at UPMC a great one!
"Why do I love my job? Because I get to help people all day long. I work at UPMC Altoona Blair Medical Associates in the call center, I have been here for a few days short of 8 years and I could not think of a better place to work. I get to talk to patients all day long, helping them out with simple things like telling them their appointment date and time, along with trying to make them feel better when they are feeling under the weather. It can get crazy with a lot of calls coming in, but spending the time to help patients with whatever they need can make that person feel better and making a person feel even a little bit better makes my day."
***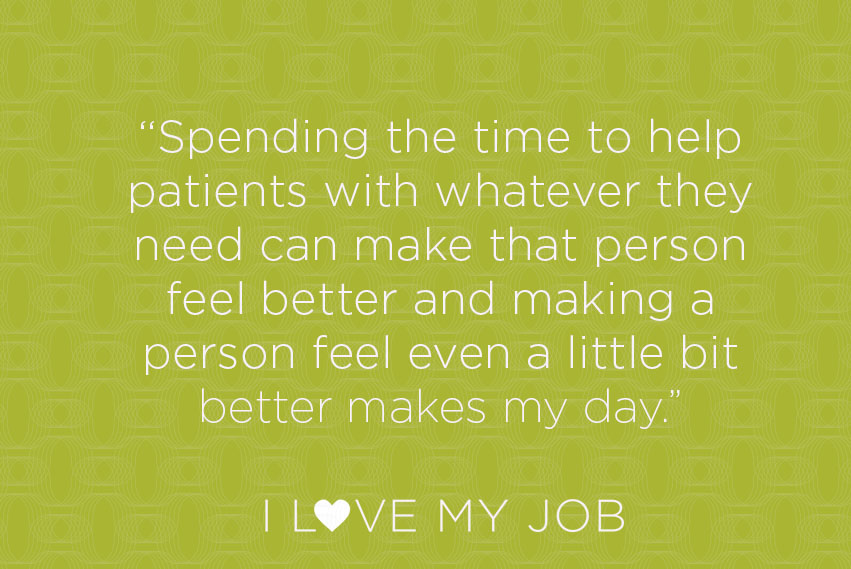 CANCER SURVIVOR CARES FOR OTHERS
In honor of World Ca

ncer Day

(February 4), our series continues with the story of UPMC Horizon employee and cancer survivor Carolyn Trott. 
"I love my job at UPMC Outpatient Medical Oncology at Horizon Shenango because I myself am a cancer survivor and can understand what my patients are going through and feeling. I have been told by a few of my patients that I have made them feel more relaxed. It feels good to be appreciated! I came into this career wanting nothing more than to work with cancer patients because I knew that this was where I needed to be. I couldn't love it here any more than I do!"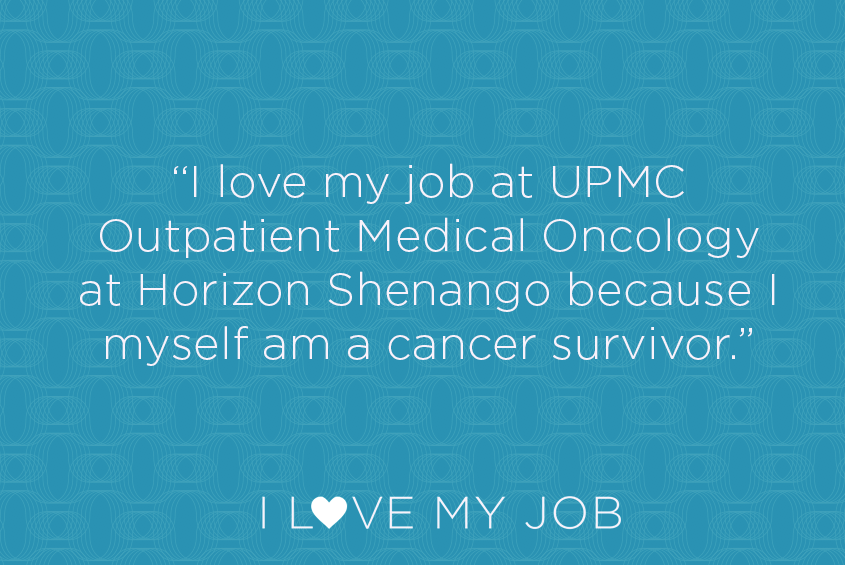 PASSION TAKES FLIGHT
Flight Paramedic, Kathy Winter, found her passion when she was 13 years old. Years later, Kathy is part of the team at the Center for Emergency Medicine. Here's why she loves her job:
"Becoming a flight paramedic 4 years ago was a professional dream come true with a very personal connection for me. 30+ years ago my brother's life was saved as the direct result of a flight paramedic's actions. As a then 13
–
year
–
old girl, I was in awe. Years later when my father died after a heart attack, I found out that he almost certainly would have survived had he been flown to a cardiac surgical center. That day cemented my determination to do what I now do as a Flight Paramedic. We encounter people on what is generally the worst day of their lives. If I can make their day a little bit better or decrease the chances of them dying, then I have accomplished my goal. And, the view from the air never gets old!"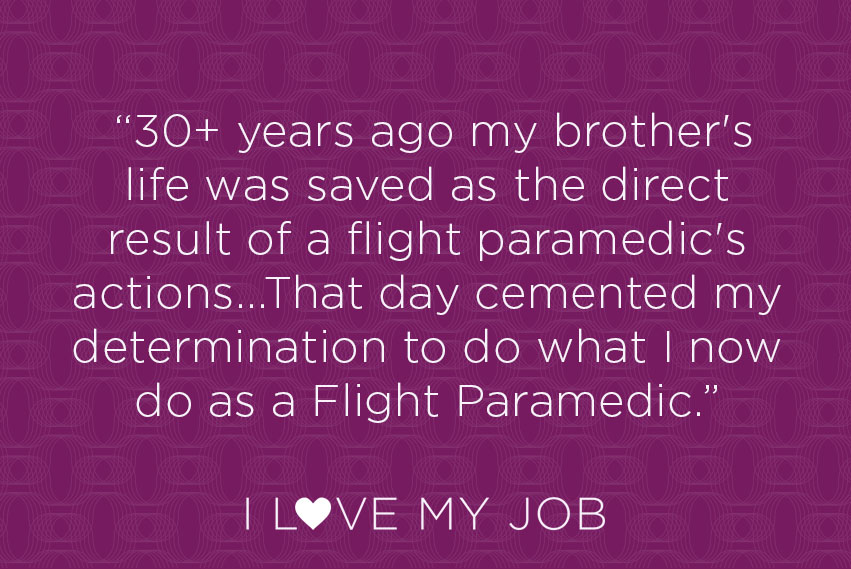 Posts can be found below throughout the month of February. Check back each Tuesday and Saturday for new additions to this post or follow the original posts on our Facebook or Twitter accounts.