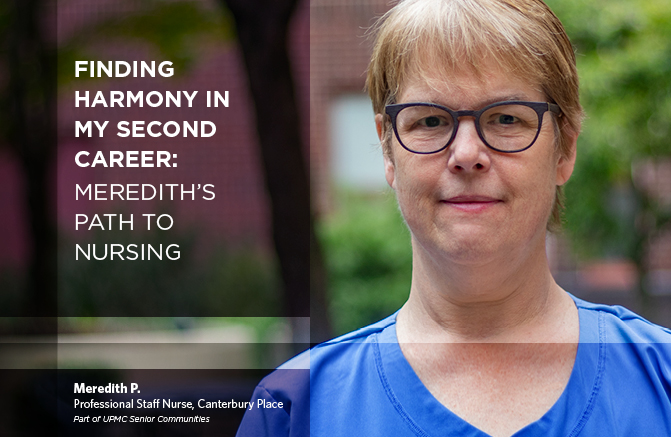 Started From the Orchestra Pit
Changing your career is an overwhelming idea. After spending years learning and investing in one type of work, it can be scary to imagine leaving it all behind to pursue a new occupation. But for those who are willing to take the plunge, a "second career" can bring renewed energy, passion, and fulfillment to life. For Meredith P., this was exactly the case. Meredith spent the first twenty years of her career as a full-time musician, playing the french horn in a professional orchestra. After receiving both her undergraduate degree and her master's degree in music performance, she built an enjoyable and successful career as a musician. Yet in the back of her mind, there was always the feeling that she belonged somewhere else. "Even while I was in school for music, nursing was often in the back of my head," Meredith said. Little did she know then that those thoughts would one day carry her into a completely new phase of her career.
A Major Transition
While working as a musician, Meredith took a job in home health care to earn some supplemental income on the side. She found that she thoroughly enjoyed the work, and she began to develop a real appreciation for working in health care. Years later, when Meredith got married and started a family, she started to feel like the sun was setting on her career as a musician and a new direction was calling to her. Venturing into the world of health care made total sense. "I was ready to do something different at that point in my life," Meredith said. "I already had this background in health care, so nursing just seemed like the natural next step." Ready to take that next step, Meredith went back to school at her local community college and pursed a nursing degree — at what she called "a more mature age." While she wasn't sure where her new nursing career would take her, Meredith knew that she wanted to work with an older population. "I like developing relationships with people, and I've always liked working with the elderly, so long-term care appealed to me."
Passion for Long-Term Care
In her new career as a nurse, Meredith has found the perfect location for providing the kind of care she is passionate about at Canterbury Place, part of UPMC Senior Communities. "I really like long-term care. You get to know the people and it becomes like a community where you know the patients, you meet their families. You hear about what they were like in their younger years—what they liked, what they didn't like. You really establish such a rapport with the people you're taking care of." Meredith knows the influence that her role as a long-term care nurse has, and she takes that impact very seriously. "It's really important to me to give them the best that I can," she said, "whether it's getting them a little scoop of ice cream or an extra drink or holding their hand and just talking to them for a minute." While her second career has brought her miles away from where she ever thought she'd be, Meredith is happy to have found herself in a career where her work means so much. "I transport myself into my patients' lives," she said. "I just try to live in their world" — and she wouldn't want to be doing anything else.
---
Are you ready to discover how your career can serve your community? Explore open positions on the UPMC Home Health Care team. #YourCareYourCommunity
Are you ready to discover how your career can serve your community, just like Meredith? Explore open positions at Canterbury Place and other UPMC Senior Communities. #YourCareYourCommunity